In an effort to reach larger audiences and make CITES online courses and educational materials more easily accessible, the CITES Virtual College has been translated into Chinese. This much needed resource will assist Asia in enhancing the capacities of its CITES Authorities, its efforts to ensure that international trade in CITES-listed species is legal, sustainable and traceable while also increasing its capacity to combat illicit trade in wildlife.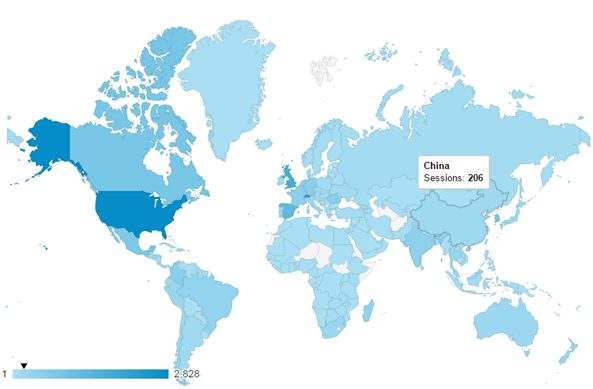 Access to the CITES Virtual College by country since 26 November 2014
At the time of writing, well over 20,000 users have accessed the College reflecting almost global coverage.  Furthermore, 8 out of the top 20 countries are from the developing world including the regions of Africa, Asia and Latin America.  For example, 385 users completing courses originated from Madagascar, indicating a need by developing countries for courses and materials on CITES.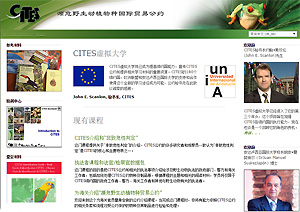 In his comments regarding the Chinese version of the College, Dr Meng Xianlin, Executive Director General of the CITES Management Authority of China, said: "We highly appreciate the efforts made by the CITES Secretariat in making availableon-line the very well organized and useful CITES training materials and courses. The Chinese version of the web-based CITES Virtual College will certainly be of great assistance to our CITES authorities and enforcement officers working on the ground in enhancing their understanding of the obligations under and procedures of the Convention. This effort also reflects the contribution and dedication of the Chinese Government in implementing the Convention, and its determination to ensure legal and sustainable trade in CITES-listed species.
In his remarks on the new language courses, Secretary General John E. Scanlon said: "The availability of the Virtual College in Chinese will provide China, and speakers of Chinese in other regions, with an invaluable resource to strengthen the capacity of national authorities and individuals to implement and comply with the Convention.  The CITES Secretariat acknowledges the generous contribution of China in making this possible."
The CITES Virtual College also offers courses and materials in English, French and Spanish. Training presentations in Portuguese were made possible by the contribution of the Management Authority of Portugal.