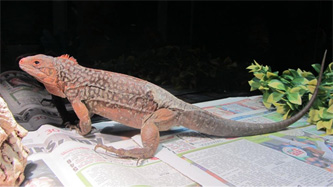 On Monday 3 February 2014 two women were arrested at Heathrow Airport in London, after 13 endangered San Salvador iguanas (Cyclura rileyi), a species included in CITES Appendix I, were found by Border Force officers carrying out customs checks. The women arrived on a flight from the Bahamas and were due to fly on to Dusseldorf, Germany. The iguanas were each wrapped in an individual sock and had been stuffed into suitcases. Twelve survived their journey, but one died in transit.
On Thursday 3 April 2014, the two smugglers pleaded guilty at Isleworth Crown Court, and were sentenced to 12 months in prison each individual.
The CITES Secretariat commends the effective enforcement action taken by the UK Border Force in this case, as well as the successful conviction and sentencing of the two accused. San Salvador iguanas are endangered and only a few hundred have been seen in the wild. In light of the conservation status of the species, this was a very significant seizure.   
Arrangements are currently being made for the iguanas to be returned to their natural habitat in the Caribbean.
For more information see the press release issued by the UK Border Force.