Opening Statement at the 77th Meeting of the CITES Standing Committee
CITES Secretary-General Ivonne Higuero
6 November 2023, Geneva, Switzerland
Excellencies,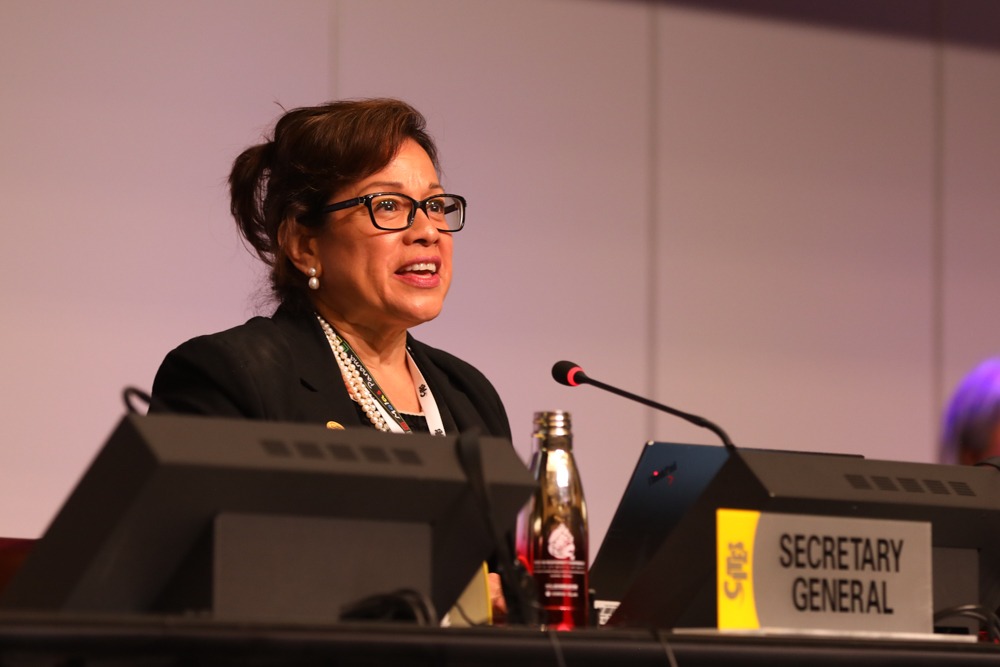 Distinguished Standing Committee Members, Parties, and observers,
Ladies and Gentlemen,
Welcome to all as we convene for the 77th Meeting of the CITES Standing Committee. Thank you for your presence and support. Our warm thanks to Switzerland for their generous financial support to hold the meeting here at the CICG. On behalf of the Secretariat, may I express our sadness for what happened to Rose and we send our best wishes to her for a fast recovery. And we warmly welcome the United States nomination of their new representative, Ms Naimah Aziz, as the Chair of the Committee. Madame Chair, the Secretariat is available to give you our full support.  
As you know, CITES is celebrating its 50th anniversary since its signing in 1973 in Washington D.C. Over these five decades, CITES has achieved significant milestones and steadfastly worked towards ensuring the legal and sustainable trade of wild flora and fauna. We salute all who have devoted their time, some even a lifetime, to this convention.
It is therefore with a heavy heart that I share the somber news of the passing of Dr. Robert 'Hank' Jenkins. Dr. Jenkins was an integral part of the Convention's work for over a decade. He was elected and dutifully served as the CITES Animals Committee Representative for Oceania from 1989 to 1992. Subsequently, he assumed the role of CITES AC Chair from 1992 until his retirement at the 11th Conference of the Parties (CoP11) in 2000. I kindly ask all of you to take part in a minute of silence to pay tribute to his memory and express our gratitude for his invaluable contributions.
SILENCE
May he rest in peace.
Seven hundred and seventeen participants have registered for this meeting representing the Committee members, alternates, Parties and observers. It's the largest Standing Committee ever and shows the importance of this Convention.
You have a considerable amount of work ahead of you, as we delve into the review of strategic, policy, and species-specific matters that impact the implementation of the Convention.
There are 77 items on the agenda, along with 101 related documents spanning over 2701 pages, covering a wide array of critical issues. Navigating this substantial workload will be a genuine challenge but we know our Chair will be great and we ask you to support her by keeping interventions concise and respectful.
I would like to thank the Chairs of the scientific committees, the chairs of the intersessional working groups and my dream team at the CITES Secretariat for their tireless efforts in preparing these documents. It is my duty, however, to again ask you to reflect deeply on the ever-increasing workload that is stretching our human and financial resources too thinly. Prioritization is now a critical and urgent matter. I apologize for the delay in some documents despite the diligence of the Secretariat. We have done what is humanly possible given the programme of work, the technical meetings, the technical assistance and exchanges with Parties, work with our partners and the administrative demands on this small Secretariat.
I am, as always, grateful to those participating in the scientific committees who give their time so generously. Special thanks to our donors, including the European Union, Germany, Sweden, Switzerland, the UK, and the US, for their generous contributions that made all of this possible.
I want to extend equal gratitude to the enthusiastic participants and the teams working on the meetings of the Big Cats Task Force and the African Carnivores Initiative in Nairobi, the Joint meeting of the SC Working Groups on IPLC Engagement and Livelihoods in Peru, the CITES-ESCAP Regional Workshop on Electronic Permitting Systems in Bangkok, the CITES Asian Regional Training Seminar on Demand Reduction Strategies in Singapore, the CITES Jaguar Range State Meeting in Cuiaba, Brazil, as well as the upcoming online workshops on amphibians, the International Expert Workshop on Non-Detriment Findings in Nairobi and the International Technical Workshop on songbirds in Bangkok.
The Committee will address several crucial topics requiring thoughtful consideration. There are compliance matters, ranging from illegal trade in live birds and shark specimens to the management and trade of African teak. Furthermore, we will review the implementation of provisions related to the trade in captive-bred specimens of species listed in Appendix I.
The Committee will also consider emerging operational issues; CITES's role in pandemic risk reduction; contributions to the Kunming-Montreal Global Biodiversity Framework; engagement with women, indigenous peoples and local communities; and conservation and sustainable trade for various species. These species encompass marine creatures such as sharks, rays, marine turtles, and totoaba, as well as terrestrial animals like saiga antelopes, Tibetan antelopes, jaguars, rhinoceroses, great apes, and timber tree species. The agenda includes matters related to big cats' facilities, illegal trade in big cats, and a range of elephant-related issues, such as the African elephant range state dialogue, and the possible recognition of two African elephant species within CITES.
It is also important that there is a mechanism in place through which the next generation has the opportunity to be informed and engaged in the work of CITES and that's why we are also going to discuss Youth Engagement and the CITES Global Youth Network.
Almost a year has passed since the 19th meeting of the Conference of the Parties and the last meeting of the Standing Committee, and so much has happened during this year, including the adoption of the Kunming-Montreal Global Biodiversity Framework in December 2022. In 2023, we find ourselves at the halfway point towards the 2030 deadline for achieving the Sustainable Development Goals. It's encouraging to witness an increased focus on environmental conservation with more dedicated to advancing sustainable development. CITES plays a pivotal role in ensuring the conservation and sustainable use of wildlife, a role that has long been acknowledged. To meet these SDG targets, however, we must redouble our efforts on national, regional, and global fronts.
Let us also not forget the fundamental importance of partnerships. Sustainable development, biodiversity conservation, and the responsible utilization of biodiversity's components are all interdependent and require a united, coordinated, multilateral effort. This effort depends on us. The world looks to us with confidence in our ability to fulfill our role in addressing the triple planetary crisis.
Finally, since the Committee last met, the Secretariat has bid farewell to Mrigesh Kshatriya, Milena Sosa Schmidt, David Morgan, Noemi Reyes, Tanya McGregor, and Bernard Koech, and we extend our heartfelt thanks for their valuable contributions. Today, we extend a warm welcome to Mr. Thomas Deleuil, Ms. Elizabeth Warui and Ms. Siiri Maekelae, who have recently joined the Secretariat, as well as to Ms. Sofie Flensborg and Ms. Thea Carroll for temporarily taking up new roles. We are fortunate to be able to benefit from their knowledge and expertise.
I wish you a productive and enjoyable five days ahead. I have no doubt that you will seize this opportunity and collaborate constructively, leading us toward a harmonious coexistence with nature.
Thank you
---
Photo: © IISD/ENB (Kiara Worth)