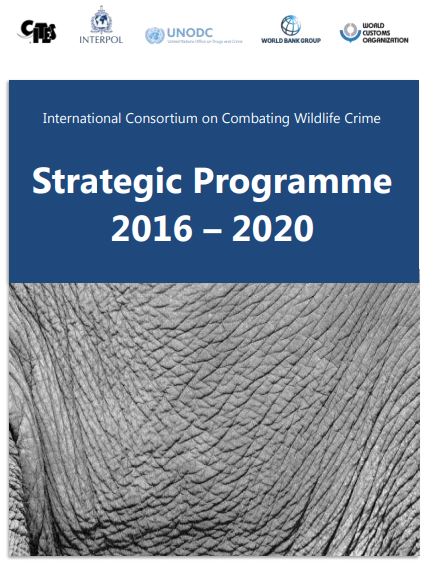 ICCWC's approach focuses on mobilising a variety of tools and services to build long-term capacity among national agencies responsible for wildlife law enforcement to effectively combat wildlife crime.
Delivery of the Consortium's activities is overseen by its Senior Experts Group (SEG) and supported by its Technical Experts Group (TEG), in which each of the five partner organizations are represented. The SEG identifies priorities for the implementation of activities, takes decisions on initiatives to support, and oversees overall effectiveness of delivery.  
The Consortium uses a light administrative model, with different ICCWC partners leading individually or collectively on key initiatives as agreed within the Consortium. ICCWC's current Strategic Programme for 2016-2020 guides the delivery of its work to combat wildlife crime in a comprehensive and coordinated manner. The current Strategic Programme was built upon the ICCWC Strategic Mission 2014-2016 which, together with the Letter of Understanding, provided a guiding framework for the implementation and delivery of ICCWC activities since the formation of the Consortium. 
ICCWC Strategic Programme 2016-2020
The ICCWC Strategic Programme 2016-2020 is the comprehensive strategy pursued by the Consortium. 
The Strategic Programme comprises of a set of concrete priorities and activities aimed at reducing poaching and trafficking in wildlife and forest products. The Strategic Programme includes 21 activities and 57 related sub-activities, developed based on a detailed analysis of activities conducted to date, and a review of priorities, recommendations and requests by the ICCWC Senior Experts Group and partner agencies. The Programme accounts for the shifting global landscape and activities underway globally to combat wildlife crime. 
Expected impacts from Strategic Programme implementation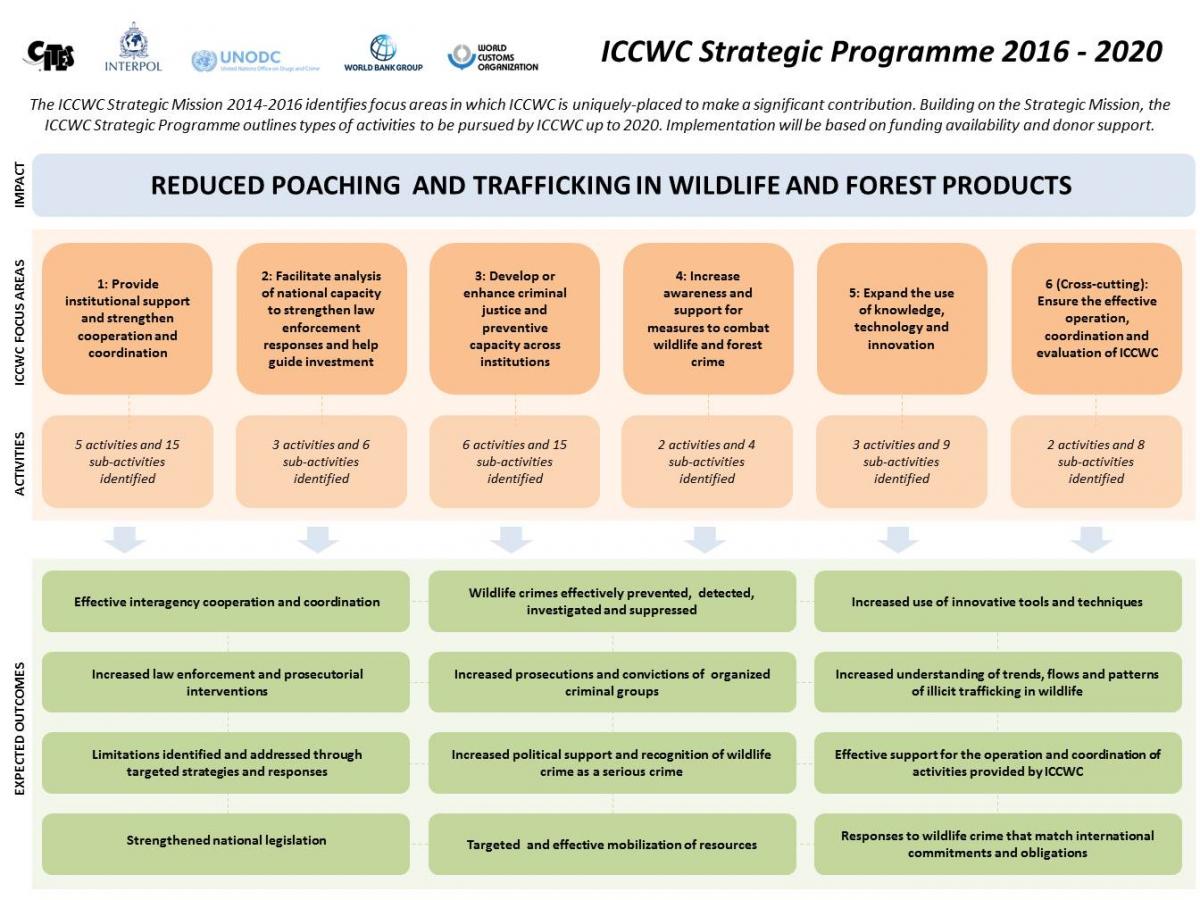 The long-term strategy of ICCWC and the full implementation of the ICCWC Strategic Programme will contribute to: 
enhanced awareness of wildlife crime;
increased institutional analysis and support;
strengthened capacity of national institutions, sub-regional and regional enforcement organizations, taking into consideration the whole range of investigative and prosecutorial techniques;
enhanced coordinated enforcement actions;
comprehensive analytic reviews of countries' preventative and criminal justice responses, in particular through the ICCWC Wildlife and Forest Crime Analytic Toolkit and ICCWC Indicator Framework for Combatting Wildlife and Forest Crime;
mainstream wildlife crime across relevant national agencies;
increased understanding of drivers of wildlife crime and opportunities to address them, including anti-corruption prevention measures;
promote natural resource management and development.
A Strategic Vision 2030, as a continuation of the Consortium's work beyond 2020 is currently under development.  
The role of ICCWC in supporting efforts and strengthening responses to address wildlife crime 
Since its creation the important role of ICCWC has been widely recognized, as demonstrated by the graphic below.