Primary tabs
ICCWC in action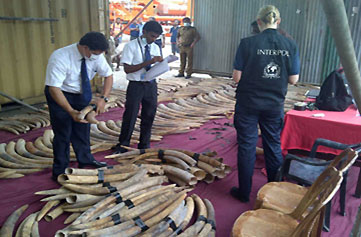 ICCWC aims to enhance the capacity and compliment the efforts of national wildlife law enforcement agencies and sub-regional and regional networks that on a daily basis act to combat the illegal trafficking in wild fauna and flora. Based on the Consortium's Strategic Mission, ICCWC partners have been providing, since the launch of ICCWC in 2010, coordinated law enforcement support in many different countries and regions across the world.
Wildlife and Forest Crime Analytic Toolkit:
Key activities delivered under the auspices of ICCWC include the development and implementation of the ICCWC Wildlife and Forest Crime Analytic Toolkit. To date Toolkit implementation has been successfully completed in 10 countries and is at different stages of implementation in an additional 15 countries in Africa, Asia, Europe and Latin America. Further requests for toolkit implementation continue to be received.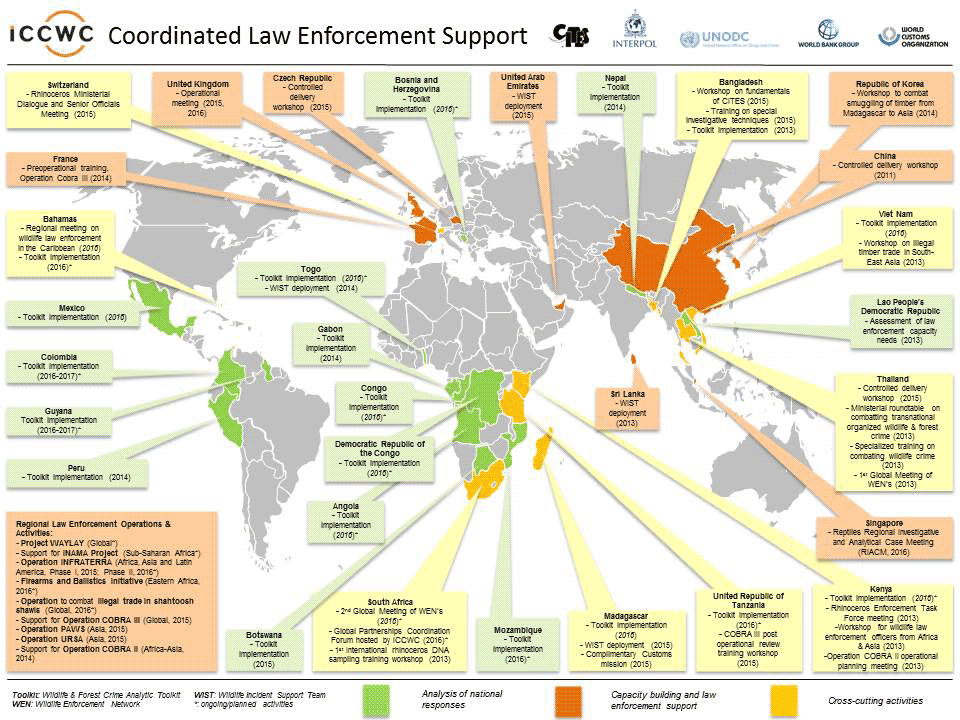 ICCWC indicator framework for wildlife and forest crime:
To enable Parties to measure and monitor the effectiveness of their own law enforcement responses to wildlife and forest crime, the Consortium has developed the ICCWC Indicator Framework for wildlife and forest crime. The ICCWC Indicator Framework complements the ICCWC Toolkit and is intended to provide a standardized approach to measure the effectiveness of national law enforcement responses and will also enable a Party to independently monitor performance over time to identify any changes in the effectiveness of its law enforcement responses. Designed to be completed as a self-assessment by national enforcement authorities, the ICCWC Indicator Framework consists of 50 performance measures that cover the major components of a law enforcement response to illegal trafficking in wildlife.
Wildlife Incident Support Teams and specialized training:
To support countries that have been affected by significant poaching, or that have made a large-scale seizure of CITES specimens, ICCWC has, upon request, deployed Wildlife Incident Support Teams (WISTs), to assist these countries and guide and facilitate appropriate follow-up actions. Such WISTs have been deployed at the request of Sri Lanka and the U.A.E. to assist national authorities to collect DNA samples from a large-scale ivory seizure for forensic analysis. A WIST was also deployed to Madagascar to provide analysis and support on the government's efforts to deal with illegal logging and trafficking in rosewood and other precious timber species.
In addition, through its global network of regional and country offices, ICCWC has continued to provide specialized training for wildlife law enforcement officers, including specialized training in support of operations and the organization of a number of activities to support the implementation of the recommendations of the ICCWC Toolkit, such as delivering targeted training on CITES and special investigative techniques (Bangladesh, October 2015).
Coordinated enforcement efforts:
ICCWC continues to support and enhance the capacity of national agencies responsible for wildlife law enforcement to use specialized techniques such as controlled deliveries to combat wildlife crime. This has been done and is ongoing through a number of workshops and projects (China, 2011; Prague, 2015, and related activities of Projects WAYLAY and INAMA).
In addition, ICCWC has coordinated a number of operations such as INFRA TERRA, PAWS, URSA and THUNDERBIRD, and supported network-led operations such as COBRA II and III. A number of additional operations and activities are currently ongoing.
Following the convening of the First global meeting of wildlife enforcement networks at the 16th meeting of the Conference of the Parties to CITES in Bangkok, Thailand, and to further enhance cooperation and coordination among networks, ICCWC convened the Second global meeting of the wildlife enforcement networks alongside the 17th Meeting of the Conference of the Parties to CITES in September 2016 in Johannesburg, South Africa.
Forensics and anti-money laundering:
As part of ICCWC's portfolio of activities on wildlife forensics, ICCWC developed practical tools and guidelines such as the ICCWC guidelines for forensic methods and procedures of ivory sampling and analysis, the 'Best Practice Guide for Forensic Timber Identification Guide' and a complementary 'Law Enforcement Best Practice Flow Diagram for Timber' to lead front-line officers through the steps that should be completed when dealing with a load or shipment containing timber.
ICCWC has also developed and will be implementing from early 2017 an an anti-money laundering training programme with a specific focus on wildlife crime for the training of investigators, prosecutors, judges, and other relevant stakeholders involved in the investigation and prosecution of wildlife crime cases.
Click here for additional details on other ICCWC tools and services available.
High level events:
ICCWC has contributed to generate high level support to combat illegal trade in wildlife by supporting and organizing a number of high level conferences and events such as a seminar for Heads of police and Customs on tiger crime, the ICCWC Ministerial roundtable on combating wildlife and forest crime, a Ministerial-level and Senior Officials meeting on combating poaching and the illegal trade in rhinoceros horn and a Global Partnerships Coordination Forum (see Chair's summary) among others.
ICCWC progress and reports:

An overview of all ICCWC activities conducted to date can be found in the different ICCWC documents and reports that have been produced to date:
Further information on these ICCWC activities, and other examples of ICCWC in action, can be found below.
News items archive: