Capacity building
CITES Virtual College
---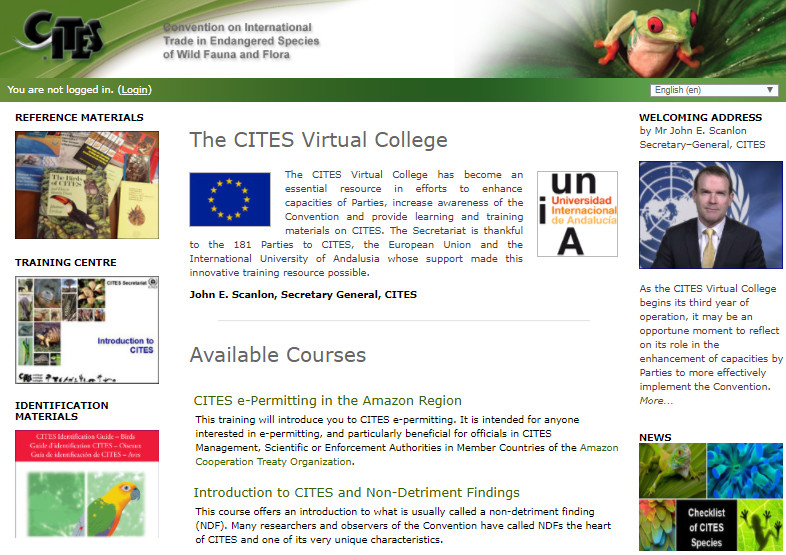 CITES Virtual College provides access to training tools, references, ID materials, and more.
Financial resources/mechanisms for capacity building (Dec. 17.34)
---
The Combating Wildlife Trafficking Strategy and Partnerships Branch of the U.S. Fish and Wildlife Service (USFWS): 
Western Hemisphere Program of the U.S. Fish and Wildlife Service (USFWS): announced its 2018 Notice of Funding Opportunity (NOFO) for the Caribbean Program. Through this funding opportunity, the USFWS, in collaboration with the U.S. Agency for International Development (USAID), is soliciting proposals. Deadline: Thursday, May 10, 2018.
Other opportunities for capacity building 
---
Secretariat efforts on capacity building
---
EU support to CITES-listed marine species (sharks and rays page)
 
EU project: Supporting sustainable management of endangered tree species and conservation of the African Elephant
Capacity needs assessment (2013-2016)
---
In implementing Decision16.30-31 on Needs assessment for strengthening the implementation of CITES, a questionnaire was sent to assess the capacity needs of Parties. 46 Parties responded, and the summary was sent to SC66 for review.
>>> Go to the full assessment result (SC66 Doc. 20.2 (Rev. 1)