The Secretariat recently participated in a seminar on illicit trade and counterfeiting (2-6 June 2014,  Asunción, Paraguay), organized by the INTERPOL General Secretariat, Office of Legal Affairs (Lyon, France) and the Public Prosecutor's Office in Paraguay.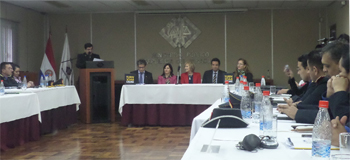 The seminar, which brought together Paraguayan prosecutors, law enforcement officials and policy makers, aimed to enhance legal capacity to tackle illicit trade and counterfeiting. A wide range of issues was considered during the seminar, including effective implementation of CITES, the UN Convention on Transnational Organized Crime, the UN Convention Against Corruption, the WTO Agreement on Trade-Related Aspects of Intellectual Property Rights, UN conventions on arms control and the Protocol to Eliminate Illicit Trade in Tobacco Products. Participants also exchanged information and experience on the use of various special investigative techniques such as communication surveillance.
National participants in the seminar included representatives of the CITES Management Authority of Paraguay, the department of forests and environmental affairs of the National Police, other members of the National Police and Customs service, the INTERPOL National Central Bureau and prosecutors as well as prosecutorial assistants specialized in environmental crime, organized crime, anti-corruption, terrorism and other types of crime. In addition to INTERPOL and CITES, international participants included representatives of the United Nations Office on Drugs and Crime (UNODC),the Organization of American States (OAS), the Italian Ministry of Justice, the Spanish Judicial Police and the United States Department of Justice.
In its presentation, which was complemented by information provided by the CITES Management Authority and law enforcement officials who work on CITES matters, the Secretariat explained the elements of the Convention's regulatory regime,  the need for national legal provisions and actions which enable wildlife crimes to be investigated and prosecuted as serious crimes and the importance of inter-agency cooperation at all levels. The Secretariat drew particular attention to the International Consortium on Combating Wildlife Crime which brings together CITES, INTERPOL and UNODC as well as the World Customs Organization (WCO) and the World Bank.
H.E. Cristina Morales, the Minister in charge of Paraguay's Secretariat for the Environment (which has overall responsibility for CITES), participated in the closing ceremony of the seminar. Following the seminar, the CITES Secretariat had an opportunity to discuss the progress made by Paraguay in its development of CITES-related legislation as well as its work to ensure the sustainability of trade in high-value species with the Minister, Paraguay's Minister of Justice, H.E. Sheila Abed, and the head of the CITES Management Authority, Lic. Martha Motte Paredes.
Participation of the Secretariat in this important seminar, was made possible through generous external funding provided by INTERPOL and Sweden.
A related INTERPOL news item can be found at:
http://www.interpol.int/News-and-media/News/2014/N2014-097