For use of the media only;
not an official document.
PRESS RELEASE
Transport sector steps up to fight illicit wildlife trafficking
Duke of Cambridge uses convening power to bring together a unique coalition of industry,
conservation and intergovernmental bodies to tackle illicit wildlife trafficking
Geneva/London 15 March 2016: The transport sector is stepping up its efforts to tackle illicit trafficking in wildlife with leading industry representatives signing the United for Wildlife Transport Taskforce Buckingham Palace Declaration today.
The Buckingham Palace Declaration was developed and agreed amongst industry representatives, conservation groups, and intergovernmental bodies, including CITES, which was represented throughout the process by its Secretary-General. The Declaration includes a range of commitments and practical measures to stop the transport of illicitly acquired wildlife products.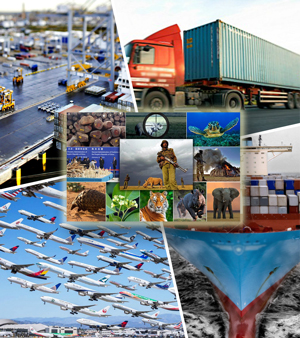 "There are today over 1.1 billion international tourist arrivals a year; 100,000 flights every day; and 500 million containers shipped a year. Legitimate forms of transport are being exploited by transnational organized criminals to transport their contraband and the transport sector has a key role to play in curbing this illicit trade. The Duke of Cambridge has used his extraordinary convening power to draw together a unique coalition of industry, conservation groups and intergovernmental bodies that will today commit to disrupt the transport routes being exploited by organized criminals to carry poached wildlife" said John E. Scanlon, Secretary-General of CITES.
The illicit trafficking of wildlife is of an industrial scale, but in the context of the overall volumes of air and sea transport, we are often searching for a 'needle in a haystack', with only a tiny fraction of the overall cargo or passengers carrying illegally traded wildlife. Yet poached wildlife travels long distances across air, land or sea and goes through many hands on its way to illicit markets, meaning there are many points along the way where it can be disrupted. The collective efforts of industry, conservation groups and intergovernmental bodies must aim to maximize the risk of trading illegally by disrupting it at every step along the illegal supply chain.
"The Duke's transport task force has filled a gap in the global efforts to stop illicit wildlife trafficking. The level of commitment across the transport sector to help end this illicit trade is evident today and it is a direct result of this bold initiative. We look forward to seeing more associations and companies from the transport sector sign up" added Scanlon.
The CITES Secretary-General addressed a meeting convened by The Duke of Cambridge and Lord Hague following the Duke's speech to The World Bank in December 2014, at which The United for Wildlife Transport Taskforce was launched, and in 2015 he addressed the IATA AGM and the ATAG Global Aviation Summit on the role of the transport sector in tackling illicit wildlife trafficking.
For more see:
CITES Secretary-General's remarks at the ATAG Global Sustainable Aviation Summit 2015 (September 2015): 'Air transport's role in reducing Illegal trade in wildlife'
CITES Secretary-General's remarks at the 71st IATA Annual General Meeting and World Air Transport Summit (June, 2015): 'Air transport and Illegal trade in wildlife'
IATA and CITES to cooperate on reducing illegal trade in wildlife (June, 2015)
Keynote Address by CITES Secretary-General John E. Scanlon at the International conference on wildlife crime - The Hague, Netherlands (March 2016): CITES - galvanizing a global collective effort to save wildlife
###
Note to editors: For more information, contact Liu Yuan at +41 22 917 8130 or [email protected]
About CITES
With 182 Parties, CITES remains one of the world's most powerful tools for biodiversity conservation through the regulation of trade in wild fauna and flora. Thousands of species are internationally traded and used by people in their daily lives for food, housing, health care, ecotourism, cosmetics or fashion.
CITES regulates international trade in over 35,000 species of plants and animals, including their products and derivatives, ensuring their survival in the wild with benefits for the livelihoods of local people and the global environment. The CITES permit system seeks to ensure that international trade in listed species is sustainable, legal and traceable.
CITES was signed in Washington D.C. on 3 March 1973 and entered into force on 1 July 1975.
Learn more about CITES by visiting www.cites.org or connecting to:
www.twitter.com/CITES
www.facebook.com/CITES
www.youtube.com/c/CITES
www.flickr.com/CITES
www.linkedin.com/company/cites-org