Sixty-sixth meeting of the Standing Committee
Geneva (Switzerland), 11 January 2016
Opening remarks by John E. Scanlon, CITES Secretary General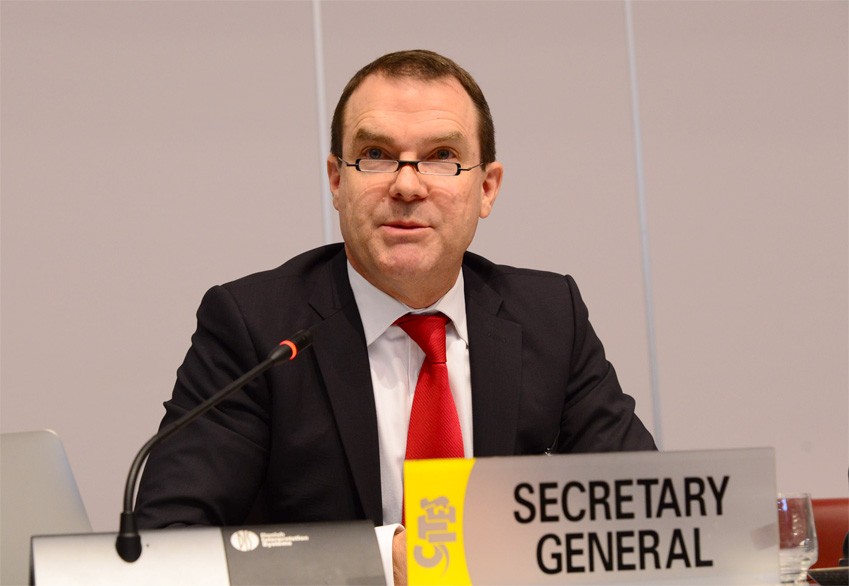 Thank you Chair and I would like to join with you in wishing everyone a Happy New Year – bonne année , feliz año – and to extend a very warm welcome to the Standing Committee Members, Party Observers, intergovernmental and non-governmental organizations, as well as the private sector and the media.
We extend a special welcome to the European Union, which has become a Party to CITES since the last time we met and hence joins us today as a Party Observer for the first time.
We have a new record number of participants registered for this Standing Committee meeting. Together with visitors, we expect over 500 people to attend this week's meeting coming from 77 Parties, 59 intergovernmental organizations, 139 NGOs and 16 private sector organizations. 
For those of you who are new to CITES, the 19 members of the Standing Committee are sitting here in the front rows and they are the ones charged with taking the decisions – and all of those seated behind are here as observers! 
The days when the Committee would meet in a small office are long gone and as we observed at Standing Committee 65, these meetings are now akin to mini Conferences of the Parties – with long and detailed agendas, many supporting documents, high numbers of participants, multiple side events, and deep media interest. There are close to 150 agenda and sub agenda items, 100 documents adding up to 2,700 pages, and over 30 side events associated with this week's meeting.
The high level of interest and engagement in the work of our Standing Committee, and in fact all of our committees, is a positive and welcome development and something to be celebrated – but it is also taking its toll on all of us, including the Secretariat. 
It is now abundantly clear that this heightened level of interest in CITES is no longer an exception. It is the new norm and it is something we must better plan and budget for into the future.
-----
This week's agenda addresses critical items dealing with: species under threat from illegal and unsustainable wildlife trade; enhancing the sustainability and traceability of species legally in trade, and reviewing the status of national reporting and legislation as has been outlined by the Chair.
Since we last met in July 2014 the Secretariat has focused a lot of effort on combating illegal wildlife trade, assisting with the implementation of new listings – especially timber, sharks and rays, advancing compliance issues and supporting related capacity building efforts – including with national legislation and NIAPs (National Ivory Action Plans), and on attracting additional resources to support national implementation.
We have also supported two highly successful scientific committee meetings in Tel Aviv, Israel, and Tbilisi, Georgia and I would like to extend our most sincere gratitude to the Government and people of both Israel and Georgia for their generosity, warm hospitality and impeccable arrangements in hosting these highly successful meetings.
-----
When I first addressed this Committee at its 61st meeting in 2011, we noted that CITES was more relevant than ever but that this fact was not yet reflected in the level of political support or financing for the Convention.
At that time, I reported to this Committee that we were engaging in an effort to reach out and better connect CITES to broader policy objectives and to a wider range of partners. Our stated objective was to help the world rediscover the importance of CITES both in its own right and for the contribution that it makes towards other relevant global goals and targets. 
There is an old saying: be careful what you wish for!
Today at the 66th meeting of the Committee, we can report that due to the efforts of so many this objective has been achieved – with unprecedented levels of political support being shown for CITES, new and substantial sources of funding becoming available to CITES Parties, and direct support for CITES implementation coming from a wide array of partners both within and outside of the UN system. 
This unprecedented level of political, institutional and public interest in CITES issues is now generating the sort of financial and technical support required for those serving in the front lines to effectively implement the Convention – both in combating illicit trafficking and ensuring the legality and sustainability of trade in Appendix II listed species. 
This will become apparent as we work through the Agenda but by way of example since our last meeting we have seen:
On enforcement: the value of the International Consortium on Combatting Wildlife Crime (ICCWC) was recognized by the UNGA resolution on Tackling Illicit Trafficking in Wildlife adopted last year, with the Consortium delivering practical on ground enforcement support and capacity building world-wide, which will be highlighted in Plenary and two dedicated side events to be held today and on Wednesday in this room.


 

On financing: in 2011 the Secretariat led the way in encouraging the Global Environment Facility (GEF) to view illegal and unsustainable wildlife trade as a priority issue, with CoP 16 adopting several GEF-related decisions in 2013. In 2015 the GEF Council approved the Global Partnership on Wildlife Conservation and Crime Prevention for Sustainable Development and the Secretariat is helping ensure eligible CITES Parties can access this funding. We are also seeing increased levels of funding from many other donors and philanthropists, and CITES, UNDP, UNEP, UNODC and the World Bank convened the first ever wildlife donor roundtable in late 2015.


 

On technical support: we have deepened our engagement with OIE (World Organisation for Animal Health) on animal health and welfare, the Royal Foundation on transport and IATA (International Air Transport Association) on air transport, UNEP on national legislation, UNDP on supporting implementation of NIAPs (National Ivory Action Plans), the ITC (International Trade Centre) and the WTO on electronic permitting, the World Bank and the Organisation of American States on livelihoods and wildlife based tourism and a vast array of organizations on traceability.
CITES is today an outstanding international example of a convention that is working cooperatively and collaboratively across multiple organizations and disciplines to enhance national implementation – and with organizations dealing with issues as diverse as trade, environment, development, animal health and welfare, enforcement and financing.
In the UN this may be referred to as 'synergies' or 'mainstreaming' – which we have collectively pursued in a pragmatic and effective manner to best serve the interests of our Parties in meeting their international commitments and which will be addressed under Agenda Items 16, as well as other Items such as Item 34 on Traceability. 
-----
CITES is the international legal instrument that underpins these many and varied efforts and the principal role of CITES in regulating international trade in wildlife – both in combating illicit trafficking and facilitating legal, sustainable and traceable trade, has been reaffirmed through multiple declarations and resolutions – from Rio+20 in June 2012, to the UNEA resolution of 2014, the UNGA resolution on Tackling Illicit Trafficking in Wildlife of 2015 and well as through the UN Sustainable Development Goals, as was referred to by the Chair.
The international community now looks to this Committee to support States in their collective efforts to implement CITES, and, where appropriate and necessary, to make use of the compliance measures that the Parties to the Convention have entrusted to this Committee.
-----
As you know, the Secretariat is going through a major transition at the moment with the retirement of five senior staff over the past 12 months and the UN-wide roll out of major new administrative reform initiative known as Umoja – both of which are having major impacts on the Secretariat. 
We have many new faces in the Secretariat, and some familiar faces in new roles, which I will elaborate upon under Agenda Item 9.2 but I would like, in my opening address, to publicly express our deep gratitude to two senior staff who retired late last year for their outstanding contribution to CITES over 10 and 15 years respectively, namely Marcos Silva and Marceil Yeater. 
I would also like to thank you Chair for your generous opening remarks and for your deep commitment to CITES – as always, both you and the Committee have the full support of the Secretariat as the Committee works through the significant Agenda it has before it.
Let me conclude by reminding us that CoP 17 in Johannesburg, South Africa in just 256 days' away, which I know we are all very much looking forward to – and we hope to see all of you in South Africa!
Thank you