International awareness, cooperation, and action in the conservation and protection of elephants and other flagship species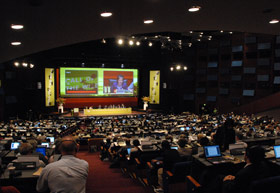 MIKES Result 4 continues the process launched in MIKE Phases I and II to catalyse and inform international conservation awareness, collaboration and action through the regular dissemination of reliable, relevant and user-friendly information of the status and trends in elephants and other target species, as well as the international trade in their products. This includes support for other key international initiatives, such as support for the work of TRAFFIC on trade in the target species, including the Elephant Trade Information System, ETIS, and the work of the IUCN Species Survival Commission (SSC) on monitoring the population status of elephants and other relevant target species, including the African Elephant Database (AED) maintained by the SSC African Elephant Specialist Group (AfESG). The result also works with these key partner agencies to continue the development of an analytical framework designed to strengthen the integration of analysis and reporting of information across the entire illegal ivory supply chain, from the site level through to the ultimate markets for these products.
Another key component of Result 4 is the establishment of a MIKES Event Response Mechanism (aligned with the CITES/ICCWC Wildlife Incident Support Team – WIST - process) designed to enable MIKES to respond to sudden increases in the illegal killing and/or international trade in elephants and other targeted flagship species at specific sites. Mitigation activities implemented through this mechanism can include strengthening of law enforcement through the provision of equipment, technical expertise or by catalysing law enforcement support on the ground in partnership with other participating governments, and emergency support to wildlife agencies at the national level in combatting sudden escalations in wildlife crime.
A final component of Result 4 is the provision of support for strengthening the capacity of wildlife agencies to collect forensic materials and carry out forensic investigations designed to inform wildlife trade investigations and to pinpoint the origins of illegal products of target species. The major focus of these forensic activities will be at the site level, where the project will build capacity of relevant protected area personnel to conduct forensic activities, linked to the ranger-based monitoring and law enforcement initiatives being supported under Results 1 and 2. Support will also be provided to other levels of the forensic chain, linked to Result 3 (national level) and this result (international level).
The key activities identified to deliver this result are as follows:
Activity 4.1 Further develop methodologies for analysing ranger-based monitoring data, designed to ensure the production of reliable, cost effective and user-friendly synthesis information that fulfils CITES decision making
Activity 4.2 Compile, analyse and disseminate species status and threats information to CITES and other appropriate international biodiversity conservation mechanisms and forums
Activity 4.3 Provide support to ETIS for building and consolidating systems and capacity for monitoring trade in elephant products, and explore collaborations for similar databases for other illegally-traded target species
Activity 4.4 Provide support to IUCN SSC in monitoring the population status, trends and threats to elephants and other target species, including support for the African Elephant Database maintained by AfESG
Activity 4.5 Design a framework for the implementation of the MIKES Emergency Response Mechanism, and carry out MERM initiatives according to the identified response criteria
Activity 4.6 Provide support for strengthening capacity for carrying out forensic investigations at the site level, as well as for strengthening the forensic chain from national to international levels
Activity 4.7 Develop and implement partnership mechanisms for coordinating law enforcement, adaptive management and monitoring activities supported by MIKES, exchange of lessons learnt and best practice, and promotion of additional conservation action
---
MIKES is an Initiative of the ACP Secretarat, funded by the European Union under the 10th EDF