PRESS RELEASE
 "Sustaining all life on Earth" announced as theme of
World Wildlife Day 2020
Next UN World Wildlife Day 2020 will embrace the "biodiversity super year"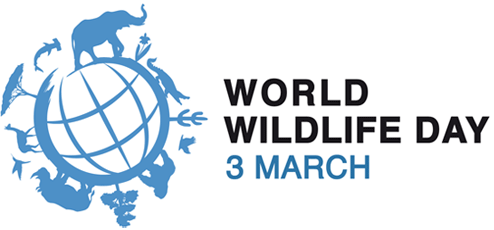 Geneva, 19 November 2019:  The Secretariat of the Convention on International Trade in Endangered Species of Wild Fauna and Flora (CITES) announced today the theme of United Nations World Wildlife Day 2020: "Sustaining all life on Earth".
The year 2020, known as a "biodiversity super year", will host several major global events that place biodiversity at the forefront of the global sustainable development agenda. It provides a unique opportunity to deliver transformative progress for the conservation and sustainable use of the species of wild animals and plants in response to global sustainable development challenges that can best be addressed with nature-based solutions.
The theme of World Wildlife Day 2020, "Sustaining all life on earth", encompasses all wild animal and plant species as a component of biodiversity as well as the livelihoods of people, especially those who live closest to the nature. It also underlines the importance of sustainable use of natural resources in support of the achievement of the United Nations Sustainable Development Goals (SDGs) including Goal 14 (Life Below Water), Goal 15 (Life on Land), Goal 1 (No Poverty) and Goal 12 (Ensure sustainable consumption and production patterns).
CITES Secretary-General Ivonne Higuero said: "Wildlife, namely the species of both wild animals and plants for the purpose of World Wildlife Day, is an integral part of the world's biological diversity which has the greatest resonance with the general public. In the run-up to and on World Wildlife Day 2020 we will raise awareness of the multitude of benefits of wildlife to people, the interlinkages between the various components of biodiversity and the threats they are facing. It is also a good opportunity to call on governments around the world, civil society, private sector and individuals to add their voices and take actions to help conserve wildlife and ensure sustainable use before it's too late".
The CITES Secretariat, the UN Development Programme (UNDP), UN Environment Programme (UNEP) and other UN system organizations, Member States, biodiversity-related conventions and civil society, are unrolling a series of global and national events and social media activities around World Wildlife Day 2020, including a high-level event at the UN Headquarters in New York on 3 March, a film festival and international youth art competition.
In line with the UN General Assembly Resolution proclaiming World Wildlife Day, the CITES Secretariat calls on all member States and organizations of the United Nations system and other global, regional and sub-regional organizations, non-governmental organizations and all interested individuals, to:
observe and raise awareness of the theme for World Wildlife Day 2020;
associate the celebrations with major national and international conservation events;
build collaborative partnerships;
organize campaigns to support the conservation and sustainable use of wild animals and plants and use targeted strategies to influence consumer behaviour and reduce demand for illegally-sourced wildlife and their products;
make use of the World Wildlife Day logo as widely as possible.
More information on the values of wildlife as a component of biodiversity, the interlinkage between genetic, species and ecosystem diversity, the various threats facing wildlife, and promotional materials to illustrate the theme will be made available at a later stage on the World Wildlife Day website and social media channels.
For more information and to arrange interviews, please contact:
CITES Secretariat: Yuan Liu, +41 22 917 8130, [email protected].
About CITES
With 183 Parties (182 countries + the European Union), the Convention on International Trade in Endangered Species of Wild Fauna and Flora (CITES) remains one of the world's most powerful tools for wildlife conservation through the regulation of trade. Thousands of species are internationally traded and used by people in their daily lives for food, health care, housing, tourist souvenirs, cosmetics or fashion. CITES regulates international trade in over 36,000 species of plants and animals, including their products and derivatives, to ensure their survival in the wild with benefits for the livelihoods of local people and the global environment. The CITES permit system seeks to ensure that international trade in listed species is sustainable, legal and traceable. CITES was signed in Washington D.C. on 3 March 1973 and entered into force on 1 July 1975.
About the United Nations World Wildlife Day
On 20 December 2013, the 68th session of the United Nations General Assembly proclaimed 3 March as World Wildlife Day to celebrate and raise awareness of the world's wild fauna and flora. The date is the day of the signature of the Convention on International Trade in Endangered Species of Wild Fauna and Flora (CITES) in 1973. World Wildlife Day has quickly become the most prominent global annual event dedicated to wildlife. It is an opportunity to celebrate the many beautiful and varied forms of wild fauna and flora and to raise awareness of the various challenges faced by these species. The day also reminds us of the urgent need to step up the fight against wildlife crime, which has wide-ranging economic, environmental and social impacts.