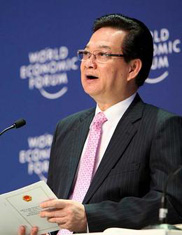 Viet Nam's Prime Minister, Mr Nguyễn Tấn Dũng, has issued a Directive to Ministries, sectors and local authorities to prioritise and strengthen responses to wildlife crime, including the trafficking of African elephant ivory and rhino horn. The Directive outlines a number of actions to combat wildlife crime in Viet Nam, including directing Ministries to strengthen responses to transnational organized crime syndicates, increase inter-agency efforts at check points and border crossings, and address hot spots of illegal wildlife trade. Judiciary bodies are directed to increase prosecution of those involved in wildlife crime and work together to strengthen legal provisions. The need to improve awareness of wildlife crime and relevant national and international legal provisions – including those under the Convention on International Trade in Endangered Species of Wild Fauna and Flora (CITES) – among government officials and the public is also highlighted.
The CITES Secretary-General, Mr John E. Scanlon, welcomed the Directive, saying "Commitment from the highest political level is essential if we are to combat the illegal trade in wildlife. Prime Minister Nguyễn Tấn Dũng's Directive acknowledges the serious threat that illegal trade in wildlife brings to Viet Nam's environment, as well as its economy and national security.  It also recognizes the role of transnational organized crime syndicates in wildlife crime and the trafficking of ivory and rhino horn from Africa into Viet Nam."
"This Directive sends a clear signal to perpetrators that these destructive crimes will not be tolerated in Viet Nam, along with a strong message to authorities of the need to work collaboratively to put an end to wildlife crime" added Scanlon.
The Directive comes on the back of the high-level political commitment secured at the recent Conference on Illegal Wildlife Trade hosted by the UK Government. The resulting London Declaration was endorsed by 46 countries, including Viet Nam.
See also: