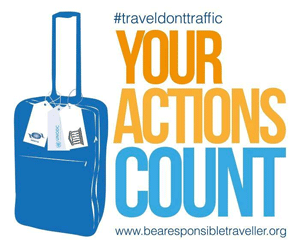 The World Tourism Organization (UNWTO), the United Nations Office on Drugs and Crime (UNODC) and the United Nations Educational, Scientific and Cultural Organization (UNESCO) have joined forces to promote a global campaign urging travellers to support the fight against a number of forms of trafficking, including wildlife trafficking. The Campaign was presented to the tourism sector at the International Tourism Bourse (ITB) in Berlin (5 March 2014).
The UNESCO media release states: "'Your Actions Count – Be a Responsible Traveller'  aims to raise awareness about the most common illicit goods and services that tourists might be exposed to while travelling. The campaign provides guidance to recognize possible situations of trafficking in persons, wildlife, cultural artefacts, illicit drugs and counterfeit goods, and invites travellers to take action through responsible consumer choices."
In warmly welcoming the campaign CITES Secretary-General, John E. Scanlon said "this inspired and practical initiative comes just two days after the first ever
World Wildlife Day
, a Day on which we highlighted the need to do whatever we can - as citizens and as consumers - to bring the illegal wildlife trade to an end."
"This joint anti-trafficking campaign will inform the one billion tourists traveling the globe every year about the severe impacts that purchasing illicitly obtained and traded wild plants and animals has on wildlife and people.  Encouraging tourists to make wise consumer choices will help suppress the demand for illicitly traded wildlife." added Scanlon.  
See also: