The United Nations Security Council adopted two Resolutions,
2134 (2014)
 and
2136 (2014)
 on 28 January and 30 January 2014 respectively, on UN sanctions targeting armed groups in the Central African Republic and the Democratic Republic of the Congo financed by the illegal exploitation of natural resources, including poaching and illicit wildlife trade.
Individuals or entities involved will be subject to travels bans and asset freezes.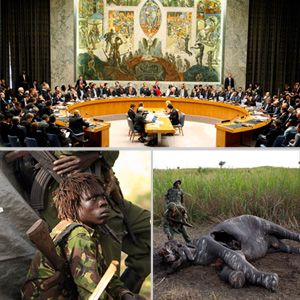 The CITES Secretary-General, John E. Scanlon welcomed the two Resolutions that he said "further demonstrate the involvement of armed groups and organized criminal networks in these serious crimes, the need for harsh sanctions against those who are involved in these highly destructive illicit activities, and the importance of enhanced regional cooperation."
The UN has been warning that ivory has become a major source of finance for armed groups and has led to the depletion of elephants in Central Africa.
According to an UN experts'
report  S/2014/42
on the Democratic Republic of the Congo dated 23 January 2014, the slaughter of elephants in the Democratic Republic of the Congo  "is one of the most tragic consequences of years of war and poor governance. Driven by growing demand in Asia and increases in prices, poaching by armed groups and criminal networks has decimated elephant populations throughout eastern Democratic  Republic of the Congo''.
In Resolution 2136 (2014), the Security Council also reiterates its call to the Democratic Republic of the Congo and States in the Great Lakes region to cooperate at the regional level to investigate and combat regional criminal networks and armed groups involved in the illegal exploitation of natural resources, including wildlife poaching and trafficking.
At its 16th meeting (Bangkok, 3-14 March 2013), the Conference of the Parties (CoP16) to CITES took decisive action to tackle the disturbing spike in the illegal killing of the African elephant and smuggling of their ivory.
The International Consortium on Combatting Wildlife Crime (ICCWC), a collaborative initiative of the CITES Secretariat, INTERPOL, UN Office of Drugs and Crime, World Bank and World Customs Organization, is assisting in building the capacity of States and regional networks in combating serious wildlife crime. 
Read more: