Geneva, 29 November 2013 - Eight Chinese citizens have recently been convicted and sentenced to 3 to 15 years imprisonment in east China's Anhui Province for smuggling a total of 3.2 tonnes of ivory between 2010 and 2012, according to a
media release
of the CITES Management Authority of China. All the ivory was bought on an auction website and sent to China via courier, falsely declared as calligraphy brush canisters or sewage pipes. The items were then offered for sale online to potential buyers in China. In addition to 15 years behind bars, the principal perpetrator was also ordered to surrender his 3 million Yuan (approximately USD 500,000) in cash.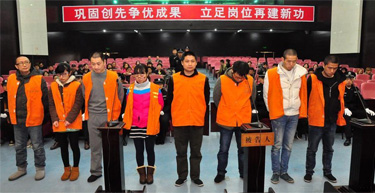 In a very similar case in the neighbouring Zhejiang Province, involving the same means and smuggling route, 10 individuals were sentenced to serve jail sentences of 6.5 to 15 years. Earlier this year, three Chinese citizens in Fujian Province were sentenced to periods of 7 to 15 years imprisonment for smuggling 7.7 tonnes of ivory from Africa. More recently, on 8 November, 2013, the Supreme Court of southern China's Guangdong Province upheld the judgment of the "court of first instance" in an ivory smuggling case, as a result of which two ivory smugglers will be jailed for 12 and 14 years for smuggling 1.04 tonnes of ivory.
Those prosecuted and convicted for ivory-related offences were not necessarily involved directly in smuggling, but in some cases for their involvement in illegal ivory trade within China.
Earlier this month, a Chinese citizen was sentenced to 10 years imprisonment in Beijing for ordering two whole ivory tusks and 168 small ivory carvings in Guangdong Province, although he claimed that they were for his own collection.
Reports from the Supreme Court of China reveal that many other examples of individuals buying, selling or transporting ivory without proper documentation issued by wildlife authorities are being sentenced to imprisonment, although the quantities of ivory involved can often be relatively small. These prosecutions send a message that the risk of facing severe penalties does not stop at the border.
These are a few examples of the increasing number of ivory-related prosecutions in China. According to China's Supreme Court, nearly 700 individuals were prosecuted during the past 10 years, with subsequent sentences for their involvement in wildlife crime ranging from 3 years to life imprisonment. They stated that ivory-related offences represented more than half of these cases in recent years.
Commenting on the increase in the number of prosecutions in China, Mr John E. Scanlon, the Secretary-General of CITES, stated that, "the efforts made in China to bring criminals involved in illegal ivory trade to justice are very encouraging. The high penalties being imposed by Chinese courts send a strong message to the people involved in this illegal trade and serve as a deterrent to others."
Dr Meng Xianlin, Executive Director-General of the CITES Management  Authority of China, stated that, "the significant seizures of smuggled ivory made in China (including Hong Kong SAR) show the tremendous efforts made by the country to combat illegal wildlife trade. Seizure is however not the end of the story, and we are working to bring more and more criminals to justice. China looks forward to working even more closely with all countries of origin, transit and destination to combat illegal trade in ivory. We can only combat wildlife crime effectively if we all work together. Together we can win this fight."
"The high profit associated with illegal wildlife trade is a key factor driving the poaching and demand for ivory. The risk of detection, arrest and prosecution must be increased, and this must go hand-in-hand with strong penalties. The current spike in elephant poaching and illegal ivory trade must be matched by a steep rise in prosecutions and convictions, and these recent developments in China and elsewhere along the illegal supply chain are a clear step in the right direction," added John Scanlon. 
-----------------------------------------------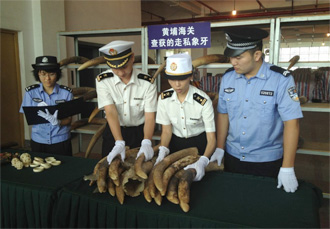 China's Criminal Law to combat wildlife crime is amongst the most strict in the world. Whilst China abolished the death        penalty for the smuggling of endangered species two years ago, those involved in illegal wildlife trade in the country still  face severe penalties, which can include a maximum penalty of life imprisonment.
   China is increasingly active in wildlife law enforcement, and particularly in ivory-related law enforcement activities. The    National Inter-Agency CITES Enforcement Collaboration Group (NICECG), which was created two years ago, has played a  vital role in enhancing collaboration among relevant government bodies in the implementation and enforcement of CITES  throughout the country. Earlier this year, China led "Operation Cobra", the first cross-continent wildlife law enforcement  operation, conducted by police, Customs and wildlife officers and involving 21 countries in Africa and Asia.