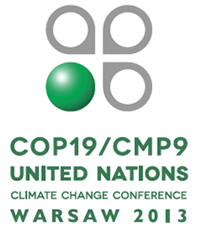 Geneva/Warsaw, 13 November, 2013 - By invitation, the Secretary-General of CITES, John E. Scanlon has shared experiences and lessons learned in implementing CITES with the UN Framework Convention on Climate Change (UNFCCC).
In a Workshop held during the 19th Meeting of the Conference of the Parties to the UNFCCC, delegates heard lessons learned from relevant experience of several multilateral agreements, namely CITES, the Montreal Protocol and the chemicals conventions.
"Every convention has its own personality and way of doing things, and it is for you to determine how our experiences in implementing CITES may be relevant to your own processes" said Scanlon in opening his presentation.
Delegates to the CoP asked questions on entering reservations, international environmental governance and the governance relationship with UNEP, the role of developed country Parties, and participation of non Parties.
The workshop was convened by the Ad Hoc Working Group on the Durban Platform for Enhanced Action.
For a copy of the Secretary-General's power point (delivered via video from Geneva) presentation click here.