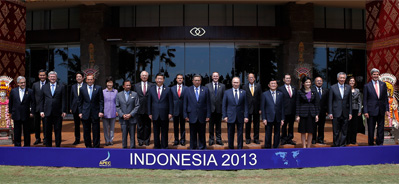 The Secretariat of the Convention on International Trade in Endangered Species of Wild Fauna and Flora (CITES), welcomes the Bali Declaration, agreed by the Leaders of the Asia-Pacific Economic Cooperation (APEC) in Bali, Indonesia on 8 October 2013, to combat wildlife trafficking.
Under the theme of "Resilient Asia-Pacific, Engine of Global Growth", the Leaders "recognized that resource scarcity presents an immense challenge that limits our ability to pursue economic growth and we were mindful of the grave economic consequences of natural and human-caused disaster, particularly to the most vulnerable members of society"
In response to these challenges, APEC Leaders committed, under paragraph 18 section h, to "combat wildlife trafficking by enhancing international cooperation through Wildlife Enforcement Networks (WENs) and other existing mechanisms, reducing the supply of and demand for illegally traded wildlife, increasing public awareness and education related to wildlife trafficking and its impacts, and treating wildlife trafficking crimes seriously".
CITES Secretary-General, John E. Scanlon, commenting on the outcomes of Bali Declaration stated that "this APEC Leaders Declaration, which has been made at the highest political level and builds upon what APEC Leaders recognized in 2012, demonstrates strong support to combat wildlife trafficking through existing mechanisms. This Declaration further reinforces the measures taken to combat the escalating illicit trade in wildlife agreed at the 16th meeting of the CITES Conference of the Parties in Bangkok in March, 2013 and at the 22nd Session of the UN Commission on Crime Prevention and Criminal Justice in Vienna in April, 2013".

The CITES Secretariat is working closely with its partners of the International Consortium on Combatting Wildlife Crime (ICCWC), a joint initiative of the CITES Secretariat, INTERPOL, the United Nations Office on Drugs and Crime, the World Bank and the World Customs Organization, to strengthen law enforcement capabilities to combat illegal trade in wildlife and to bring coordinated support to the national wildlife law enforcement agencies and to the subregional and regional networks that, on a daily basis, act in defence of natural resources.
Read more:
High-level Panel Discussion: "Poaching and Illicit Wildlife Trafficking – A multidimensional crime and a growing challenge to the international community"
Wildlife crime ranks among trafficking in drugs, arms and humans
Joint statement by UNODC Executive Director and CITES Secretary-General on wildlife crimes and related punishments
CITES Secretariat welcomes President Obama's Executive Order on Combating Wildlife Trafficking
CITES welcomes Secretary Clinton's 'Call for Action' on illegal wildlife trade
ICCWC launches report of the First Global Meeting of the Wildlife Enforcement Networks and prepares strategy for continued support
Rio+20 on CITES and wildlife crime
CITES welcomes the APEC 2012 Leaders Vladivostok Declaration
CITES Conference of the Parties on wildlife crime
CITES Secretary-General welcomes adoption of UN Commission on Crime Prevention and Criminal Justice draft resolution recognizing wildlife crime as a serious crime
UK Royal Family efforts to combat wildlife crime
G8 Leaders commit to fight against illegal trafficking in wildlife
CoP16, a 'Watershed Moment' for Combating Wildlife Crime
ICCWC hosts Ministerial roundtable on transnational organized wildlife and forest crime
Chair summary of the Ministerial roundtable on transboundary wildlife crime hosted by ICCWC
The International Consortium on Combating Wildlife Crime (ICCWC)