By invitation, CITES Secretary-General, John E. Scanlon, made a keynote address to the Opening Session of the 19th Session of the African Forestry and Wildlife Commission (AFWC) held in Windhoek, Namibia on 30 September 2013.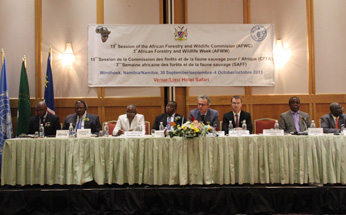 The meeting was also addressed by the Hon. John Mutorwa, Namibian Minister of Agriculture, Water and Forestry, Dr. Luc Gnacadja, Executive Secretary of UNCCD, Mr. Eduardo Rojas-Briales, Assistant Director-General and Head of the Forestry Department, FAO, and senior officials from AFWC.
In his address, Mr. Scanlon noted that CITES neither promotes nor discourages trade in wildlife, rather it regulates such trade where it does occur.  Countries have sovereign rights over their own biological resources and the decision on whether to trade is one for them to determine - subject to meeting their international commitments.
Mr. Scanlon further noted that the sustainable use of wildlife can be consumptive or non consumptive, and gave examples of different forms of legal trade in CITES listed species, such as vicuña wool, alligator leather and meat, African cherry bark, Queen conch meat, Markhor hunting trophies, and python skins. He also highlighted the significant tourism benefits of the conservation of the Mountain gorilla and African elephant and rhino. 
Mr. Scanlon highlighted the spike in poaching and smuggling of elephant and rhino and the profound impacts it is having on economies and national and regional security, and on local communities - noting that organised criminals and rebel militia are driving such illicit activities and are reaping high profits at the expense of local people. 
Mr. Scanlon referenced the recent UNGA side-event hosted by Germany and Gabon, and the speech of the President of Gabon, President Ali Bongo Ondimba, and the role of the International Consortium on Combatting Wildlife Crime (ICCWC) and the Collaborative Partnership on Sustainable Wildlife Management. 
The CITES Secretary-General concluded by noting the role of CITES in ensuring the survival of species in the wild and that while there were differing views on some aspects of trade, Parties are bound by a common objective.  He noted that the Convention text recognises that peoples and States are the best protectors of their own fauna and flora and that by working together we can help ensure the best possible outcomes for people and for wildlife. 
See also:
FAO Press Release - Forest and wildlife sectors key to food security and a green economy in Africa