Member countries of the Amazon Cooperation Treaty Organization met in Quito, Ecuador from 22 to 23 August 2013 to take stock of progress made in the implementation of a project to develop CITES e-permitting systems and Single Window environments and to discuss new mechanisms to increase further collaboration and sharing of expertise. Substantial progress has been achieved, especially with regard to ensuring that CITES e-permitting systems are developed in alignment with recommendations found in the CITES e-permitting toolkit and with the World Customs Organization (WCO) Data Model.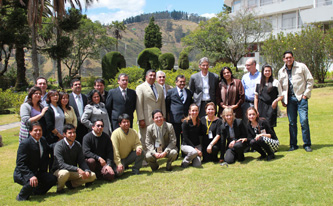 Participants at the Regional workshop on the progress of the project:
Development of CITES e-permitting systems for ACTO Member
Countries Quito, Ecuador, 22-23 August 2013
Ecuador, for example, is near completion of a project to develop a Single Window on trade that includes CITES permits and certificates, placing it among the first countries in the Americas to reach this goal. Colombia and Peru have also made impressive progress with regard to development of Single Windows. Discussions are currently ongoing between their Management Authorities and lead agencies responsible for the development of Single Windows on the inclusion of CITES permits. The Brazilian Management Authority is also discussing with its lead agency participation in the project to develop a Single Window on trade.
Secretary-General John E. Scanlon, speaking on the achievements by ACTO Member Countries said "the significant progress made by countries in the Amazon region to develop e-permitting systems is most encouraging. These efforts provide a timely example of good regional cooperation in the use of new technologies to more effectively regulate and trace trade in CITES-listed species."
In his comments on the workshop and on the project, Secretary General Robby Ramlakhan stated that "this project contributes to a great extent to the goals of the Amazonian Cooperation Strategic Agenda, particularly with regard to the Management, monitoring and control of wild flora and fauna species endangered by trade. The new procedures provided by this project offers ACTO member countries the means to better protect and use their wildlife."
This project is co-funded by the European Union and the Amazon Regional Program (DGIS/BMZ/GIZ) of Germany and the Netherlands. The success achieved by now motivated the ACTO member countries to focus the 10 million euros financial cooperation by the German KfW Development Bank for the region on CITES e-permitting systems. This new project will begin in 2014 and intends to improve  infrastructure necessary to support and improve CITES e-permitting systems.