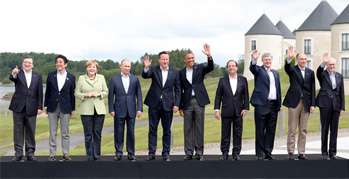 The fight against transboundary wildlife crime received a boost at the recently concluded G8 Summit held from 17 to 18 June 2013 at Lough Erne.1 G8 Leaders recognized the need to tackle criminal trafficking and to strengthen border security, including in relation to illegal trafficking of wildlife noting the links to governance and the rule of law and sources of funding for terrorists.
In the final communiqué of the meeting2, G8 Leaders placed the fight against the illegal trade in wildlife alongside fighting corruption, transnational organized crime and illicit trafficking of drugs and people. Recognizing the threats posed by such trafficking, Leaders agreed to "… also take action to tackle the illegal trafficking of protected or endangered wildlife species.3"
CITES Secretary-General, John E. Scanlon, commenting on the outcomes of the G8 Summit stated that "the support shown by G8 Leaders to combatting the illegal trafficking of wildlife is timely and welcomed, especially given the links between illegal trade in ivory and funding criminal gangs like the Lord's Resistance Army4. Africa is experiencing increasingly dangerous levels of illegal trade in many of its iconic species. This illegal trade is driving  these species to extinction at the local or regional level and is affecting national security and economies. Such high-level support could not have come at a better time and it builds upon the outcomes of the APEC Leaders' Summit in Vladivostok5 and the UN Conference on Sustainable Development (Rio+20)6, both held in 2012, as well as other high-level commitments.7"
The encouragement by G8 Leaders for the work of the UN Office on Drugs and Crime (UNODC)8 and the offer of political and practical support to those regional and international organisations leading efforts to enhance the ability of countries to monitor and control their borders and to tackle facilitating factors such as corruption, transnational organised crime lends further support to the efforts of the International Consortium on Combating Wildlife Crime (ICCWC)9 to assist national and regional enforcement agencies and networks to fight illicit trade in wildlife.
Leaders also recognized the benefits provided by internationally recognized environmental and social standards in ensuring sustainable use of natural resources in developing countries. "The recognition shown by G8 Leaders is in line with the benefits provided by CITES through its  regulation of international wildlife trade in a sustainable, legal and traceable manner. This conserves wildlife while also providing sustainable livelihoods for indigenous and local communities that rely on the use of biodiversity." said John E. Scanlon.