Geneva, 5 June 2012 – The CITES Secretariat has launched today its own pages and accounts in four social networking websites: Facebook, Twitter, Flickr and Youtube on the occasion of the World Environment Day. These pages were created to help CITES authorities and other members of the CITES community connect with one another in more innovative ways. Links to these pages can be found on the CITES home page.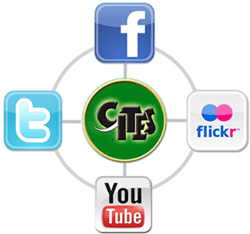 The CITES Facebook page contains news, information and photos since the adoption of the Convention. CITES authorities are invited to join and participate actively in sharing CITES stories in different ways and through a variety of internet channels. At the launching of the Facebook page, CITES Secretary-General, Mr John E. Scanlon, said "our new Facebook page is a contemporary way of enhancing capacity building, education and fundraising and it allows CITES friends to support, and interact with, the Convention by giving, 'liking' and 'sharing.'"
The CITES Flickr account will be used to post photographs from workshops, meetings, missions and other relevant activities. All CITES Parties and stakeholders are invited to contribute with visual materials to populate this page.
CITES authorities and stakeholders are also invited to follow CITES on Twitter in order to stay up to date on the latest CITES news. This will be especially relevant during CITES meetings where followers will be able to see announcements for new documents on the website, meeting places and rooms for ongoing deliberations and events, press conferences, vote results and press clippings covering CITES related activities.
Finally, the CITES Youtube channel will host videos, films and documentaries featuring CITES-listed species and CITES-related activities. Distribution of video content is happening more through modern technology than through traditional media and our Youtube channel will allow the CITES community to stay connected and updated. Social networks and blogs are now ahead of personal e-mail in terms of online activities and account for almost 10% of time spent on the Internet.
"The opportunities stemming from social networking are extensive. We are offering our Parties, stakeholders and the wider community an opportunity to support CITES efforts, help prevent illegal trade, support fund-raising activities and coordinate their work, while also demonstrating their commitment to protecting some of our planet's most amazing species," added, Mr  Scanlon.
The CITES social web experience is part of an overall communication and outreach strategy, including the Website, press releases, media briefings, side-events, statements, news items and documentaries to better reflect the changes in species conservation and the evolution of wildlife trade rules.
Note to editors: For more information, please contact Liu Yuan at +41 22 917 8130 or [email protected]