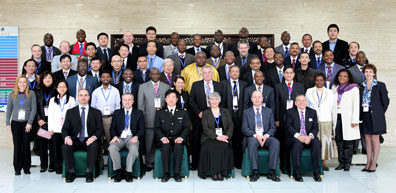 A group photo of the participants to the workshop (click to enlarge)
Organized by the World Customs Organization (WCO), under the auspices of the International Consortium on Combating Wildlife Crime (ICCWC), the first international workshop on Establishing a Network of Controlled Delivery Units for Forest and Wildlife Law Enforcement ended on 9 December, after three days of deliberation.
Controlled deliveries have long been a tool for investigating drug and tobacco smuggling but their use in wildlife smuggling is more recent and remains limited in scope. The five institutional partners which comprise ICCWC – the Secretariat of the Convention on International Trade in Endangered Species of Wild Fauna and Flora (CITES), INTERPOL, the United Nations Office on Drugs and Crime (UNODC), the World Bank and WCO – therefore determined that an exchange of information and experience on the subject would be highly beneficial for wildlife enforcement officials.
Secretary-General of CITES, John Scanlon, said "the use of this enforcement technique will yield real results in bringing to justice those individuals who organize the smuggling of wildlife. And this workshop clearly demonstrates the added value of working together through the International Consortium on Combating Wildlife Crime in taking up the fight against wildlife crime."
The interception of smuggled commodities, including wildlife and wildlife products, prevents illegal goods from reaching consumers or black markets. Such interceptions, however, often lead only to the arrest of 'mules' or couriers and seldom to the arrest and conviction of those criminals who direct and organize the smuggling. By allowing the contraband to continue its journey, in a 'controlled' manner, authorities can gather evidence at each point in the illegal supply chain and, eventually, identify, arrest and prosecute those who are involved in the shipment. Engagement in such 'controlled deliveries' enables enforcement agencies to monitor the supply and distribution of smuggled wildlife or forest products to 'upstream' manufacturers, processors and retailers, or individual consumers. Investigations at these final stages will often uncover evidence to identify actors at all stages of the poaching and trafficking operations. They also offer an opportunity to 'follow the money' and to obtain evidence of money laundering or other corruption-related crimes.
The workshop was hosted by China Customs at the Shanghai Customs College, a designated WCO regional training centre. Substantial financial support for the workshop was provided through a grant organized by the World Bank from funds provided by bilateral donors to the PROFOR (Program on Forests) Trust Fund. Some funds were also provided by the United Nations Office on Drugs and Crime (UNODC). Significant in-kind contributions were made by all ICCWC partners.
Approximately fifty representatives of national Customs, police, specialized wildlife and forest law enforcement agencies and public prosecutor offices from 18 countries in Africa and Asia (Cameroon, China, Hong Kong Special Administrative Region of China, Ethiopia, India, Indonesia, Kenya, Lao People's Democratic Republic, Malaysia, Mozambique, Nepal, Nigeria, the Philippines, South Africa, Thailand, Uganda, the United Arab Emirates, the United Republic of Tanzania and Viet Nam), discussed the opportunities for and challenges with using controlled deliveries to investigate and prosecute wildlife and forest crimes.
Resource persons in the workshop included: Customs officers from the Brussels airport in Belgium and the seaport of Rotterdam in the Netherlands who had conducted controlled deliveries of smuggled wildlife products; the director of enforcement and training for the CITES Management Authority of China; two senior prosecutors from the National Prosecuting Authority of South Africa who had dealt with transnational organized crimes involving wildlife; and experts from all ICCWC partner agencies.
Workshop participants agreed on a number of recommended actions to address the legislative, capacity and operational issues involved with controlled deliveries. They expressed appreciation for the informal network established through the workshop and identified future ICCWC and other meetings at which they could assess progress in their use of controlled deliveries for forest and wildlife law enforcement.