Scientists meet in Geneva to discuss global trade in CITES-listed plants
Geneva  – The Plants Committee of the Convention on International Trade in Endangered Species of Wild Fauna and Flora (CITES) met in Geneva from 18 to 21 April to take concrete measures to better protect plants found in the wild.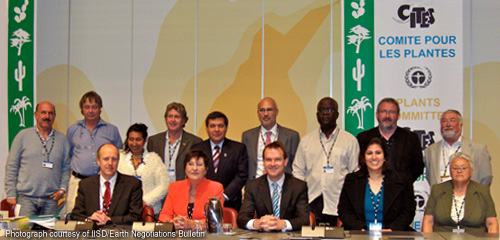 Front row from the left, Mr Øystein Størkersen, Chair of the Standing Committee, Dr Margarita África Clemente Muñoz, Chair of the Plants Committee, Mr John E. Scanlon, CITES Secretary-General with members of the Plants Committee
At the biggest meeting in its history, the members of the Plants Committee representing the six CITES regions: Africa, Asia, Central and South America and the Caribbean, Europe, North America and Oceania together with an expert on plant nomenclature, were joined by observers from 37 countries and leading scientific institutions, intergovernmental bodies, private sector and non-governmental organizations to agree on how best to ensure legal, traceable and sustainable international trade in plants valued for their wood, medicinal, ornamental, aesthetic and other qualities.
Participants were indeed concerned to note that international trade in a number of species of euphorbia, aloes, palms, orchids and trees, such as Afrormosia or African teak and big-leaf mahogany was being conducted at unsustainable levels. They agreed on recommendations addressed to the countries exporting specimens of these species in order resolve this over-use in the coming months.
The Committee discussed which plant species warranted inclusion in the Appendices of CITES and the types of plant products which should be covered by CITES controls*. The extensive international trade of plants, means that some species are threatened with extinction, or may become so unless trade in specimens of these species is subject to strict regulation in order to avoid utilization incompatible with their survival.
The Committee agreed to recommend that CITES should develop clearer guidelines for the declarations of biological sustainability ("non-detriment findings") made before trade in specimens of CITES-listed species is allowed. In this regard, the Committee have developed examples of good practice for certain groups of plants and continue to refine these and develop similar blueprints for other kinds of plants.
The Committee also agreed to strengthen cooperation with a variety of other bodies: the International Tropical Timber Organization (ITTO), the Convention on Biological Diversity and its Global Strategy for Plant Conservation and the recently created Intergovernmental Platform on Biodiversity and Ecosystem Services (IPBES), as well as address the implications of climate change for CITES implementation.
A number of inter-sessional working groups were established to further the technical discussions on many of these subjects and they will report their results to the 20th meeting of the Committee, scheduled to be held in Ireland in early 2012.

* - the 'annotations' used in the CITES Appendices.
---
Note to journalists: For further information please contact David Morgan at +41-22-917 81 23 or [email protected]s.org.
For official documents see /eng/com/pc/index.shtml
The IISD ENB report of the meeting can be found at: http://www.iisd.ca/cites/pc19