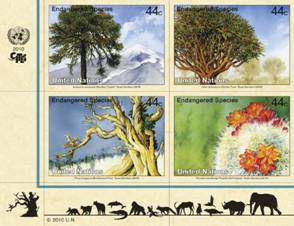 One sheet from the just-released 2010 series of the UNPA Endangered Species
The United Nations Postal Administration (UNPA) has issued a new set of 12 stamps depicting endangered species, most of which are CITES-listed. This is the 18th set of stamps in UNPA's multi-year Endangered Species series. The series was launched on 3 March 1993 to highlight the need for the protection of endangered species throughout the world. This year, the stamps show a variety of plants, cacti and trees.
Two factors gave rise to the idea of launching the Endangered Species series. First, UNPA selects themes that reflect the activities of the United Nations and its specialized agencies. Second, stamps representing animals or plant species are traditionally popular amongst stamp collectors, many of whom will collect one animal in particular. It was decided from the onset to issue these series every year and, 18 years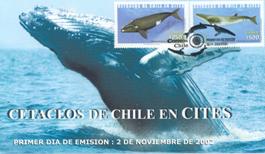 on, their popularity has not abated. "The Endangered Species stamps are one of the best-selling series of all those produced by the United Nations", said Mr Peter Torelli, Officer-in-Charge of UNPA at Geneva. Artists from all over the world are called upon every year to illustrate the species selected.
Stamps are popular with children and adults alike and stamp collecting is a widely spread hobby across the world, cultures and age groups. The Secretariat therefore believes that they are a good way of making the Convention more widely known outside the community of people traditionally involved in CITES. As a matter of fact, some Parties have followed suit and produced stamps illustrated with CITES species and bearing the CITES logo, such as Japan and Chile on the occasion of the eight and 12th meetings of the Conference of the Parties respectively, or Poland in 2001.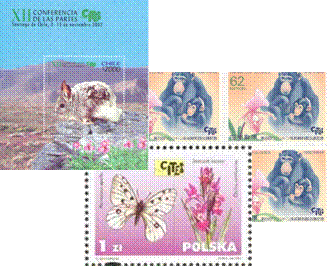 The Secretariat encourages other Parties to follow this example. Indeed, outside meetings of the Conference of the Parties, which receive quite a lot of media coverage, the general public can rarely read or hear about the Convention, and then often only in association with large Customs seizures or other events that may stress the illegal side of international wildlife trade. For that reason, and because of the wide range of people interested in stamps, the Secretariat believes that stamps can be a 'gentle' and positive way of making the Convention more widely know.
The Endangered Species series can be ordered from the UNPA website.