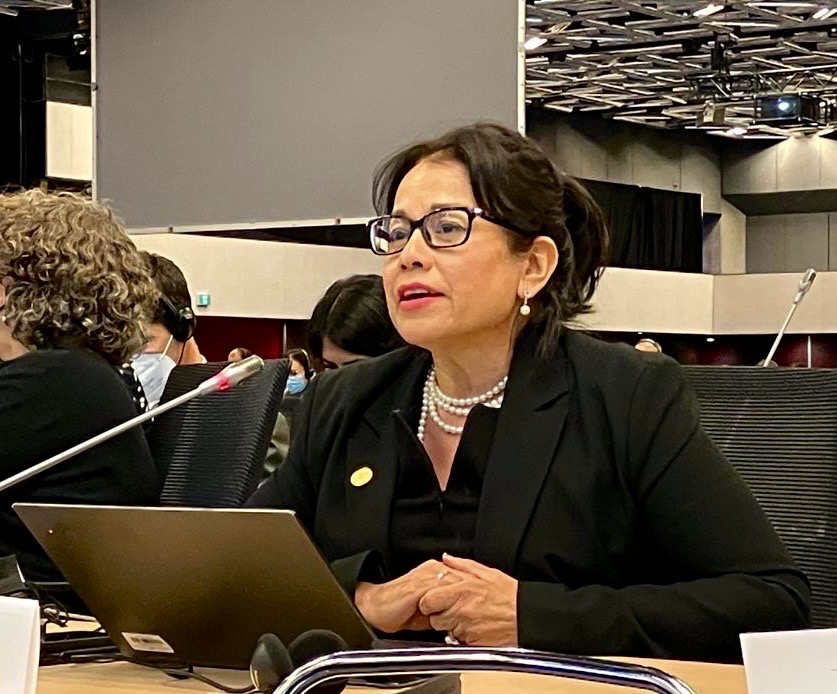 Statement
By the Secretariat of the Convention on International Trade in Endangered Species of Wild Fauna and Flora (CITES)
Fifteenth meeting of the Conference of the Parties to the Convention on Biological Diversity
Working Group I: CBD 15-B (Cooperation with other conventions and international
organizations)
Montreal, 7 December 2022
delivered by Ms Ivonne Higuero, CITES Secretary-General

Thank you, Chair

Excellencies, distinguished delegates, ladies and gentlemen,
I know you feel the weight of expectation on your shoulders or maybe it's the burden of
responsibility. Whichever it is, I hope you know you are not alone. Other biodiversity-related conventions have also been contributing to efforts to halt the loss of biodiversity, by addressing its causes and agreeing on actions to be implemented.

Some of you were with us for CITES CoP19, generously hosted by Panama, which wrapped up
12 days ago. Parties, observers and the media saw it as a landmark meeting. The strength that
has carried CITES through nearly 50 years of regulating the international trade in endangered
species of wild fauna and flora has never been more evident, as Parties and observers worked
together to ensure this trade is sustainable, legal and traceable. 365 decisions were adopted by
Parties to the Convention, most of them by consensus, and cover issues from strategic matters
to implementation to compliance and enforcement. 562 species (including 160 amphibians, 50
turtles and tortoises, 101 sharks and rays and 152 tree species) were added to Appendix II. 46 of
the 52 proposals put forth by Parties were adopted, where 35 were agreed by consensus and the
rest required a vote.

The decisions adopted by Parties to CITES include a decision directed to the Standing Committee
to explore, with the assistance of the Secretariat, options consistent with the CITES Strategic Vision
to strengthen cooperation, collaboration and synergies at all relevant levels between CITES and
the post-2020 global biodiversity framework, taking into account the outcomes of the Second
Consultation Workshop of Biodiversity-related Conventions on the Post-2020 Global Biodiversity
Framework (Bern II), as well as the 2030 Agenda for Sustainable Development and its Sustainable
Development Goals.

The Secretariat was also asked to undertake a comparative analysis in order to illustrate the
linkages between the CITES Strategic Vision 2021-2030 and highlight areas of alignment with the
post-2020 Global Biodiversity Framework, as a starting point for an assessment of how CITES can
contribute to the implementation of the Global Biodiversity Framework and its monitoring framework.

These decisions reflect the commitment of CITES Parties to contribute to the implementation of
the post 2020 GBF, through the implementation of CITES. Stronger cooperation as well as
effective and efficient implementation of the GBF will allow us all to play our parts in achieving the
2030 Agenda for Sustainable Development and its Sustainable Development Goals, and ensure
that by 2050, the shared vision of living in harmony with nature is fulfilled.

Thank you, Chair.