By CITES Secretary-General, Ivonne Higuero
After a few days off to recover from the very busy t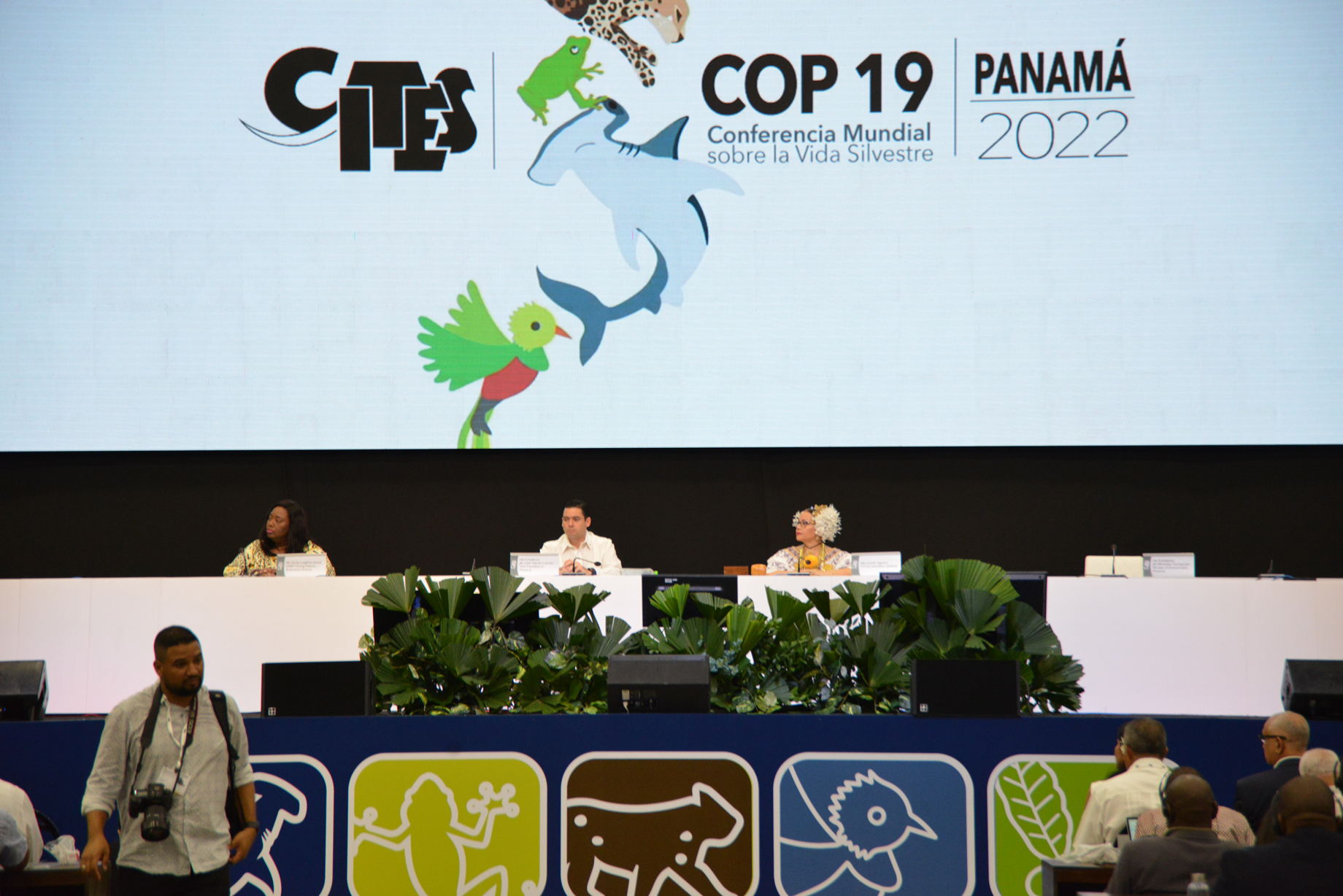 wo weeks in Panama and now moving on to the CBD Open Ended Working Group meeting on the Global Biodiversity Framework and the CBD COP15 in Montreal, I have time to reflect on the outcomes of CITES CoP19. The meeting of the ultimate decision-making body of the Convention on International Trade in Endangered Species of Fauna and Flora ended one week ago, reaching 365 decisions and covering more than 500 species. And now each of the 2,500 people, representing more than 160 of the Parties to CITES as well as observers, have started working to make sure these decisions turn into action.
I believe that CITES Parties came to Panama fully aware that the world is confronting a triple planetary crises and prepared to find ways to address meaningfully the crisis of global biodiversity loss through their decision-making at CoP19. One could feel that this was a momentous event, held concurrently with the meeting of the Conference of the Parties to the UNFCCC, and just before the meeting of the Conference of the Parties to the CBD, where it is hoped there will be agreement on an ambitious post 2020 Global Biodiversity Framework. The Parties, the observers and the media are calling this World Wildlife Conference – as CITES CoPs are also known – 'historic' and 'landmark' as the Parties to the Convention acted to address the unprecedented pressure that species are being put under by overexploitation and illegal trade.
More than a million species are threatened with extinction, and a growing human population, now at 8 billion, is predicted to need more and more of the resources nature provides. For example, if current trends continue, we are expected to need 60% more food by 2050 than is currently being produced. However, for marine species, FAO reports that 35.4 percent of fish stocks are overfished. Almost one third of all shark and ray species are believed to be threatened with extinction. It is also recognized that 60% of known turtle and tortoise species are either threatened with extinction or have already gone extinct and that more than 40% of amphibian species are threatened with extinction. Trees that are highly valuable for their wood are also under threat of extinction due to overexploitation and illegal trade. Making matters worse, loss of habitat, climate change, pollution and disease are also impacting plants and animals in the wild. 
Considering the above scientific arguments and data put forward by proponents to amend the CITES Appendices, the Parties decided to add or change the status of over 500 species to the CITES Appendices at CoP19. Of the proposals adopted, the international trade in 4 bird species, 100 shark and ray species, 50 turtle and tortoise species, 160 species of amphibians, and 150 tree species will be regulated as soon as the listings come into effect (for most listings, 90 days and, for a few, between 12 and 24 months). This means that, for those included in Appendix II, Parties will have to use the tools of the Convention, such as non-detriment and legal acquisition findings for sustainability, legality and traceability of the trade. And for those included on Appendix I, all international commercial trade is prohibited. It is important to note that for a few species, conservation measures were so successful that they could be downlisted from Appendix I to Appendix II, what I consider a real indicator of the success of the Convention.
For nearly 50 years, CITES Parties have worked together to meet their international obligations under the Convention and achieve its aims. Observers to this latest CoP have remarked on the level of cooperation between delegates seen in Panama, as they made efforts to ensure that international wildlife trade would not threaten the survival of these species in the wild. A majority of decisions were 'Adopted by Consensus' and 45 of the 52 proposals to amend the Appendices to the meeting were adopted.
A significant amount of work also was carried out by the Parties during the two weeks of the meeting on issues ranging from strategic matters and implementation of the Convention to compliance and enforcement. For example, they resolved to work on building gender equality into the international trade in wildlife, recognizing that women are often guardians of wildlife and biodiversity but, just as often, are not recognized or benefit from this trade. They also resolved to recognize and investigate ways in which CITES can contribute to mitigating the risk of zoonotic pathogen spillover and transmission from wildlife trade and associated wildlife supply chains, including markets.
An existing ban under CITES on the international commercial trade in ivory was upheld and a proposal to move all African elephants to Appendix I was rejected. It is clear, in my opinion, that more needs to be done in the area of sustainable and reliable financing for those range states who have to meet the costs of conservation and I hope innovative financing solutions, including from private sources, will be explored during this intersessional period.
Parties, particularly those affected by illegal fishing and trafficking of totoaba, also agreed to work together to support Mexico in its fight to save the world's most endangered marine mammal, the vaquita porpoise. There are thought to be fewer than 20 vaquita left in the wild. Their populations have dropped to these levels as they are caught as by-catch by criminals that are targeting the highly prized totoaba fish bladders. Parties are encouraged in the decision to assist Mexico with financial and logistical support for fishers to use only vaquita friendly gear and stop them from entering the vaquita refuge, in the hope that this will buy time for vaquita numbers to go up.
The launch of a World Wildlife Trade Report at CoP19 showed that international trade in wildlife is worth more than $200 billion annually to the world economy and highlighted how important that trade is to human well-being. Humans use the resources that come from nature for food, fuel, medicine and shelter and this report should encourage all stakeholders to invest in wildlife conservation.
The record-breaking 365 decisions that came out of CoP19 is evidence that CITES Parties agree that they need to enforce measures that allow the international trade to continue but only in ways that are sustainable and legal to safeguard its benefits and existence for future generations.
I end with a note on how proud and honoured I am to have organised CoP19 in my home country, how grateful I am to the Government of Panama for their wonderful and generous hosting of the meeting, and both proud and grateful I am for my amazing team, the DREAM team!