Sixty-ninth meeting of the CITES Standing Committee
Geneva, Switzerland, 27 November 2017
Opening remarks by John E. Scanlon, CITES Secretary General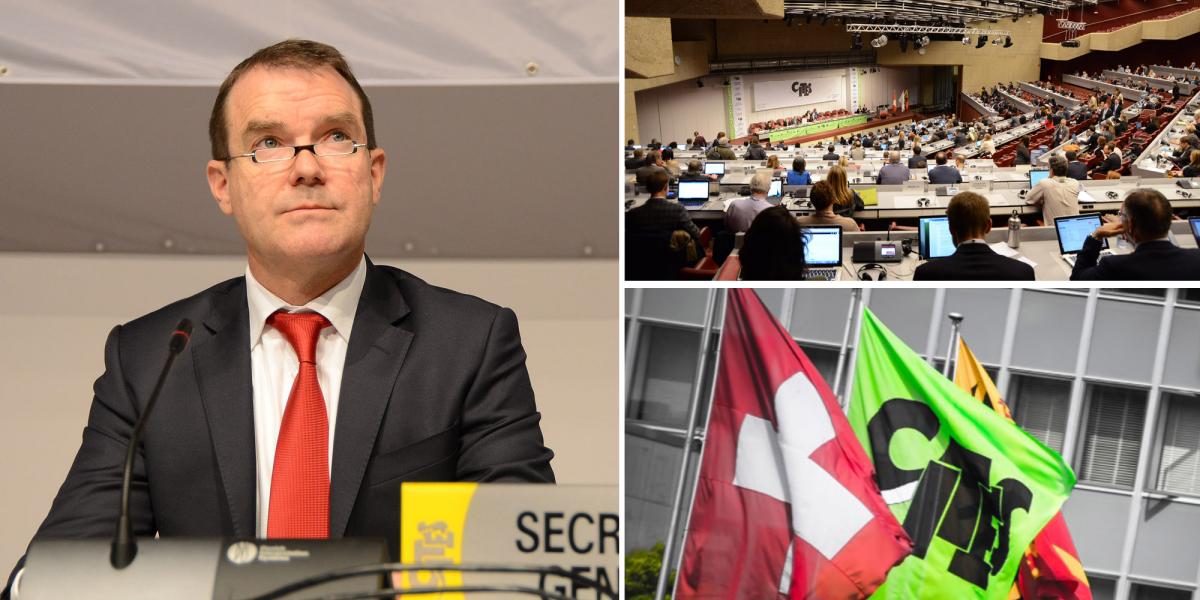 Good morning and welcome to Geneva – or back to Geneva for many of you.
I would like to extend a very warm welcome to our Standing Committee Members, Party Observers, intergovernmental and non-governmental organizations, as well as the private sector and the media.
Our sincere thanks go to Switzerland for once again making this facility available to us, and for funding the purchase of the lovely new CITES banners you can see around us!
-----
Believe it or not, the 17th meeting of the Conference of the Parties held in Johannesburg (CoP17) concluded just over one year ago – although I must say that to me it feels like much longer!
At CoP17, CITES Parties dealt with our largest ever agenda and we had a record attendance. I am sure you all recall how the CoP got started to a wonderful drum beat – you won't find any drums under your seats today – and the very positive and constructive mood at the meeting.
The CoP ended with our Parties changing the listing status of close to 500 species and adopting 39 resolutions and 312 decisions – 133 of which were directed to the Secretariat. 
We have since moved rapidly to the implementation stage. And as you all appreciate, implementation is not always without its challenges, as we have seen, for example, with differing interpretations of the Dalbergia annotations, which we hope to resolve this week – and we welcome the presence of many industry representatives at this meeting.
After such an extraordinary CoP, we had record numbers of attendance at our two science committee meetings earlier this year, and we warmly welcome the new Chairs of the Animals and Plants Committees, Mathias Lörtscher and Adrianne Sinclair both of whom are with us today.  
We also have a record number of participants registered for this Standing Committee meeting, and we expect over 600 people to attend this week's meeting. As you have heard me say before, these Standing Committee meetings are now like a 'mini CoP'!
In order to help the Committee get through its huge agenda, the Chair has slightly extended the sitting hours of the Committee and we have – at some cost – made arrangements for this facility to close at 8.00 pm rather than 7.00 pm as is usually the case.
-----
For those of you who are new to CITES, the Standing Committee comprises the representatives of 19 countries, 16 of which are elected by CITES regions at the CoP and they are the voting members. The other members are Switzerland, as the Convention's Depository Government, which can vote but only to break a tie, and the hosts of CoP17 (South Africa) and CoP18 (Sri Lanka).
The people you see sitting here in the front rows are the members of the Standing Committee and they are the only ones taking the decisions at this week's meeting – and all of those seated behind are here as observers!
The CITES Parties have charged this Committee with carrying forward the outcomes of CoP17, and, where considered appropriate, to make use of the compliance measures that the Parties have entrusted to this Committee.
In the interest of transparency, the Secretariat has over recent meetings engaged the Committee with compliance issues early on, and we have done so again for this meeting. Our approach is supportive and non-adversarial, with the aim of ensuring long term compliance, and we are trying to assist countries struggling with many compliance issues in a more comprehensive and coordinated manner.
-----
Colleagues, CITES has attracted unprecedented political, financial and technical support over recent years, which is again reflected in this week's agenda. The latest UN General Assembly Resolution on tackling illicit wildlife trafficking adopted in September once again has CITES and ICCWC at its heart, and it specifically references the outcomes of CoP17.
The UNGA Resolution also for the first time refers to the urgent need to prevent illegal timber harvesting, in particular of rosewood, agarwood and sandalwood and this call reinforces the need to scale up our efforts to put CITES-listed timber trade onto a legal and sustainable footing.
Further significant funding support for CITES, including additional funding to be announced this week, and the level of technical support now being provided to Parties, is enabling countries to more effectively tackle illegal trade and put legal trade on a sustainable footing.
We are fortunate that, while CITES decision making rests with its Parties alone, its governance is open, inclusive and transparent. And to enhance effective implementation, the Convention is working across multiple entities, sectors and disciplines – including on issues as diverse as trade, conservation, corruption, development, animal health and welfare, transport, enforcement and financing, which is a great strength of the Convention.
We are seeing the benefits of this enhanced and sustained collective effort, which is perhaps most evident with the poaching levels of the African elephant falling for the fifth consecutive year, with significant gains being made in Eastern Africa, although not yet in Central or Western Africa.
-----
The ever-growing level of interest and engagement in the work of all of our committees, is a positive and welcome development and something to be celebrated. It is also continuing to take its toll on all of us – and I would like to thank everyone involved for their hard work and commitment.
The Secretariat, which, as you know, has gone through a major transition over the past 18 months has put a massive effort into preparing for this week's meeting. While I ask the lead author of each document to present it to the Committee, the final content reflects a Secretariat wide effort and position. And I will under the appropriate agenda item introduce you to new staff in the Secretariat.
-----
Let me conclude by reminding us that the 70th meeting of the Standing Committee to be held in Sochi, Russia, is only 11 months away, with CoP18 to be held Colombo, Sri Lanka following rapidly thereafter, as we will soon hear.
We have a lot of work to do between now and then and we are most fortunate to have such an experienced person representing Canada as the Chair to guide us through this week's meeting.
Carolina Caceres served as the Chair of CoP16 Committee 1, as Chair of the Animals Committee from 2013-2016 and she has deep national experience with the Management Authority of Canada.
This is the first time Canada holds the Chair of the Standing Committee and it is also the first time in the history of CITES that we have a woman serving as Chair – and thankfully we changed the Rules of Procedure from Chairman to Chair at the last CoP!
Thank you and please join me in welcoming Carolina.