Fourteenth Session of the FAO Committee on 
Fisheries Sub-Committee on Fish Trade (COFI-FT)
Bergen, Norway, 24–28 February 2014
FAO-CITES related activities on commercially exploited aquatic species
John E Scanlon, Secretary General,
Convention on International Trade in Endangered Species of Wild Fauna and Flora (CITES)
Chairperson, Ms Astrid Holtan, Deputy Director General, Ministry of Trade, Industry and Fisheries.
Distinguished delegates, colleagues.
Thank you very much for the invitation to contribute towards your deliberations on Agenda item 12, which updates the Sub-Committee on CITES related activities.
---------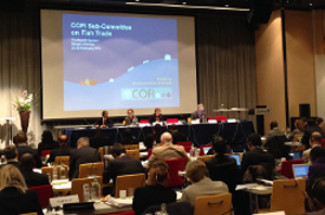 Most of you are now very familiar with CITES, which was recognised in the outcome document of Rio+20, The Future We Want, as an "international agreement that COFI-stands at the intersection between trade, the environment and development" and "promotes the conservation and sustainable use of biodiversity."
As of last week, CITES has 180 Parties, with Iraq having just joined - and there are several other States in the process of acceding.
--------
CITES-FAO relations have become progressively stronger over the years, with our collaboration being highly collegiate and productive since CITES CoP 15 in 2010.
CITES Parties greatly appreciate the FAO expert advice it receives and in particular its advice on proposals to list commercially exploited aquatic species on the CITES Appendices.
The Decisions taken by the CITES Parties last year to regulate international trade in 5 shark species and all manta rays through an Appendix II listing will ensure the legal, sustainable and traceable trade in these species, which will also contribute to achieving the FAO Global Goals and Strategic Objectives, including by enhancing sustainable livelihoods for rural communities.  
These new listings, which will serve to achieve both CITES and FAO objectives, means the good links between FAO and CITES need to be further enhanced and broadened.
Together with senior staff, I met Assistant Director-General for Fisheries and Aquaculture, Mr. Árni M. Mathiesen and his team last summer and we agreed to strengthen the FAO-CITES relationship, which we are now doing in many practical ways as we work towards 14 September when the new CITES listings come into effect.
--------
The CITES Secretariat received Euro 1.2m in funding from the European Union to support these new sharks and manta ray listings and we are providing part of these funds to FAO - and consultants recommended by FAO - to support the implementation of CoP16 Decisions by CITES Parties and to help bring the fisheries and CITES sectors together in key shark fishing and trading nations.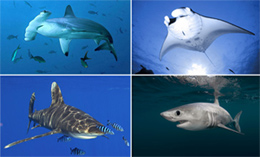 This includes jointly holding regional consultative workshops on capacity assessments for the implementation of the new CITES aquatic listings - in Morocco earlier this month for key African States with a workshop planned in China in May of this year for the Asian region.
Both Latin America and the Caribbean and Oceania already held their own workshops, hosted by Brazil and Australia respectively, to assess their readiness to implement the new listings and FAO and CITES will be supporting the follow-up activities they agreed.
Other States and civil society organizations are also holding a series of workshops, including events held in El Salvador, Fiji, Thailand, the United Arab Emirates and Yemen.
There is a worldwide collective effort underway to help States implement the shark and ray listings taken at CoP16, which is most encouraging.
These joint actions follow excellent CITES-FAO cooperation in the past on sea cucumbers and queen conch, which are detailed in your papers, as well as the FAO work on humphead wrasse in the Pacific, which has assisted CITES Parties fulfill their obligations for legal, sustainable and traceable international trade for this Appendix II listed species.
--------
Regarding suggested actions in your documents, we would respectfully encourage the Sub-Committee to concentrate on three main issues that we believe will be of most benefit to both FAO and CITES, namely:
building on existing fisheries management measures, strengthening national capacity to make non-detriment and legal acquisition findings for trade in commercially exploited aquatic species covered by CITES, including through supporting closer cooperation with RFMOs, and with a particular focus on the new sharks and ray listings;
 
advising on CITES listing proposals with a focus on biological criteria and also commenting on relevant technical aspects, such as fisheries management and international trade- and in this regard we respectfully urge FAO in providing this advice not to depart too far from the operational mechanisms of CITES itself as this could give rise to confusion and misunderstandings; and
 
supporting the inclusion of sharks listed under CITES in the Harmonized Commodity Description and Coding System, which has already been proposed by FAO and can be facilitated by our CITES database-driven Checklist to reduce errors and assist with identification.
Finally, while some differences of approach still remain concerning CITES listing criteria, these differences have not hampered the excellent level of practical co-operation that now exists between FAO and CITES. 
In the lead up to CoP16, and at the CoP itself, CITES Parties and their Secretariat found a way to accommodate differing views. This has allowed us to move on in a positive manner and to focus on more pragmatic issues. In this context it is worth noting that the FAO expert advice to CoP16 came to the same conclusion as the CITES Secretariat in 6 out of the 7 proposals that were assessed.
--------
Thank you for the opportunity to address you. The Sub-Committee can rest assured that you have our full cooperation in building upon the excellent relationship that has now been established between FAO and CITES on these issues.
In this regard, we would like to offer our personal thanks to Johanne Fischer who is leaving FAO for new pastures.  Joanne has done much to help foster good relations between us.  We wish her well and hope that her successor can be named soon to ensure continuity.
Thank you.
--------
For more information see:
FAO COFI Sub-Committee on Fish Trade website
Update on CITES related activities (COFI:FT/XIV/2014/10)
Latin American and Caribbean Nations Work Together to Promote Sustainable Global Trade of Sharks
CITES gateway on sharks and rays launched today
CITES and FAO promote better understanding of the application and effectiveness of international regulatory measures for the conservation and sustainable use of sharks
CITES: From Stockholm in '72 to Rio+20 - Back to the future
Remarks by John Scanlon, Secretary-General of CITES made during the 29th session of the Food and Agriculture Organization of the United Nations (FAO) Committee on Fisheries (COFI)