CITES: at the intersection between trade, environment and development
John E Scanlon, CITES Secretary-General
Featured Speaker
Eye on Earth Summit, Abu Dhabi, United Arab Emirates
12-15 December 2011
I would like to sincerely thank his Highness Sheikh Khalifa Bin Zayed Al Nahyan, President of the UAE, H. E. Mohammed Al Bowardi, Secretary General, the Executive Council of Abu Dhabi, H.E. Razan Kahlifa Al Mubarak, Secretary General, Environment Agency – Abu Dhabi and Mr. Achim Steiner, Executive Director, United Nations Environment Programme.
There are now seven billion people consuming biodiversity every day, including in the form of medicines, food, clothes, furniture, perfumes and luxury goods.
Consumption of biodiversity is growing at an unprecedented rate, and our ability to harvest wildlife knows no limits.
This is challenging the ability of communities and governments to use their natural resources sustainably, including not threatening the survival of species in the wild.
Hundreds of millions of people depend on biodiversity for their livelihoods and survival, most particularly in local and indigenous communities.
But how do we know that we are harvesting wildlife in a sustainable manner? Who is keeping the data, analyzing it, sharing it, and how?
We need indicators to measure the impact of taking species from the wild, to assist in regulating their sustainable use, and to understand how species keep ecosystems alive and healthy.
And measuring against indicators is dependent on up-to-date data, the availability of analytical tools, and providing open and transparent access to data and information.
The Convention on International Trade in Endangered Species of Wild Fauna and Flora (CITES) is a convention that stands at the intersection between trade, environment and development.  It is more relevant today than it was back in March, 1973 when it was adopted in Washington, D.C.
CITES does this by regulating international trade in close to 35,000 species of plants and animals, both terrestrial and marine, including their parts and derivatives.
Commercial trade is only prohibited for 3% of these species, such as the tiger.  For the other 97% of species, such as orchids, vicuñas, crocodiles and mahogany, trade is regulated to be sure it is legal, sustainable and traceable.
CITES data assists countries to track legal international trade in these species and to assess the impact that this trade has on the environment.
This ensures that use of these species is sustainable and does not threaten their survival in the wild.
However, illegal trade in wildlife is now estimated by some to be worth up to 10 billion dollars per year (not including marine and timber species) and it is pushing many species towards extinction.
The value of rhino horn on the black market now exceeds the price of gold.
This illegal trade robs local people of livelihoods and countries of their natural and cultural heritage.  It must be stopped and States need further support to achieve this.
Illegal wildlife trade now involves organized crime – which is well recognized by INTERPOL, the United Nations Office on Drugs and Crime (UNODC) and the World Bank.
A more sophisticated and coordinated response is being pursued through the International Consortium on Combating Wildlife Crime (ICCWC), a Consortium that brings together CITES, INTERPOL, UNODC, the World Bank and the World Customs Organization (WCO).
ICCWC is taking the fight against wildlife crime to another level through sharing data, analysis, intelligence, enforcement techniques and resources. 
For the past 36 years CITES has put into practice the largest Global effort at giving meaning to the concept of the sustainable use of biodiversity– with significant benefits for local and indigenous communities and the global environment.
CITES regulated trade is a multi-billion dollar business with Parties now issuing over 850,000 permits per annum – permits that effectively certify that the trade is both legal and sustainable.
They also provide primary data to the world's most extensive and open access collection on the sustainable use of biodiversity with over 11 million recorded trades captured in the CITES Trade Database.
Trades that national science authorities have assessed as not being detrimental to the survival of the species in the wild, i.e., sustainable
Many of these transactions have contributed to the decrease of poverty in rural areas that are heavily dependent on wildlife through improved wildlife management, contributing to sustainable development and achieving the Millennium Development Goals (MDGs), which is of relevance to the upcoming United Nations Conference on Sustainable Development, also known also as Rio+20, to be held in Rio de Janeiro, Brazil next year
Working with other international organizations such as the WCO, CITES is assisting countries to move rapidly in the use of new information and communication technologies, particularly in the development of electronic trade documents. And Brazil has taken a leading role in making its advanced technology available to others to achieve this objective. 
The CITES project on electronic trade documentation is well advanced and is of special relevance to other biodiversity trade goods, including trade in genetic resources.
Immediate registration of data through use of electronic CITES permits creates an invaluable up-to-the minute indicator for scientists, policy makers, enforcement officials and the public to measure the use of biodiversity and to ensure its sustainable, non-detrimental use.
And it helps tackle illegal trade by providing a more secure system.
CITES is also developing innovative and cutting edge electronic tools to assist countries to better manage their biodiversity.
The first of these tools is the CITES Trade Data Dashboards that allows users to visualize through graphs and charts data based on international trade of wildlife. And analysis of up-to-the-minute data is greatly facilitated by visualizing it through the Dashboards.
CITES's cutting-edge programme on the "Monitoring the Illegal Killing of Elephants" or CITES-MIKE works across range States of the African and Asian elephant and provides the up-to-date field data needed for States to make informed management and enforcement decisions, and to build sustainable institutional capacity, for the long-term management of their elephant populations. And its application extends beyond elephants to a vast range of other species.
But capacity is required to use data and information in decision making.
CITES creates affordable capacity-building through the open CITES Virtual College, a first for a multilateral environmental agreement (MEA).
Courses, materials, databases, training materials, including resources developed by Parties and partners are freely and openly available 24 hours a day 7 days a week (24/7) through the College.
And the College is hosted by, and links to, Masters level courses provided by the International University of Andalusia. 
CITES also conceived and co-Chairs the largest environmental knowledge management project in the United Nations family – InforMEA, a web portal that provides access to information from 13 MEAs hosted by 3 UN organizations was the first product under this UNEP supported initiative.
InforMEA harvests decisions and resolutions of Conferences of the Parties, news, events, MEA membership, national focal points, national reports and implementation plans from MEAs and other relevant instruments and makes this harmonized information freely available. 
It becomes possible to search for all MEA decisions and resolutions related to trade and sustainable use – with the data remaining with each MEA. 
This knowledge is essential for officials who are working on the implementation of MEAs, and for policy makers seeking to take coherent and consistent decisions across multiple conventions.
Delegates
Overexploitation through illegal and unsustainable international trade is happening right now at a scale that poses an immediate risk to biodiversity.
Responding to this risk has clear agreed global biodiversity benefits, as well as local benefits.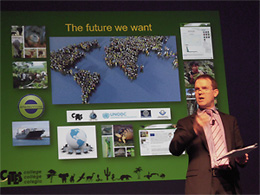 Mr John E. Scanlon, CITES Secretary-General making
a keynote presenation at the Eye on Earth Summit
Our efforts at tackling wildlife crime, implementing electronic permitting, systematically collecting data, making graphic use of trade data, and building strong national capacity are steps on the path to a future where all countries can ensure legal, sustainable and traceable trade through:
access to coordinated and formidable support in combating wildlife crime;

access to up-to-the-minute information on international trade in wildlife 24/7;

access to capacity building  e-courses, experts, and resources 24/7;

capacity to mine, analyze and use data and information; and

capacity to link different datasets to make complementary policy choices.
A sustainable future is within our grasp if we generate and share knowledge in an open, inter-connected, and easy to understand way enabling informed, coherent and measurable decision making. 
We need to commit to these principles in the pursuit of sustainable development and, even more importantly, to find tangible ways of giving meaning to them 'on-the-ground', including though the sorts of practical measures I have shared with you today.  
And we have an ideal opportunity to secure renewed political commitment to closing the knowledge gap in Rio de Janeiro in June, 2012 – let's not let this opportunity pass us by.
Thank you.
---
See also: