by John E. Scanlon, Secretary-General of CITES
8 November 2011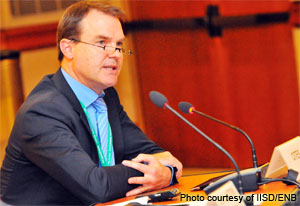 CITES Secretary-General John E. Scanlon speaking at the
41st meeting of the GEF Council
Thank you Chair, Chief Executive Officer, and Council members - the CITES Standing Committee is currently exploring access to finance, including GEF funding, and I welcome this opportunity to address you.
There are now seven billion people consuming biodiversity every day in the form of medicines, food, clothes, furniture, perfumes and luxury goods.
CITES stands at the intersection between trade, environment and development and the Convention is needed more today than it was back in March, 1973 when it was adopted right here in Washington, D.C.
CITES is dealing with the overexploitation of biodiversity through illegal and unsustainable international trade in wildlife, including listed timber, marine and aquatic species.
It is also the Convention that has put into practice the concept of the sustainable use of biodiversity for the past 36 years – with significant benefits for local people and the global environment.
CITES does this by regulating international trade in over 34,000 species of plants and animals, both terrestrial and marine, including their parts and derivatives.
Commercial trade is only prohibited for 3% of these species, such as the tiger. For the other 97% trade is regulated to be sure it is legal, sustainable and traceable.
And CITES regulated trade is a multi-billion dollar business with Parties now issuing over 850,000 permits per annum – permits that effectively certify that the trade is both legal and sustainable.
CITES has the world's most extensive collection of primary data on the sustainable use of biodiversity with over 11 million recorded trades, trades that national science authorities have assessed as not being detrimental to the survival of the species in the wild
Many of these transactions have contributed to the decrease of poverty in rural areas that are heavily dependant on wildlife through improved wildlife management, contributing to sustainable development and achieving the Millennium Development Goals (MDGs).
And bold steps are being taken to make the permitting system electronic together with the World Customs Organization (WCO), the Amazon Cooperation Treaty Organization (ACTO) and States such as Brazil, Switzerland and the United Kingdom – but more support is needed to make this a reality across all regions.  
Demand for wildlife is increasing, our ability to harvest wildlife knows no limits, and climate change is impacting species.  Many Parties require further support to make the necessary scientific findings under CITES, which involves extensive effort but is essential to ensure sustainability.  We must offer greater support for sound applied science.
Illegal trade in wildlife is estimated by some to be worth up to 10 billion dollars per year and it is pushing many species towards extinction.  This also robs local people of livelihoods and countries of their natural and cultural heritage.  It must be stopped and States need further support to achieve this.
And illegal wildlife trade now involves organized crime – which is well recognized by INTERPOL, the United Nations Office on Drugs and Crime (UNODC) and the World Bank. For example, the value of rhino horn on the black market now exceeds the price of gold.
Individual States, such as Brazil, the Russian Federation, Madagascar and Panama, are increasingly using the 'voluntary' CITES Appendix, Appendix III, to list high value timber species to better track legal trade and to combat illegal trade in timber.
Overexploitation through illegal and unsustainable trade is happening right now and it poses an immediate risk to biodiversity.  Responding to this risk has clear agreed global biodiversity benefits, as does ensuring that legal trade in wildlife is sustainable, with all the benefits for the global and for local communities.
And CITES implementation is essential if we are to achieve the Convention on Biological Diversity (CBD) objectives, and the Aichi Biodiversity targets, such as target 12.
If the GEF served as a financial mechanism for CITES, there would be significant benefits to the GEF, CITES, States and the global biodiversity community, and it would enhance financial and programmatic coherence amongst the major Conventions.
The Biodiversity Focal Area could directly address one of the most immediate threats to biodiversity loss posed by over exploitation through illegal and unsustainable trade, and complement the most comprehensive global effort being made to ensure sustainable use.
CITES is the Convention with the specific mandate, technical and operational know-how to provide strategic guidance to the GEF on these issues.
CITES has enjoyed a good measure of success as is recognized by Global Biodiversity Outlook (GBO) 3. Developed and developing States have invested significant resources into implementation, as have many partners, including several who are here today.
As a result, much of the essential infrastructure is already in place under CITES and the opportunity to leverage additional funding is considerable.
But the challenges are immense. CITES has no financial mechanism and more needs to be done.
We must redirect some of our financial resources to help tackle the immediate threat posed by the over exploitation of biological resources – and to make best use of modern technology and techniques to better enable legal, sustainable and traceable trade. 
GEF could play a pivotal role in this critical endeavor.
Thank you once again for this opportunity to address you.
---
Decision by the GEF Council at its 41st meeting on Agenda Item 5 - Relations with the Conventions :
The Council, having considered document GEF/C.41/03, Relations with the Conventions and Other International Institutions, welcomed the report as amended by the Council and requested the GEF network to continue working with recipient countries to reflect the guidance and national priorities in their respective GEF programming and activities.
The Council further requested the GEF Secretariat to organize a meeting of Biodiversity related conventions with the Secretariat of the Convention on Biological Diversity (CBD) to facilitate the coordination of their priorities for inclusion in the GEF 6th programming strategy.
---
See also: