Keynote address by John E. Scanlon, Secretary-General, CITES,
for the opening session of the 58th General Assembly of
the International Council for Game and Wildlife Conservation (CIC)
Saint Petersburg, 12-15 May 2011
Your Excellencies, Honourable Ministers, Mr President, Director General, Distinguished Guests, Ladies and Gentlemen,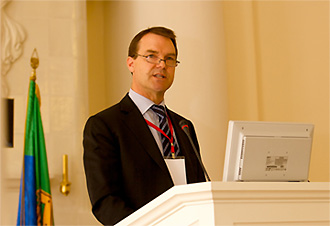 "As a community, the CITES Parties have shown flexibility in adopting practices and procedures that take into account the interests of hunters and falconers. The Parties have tried to streamline procedures, and the falcon-passport system developed by United Arab Emirates is a particularly creative example of how cultural practices and CITES regulation can co-exist", John E. Scanlon, CITES Secretary-General.
Thank you for the invitation to address your General Assembly in the beautiful city of Saint Petersburg, with the theme of this year's Assembly being "Hunting – a part of cultural heritage." We are fortunate to be in a country with a strong tradition of conservation and management of wildlife.
The hunting and conservation communities have long recognized the need to regulate trade in game species in order to maintain viable populations in the wild, which can be dated back to the London Convention of 1900, relating to the conservation of African game animals, followed by the London Convention of 1933, which originally involved 9 States and dealt with 42 African game species.
But it is the Convention on International Trade in Endangered Species of Wild Fauna and Flora, or CITES, that is the most recent, and by far the most robust, international mechanism for regulating trade in wildlife, not just for game species, but for a vast array of species of fauna and flora used by humankind.
And when adopting the Convention text in March 1973, States explicitly recognised "the ever-growing value of wild fauna and flora from aesthetic, scientific, cultural, recreational and economic points of view" in the Convention's Preamble.
The aim of CITES is to conserve biodiversity and contribute to its sustainable use, and it does this by ensuring that no species of wild fauna or flora is unsustainably exploited for international trade. This does not mean stopping all trade – indeed, well over 10 million CITES trade records have been recorded since 1975 – but the trade that does occur must be legal, sustainable and traceable.
Hunting has been recognized for its cultural and recreational values. Perhaps the most recent example of this was through UNESCO's recognition in 2010 of falconry under the Convention for the Safeguarding of the Intangible Cultural Heritage, which acknowledges falconry as a living human heritage, and as a social tradition respecting nature and the environment that is passed on from generation to generation.
CITES sits at the cutting edge of the debate on the sustainable use of wildlife. It is a highly operational and pragmatic Convention, and the inclusion of species on its Appendices has a real on-the-ground impact. It can stimulate robust and at times, very passionate, debate. And in some senses it is this 'real world' aspect of CITES that makes it stand out amongst the many multilateral environmental agreements that are in existence today. 
The sustainable use of wild species, whether consumptive or non-consumptive, can provide an economically viable option for the conservation of biodiversity. And by Resolution CITES Parties have recognised that "commercial trade may be beneficial to the conservation of species and ecosystems, and/or to the development of local people, when carried out at levels that are not detrimental to the survival of the species".
The earliest Resolution of CITES Parties that is still in effect today concerns the trade in hunting trophies of species listed in Appendix I, which was adopted in 1979. The Parties have also collectively adopted export quotas for Markhor hunted in Pakistan, Black rhinoceros in Namibia and South Africa, and Leopard in 12 African countries, with other States having adopted voluntary export quotas for hunting trophies of Appendix II listed species. And a CITES Resolution facilitates the sport of falconry by outlining measures for the frequent cross-border movements of personally owned live animals.
As a community, the CITES Parties have shown flexibility in adopting practices and procedures that take into account the interests of hunters and falconers. The Parties have tried to streamline procedures, and the falcon-passport system developed by United Arab Emirates is a particularly creative example of how cultural practices and CITES regulation can co-exist. This also reflects one of the great strengths of CITES in dealing with difficult issues, namely the extent to which Parties engage with a wide-range of stakeholders.
There are many different views on the Convention and how it should best evolve and be implemented. And these views are able to be shared, in an appropriate manner, in an open and transparent way through the CITES meetings of the Conference of the Parties, and through its Standing Committee and Scientific Committee meetings. Differing views are also often shared directly with the Parties themselves, as well as with the Secretariat.
Hunting and trade in trophies is an issue that can be controversial, including within CITES, and Parties benefit from hearing all sides of a debate before deciding on trade measures and actions. By way of example, the Parties at CITES CoP15 in Doha last year adopted a definition of the term "hunting trophy", with the benefit of advice from the CIC throughout the process. This definition helps Parties determine which trade provisions apply with respect to hunting trophies, which is why it is important to get these definitions right.
The CIC has conservation objectives for game species, which are an irreplaceable part of the natural systems of the earth and which must be protected for this and future generations. These objectives support CITES as well as other biodiversity-related Conventions, such as the Convention on Biological Diversity, Ramsar Convention, World Heritage Convention and the Convention on Migratory Species – conventions that work collaboratively for the conservation and sustainable use of wild species. And the interests of the hunting community will often extend beyond the particular mandate of CITES, to matters such as the provision of protected areas, which is perhaps historically the best known inter-relationship between hunters and biodiversity.
In this context, you may be interested to know that in 2010 the Parties to the Convention on Biological Diversity adopted a strategic plan for biodiversity conservation, which is relevant to all of the biodiversity-related Conventions. Within this plan is the revision of national biodiversity strategy and action plans, to be completed over the next two years, which seek to, inter alia, integrate consideration of the conservation and sustainable use of biological resources into national decision-making.
The CITES Secretariat is encouraging its States Parties to become involved in these national strategies and action plans so that they incorporate CITES activities. But it is important for intergovernmental and national actors to also get involved, as appropriate. This is a wonderful opportunity to further conservation and sustainable use linkages at the national level, and thereby enhance more effective on-the-ground implementation.
As one of the active stakeholders in the debate on sustainable use policy, the hunting community may wish to reach out to governments at the national level to have its views and experiences taken into account when the national biodiversity strategies and action plans are revised – just as the hunting community makes its views known in the CITES community.
There is one subject I must mention that has a great deal of impact on how sustainable use activities are perceived, and that is the subject of poaching and illegal trade. When illegal trade, or even potential illegal trade, is a dominant part of the discussion, it will most likely have an impact on the debate on sustainable use.
Trophy hunting has made some gains towards being seen as part of the conservation discourse. The Parties to CITES through various Resolutions and Decisions referred to earlier have recognised that in the right circumstances, international trade in hunting trophies can fall within the ambit of the Convention. But current levels of poaching of some high-profile species such as the African elephant and African rhinoceroses can influence the debate on the conservation benefits of trade in trophies, and concern over illegal trade may prompt some to take more cautious positions on sustainable use.
As a Secretariat we have enhanced our ability to address illegal trade, in particular through the International Consortium on Combating Wildlife Crime, or ICCWC, an initiative of the CITES Secretariat, the World Bank, INTERPOL, the United Nations Office on Drugs and Crime, and the World Customs Organisation. ICCWC was launched here in Saint Petersburg in November of last year during the International Tiger Forum hosted by Russian Prime Minister Vladimir Putin. We are now also finalising our first work plans.
And you, the hunting community, can also assist us with our efforts to address illegal trade - efforts which will ultimately be in your own best interests. Hunters are ideally placed to see, or learn of, crimes directed at game species. I reach out to you and your representative organizations, such as CIC, to support anti-poaching efforts and wildlife law enforcement. And I respectfully urge you to do everything you can to make clear that poachers and unscrupulous traders or outfitters have no place among the genuine hunting community.
To conclude, Mr President, I have been hearing reports of hunters losing their trophies because of errors in the issuance of CITES permits. As you well know, there are many different views on the subject of trophy hunting and trade in species for hunting purposes - but trade that is otherwise legal should not be severely penalized over administrative technicalities. The CITES community has a long and successful history of finding ways to improve CITES implementation, and I would encourage the CIC to work closely with Parties to try to resolve these and other issues that the hunting community may have.
Falconry can serve as an example here, namely where a community of interested Parties, working closely with stakeholders, has found solutions to specific CITES implementation challenges. Should a meeting involving the hunting community and Parties involved in the trade in trophies be convened, the Secretariat would be willing to participate and offer its perspectives on these matters.
Mr President, as mentioned I welcome the active and constructive participation of the CIC in CITES meetings and discussions. I look forward to the CIC's ongoing contribution to the dialogue on the conservation and sustainable use of biodiversity, recognising the role that hunting can play in this regard, and its inter-relationship with CITES. And in this context I am very pleased that CIC has supported the publication of the ninth edition of "The Evolution of CITES", which will help everyone, Parties and hunters alike, better understand the detailed workings of CITES and the critical role it plays in the conservation and sustainable use of biodiversity.
Your Excellencies, Honourable Ministers, Distinguished Guests, Mr President, Director General, Ladies and Gentlemen, I wish you a very successful 58th General Assembly.