11.00 am 28 October 2010
Intervention by the Executive Heads of the Secretariats of the:
Convention on Wetlands of International Importance;
Convention Concerning the Protection of the World Cultural and Natural Heritage;
Convention on International Trade in Endangered Species of Wild Fauna and Flora; and
Convention on Migratory Species

Delivered by the Secretary-General of CITES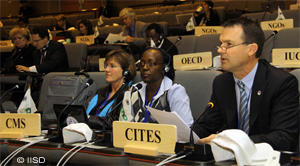 Your Excellency President of the COP, Honorable Ministers, Executive Secretary of the CBD, distinguished delegates, ladies and gentlemen.
I have the honour of presenting an agreed joint statement on behalf of the Secretariats of four biodiversity-related conventions, namely the: Ramsar Convention, World Heritage Convention, CITES and CMS.
Each of the conventions I am speaking for today has a very specific mandate, and while they may be more targeted in scope than the CBD, they contribute towards achieving the same objectives of supporting the conservation and sustainable use of biodiversity.
They are longstanding, complementary and effective tools, designed to be highly operational and to make a difference on-the-ground – with each having between 114 and 187 Parties. And it is through these Conventions that the international community has:
provided the framework for national action and international cooperation for the conservation and wise use of wetlands and their resources1;
put in place a scheme for the identification, protection, conservation, presentation and transmission to future generations of the world's cultural and natural heritage2;
created a robust regulatory regime to ensure that no species of wild fauna or flora is subject to unsustainable exploitation through international trade3; and
established the framework for the conservation of migratory species, their habitats and migratory routes4.
Distinguished delegates
As you can see, while we may have unique histories and mandates, and in some cases different Parties, we are joined by a common objective of supporting the conservation and sustainable use of biodiversity, and by a collective desire to see more effective implementation of conventions at the country level, including through making best use of National Biodiversity Strategy and Action Plans.
The Secretariats of five biodiversity-related conventions met last month, in a retreat convened by the Executive Secretary of CBD, to prepare for this COP5. Amongst other matters, we supported6 the adoption of an inclusive strategic plan for biodiversity and agreed that National Biodiversity Strategy and Action Plans should cover the full range of activities needed to implement biodiversity-related conventions.7
If adopted at COP 10, this approach would help to achieve greater effectiveness and coherence with the implementation of these conventions at the national level. It would also enhance the ability of countries to use existing financial resources more effectively, including most importantly resources available to Parties under the GEF, and to attract additional financing. States have already invested significant time, effort and financial resources into the negotiation, ratification and implementation of each biodiversity-related convention, with major milestones having been achieved in Stockholm in 1972 and Rio de Janeiro in 1992.
And while we may not have met the 2010 target set in Johannesburg in 2002, the valuable contribution of each of our conventions towards meeting the agreed subsidiary targets has been critical, as is reflected in the findings of GBO 3.
We need to recognize and learn from this vast body of experience in considering the 2020 targets, as we continue to build on the scientific, legislative, administrative, and other capacities that have been progressively built to implement these conventions over the past 40 years.
Distinguished delegates
States are sovereign and determine their own international commitments, and the national activities they wish to prioritize. Equally, each convention's COP is sovereign and therefore determines its own strategies. Decisions about these matters will properly vary from country to country and convention to convention, but the strategy for biodiversity adopted at this meeting should provide a framework that is relevant to all of them.
We believe that the adoption of an inclusive strategic plan with robust and relevant targets8 that enables the reality of each country to be reflected through their National Biodiversity Strategy and Action Plans, will contribute towards more coherent and effective on-the-ground action. On behalf of the Secretariats of the Ramsar Convention, World Heritage Convention, CITES and CMS, I sincerely thank you President and wish Parties well for a successful COP.

1 Ramsar (160 Parties): 1898 wetlands of international importance having been identified by the parties covering over 185,000,000 hectares.
2 World Heritage (187 Parties): 911 properties forming part of the world's cultural and natural heritage of outstanding universal value, including 180 natural and 27 mixed properties across 151 states.
3 CITES (175 Parties): over 34,000 listed species – with trade being regulated for 97% of these species to ensure it is legal, sustainable and traceable.
4 CMS (114 Parties): 7 agreements, 18 memoranda of understanding and 2 action plans have been concluded covering a wide range of migratory avian, aquatic, and terrestrial species.
5 The value of enhancing cooperation between the biodiversity-related conventions has been recognized by many COP decisions, including through the establishment the Biodiversity Liaison Group by the CBD in 2002.
6 Noting that some minor changes will be required to the text of the draft strategy, some of the targets and the related draft decision.
7 In a manner that best meets the priorities of each Party in achieving the objectives of the CBD. See retreat recommendation 11 (a):A Strategic Plan for Biodiversity 2011-2020 to be adopted by CoP-10, preferably with specific references to the role of other biodiversity-related conventions, could serve as a useful framework that is relevant for all biodiversity-related conventions, taking into account their already-existing strategies related to biodiversity and the independence of their governing bodies; and Recommendation 11(c):Revised and updated national biodiversity strategies and action plans (NBSAPs) should cover the full range of activities needed to implement all biodiversity-related conventions.
8 Page 2, paragraph 5 of the minutes of the MEAs retreat reflects suggestions regarding overexploitation through trade and water related issues.