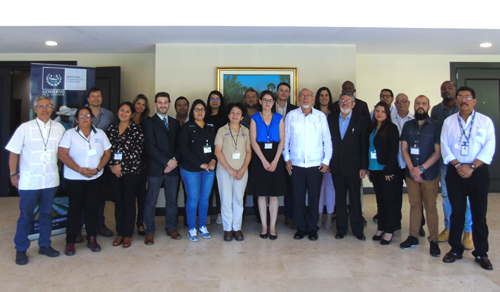 Over the last decade, reported trade in CITES-listed species has shifted from predominately wild-sourced to captive-bred or artificially propagated specimens, to the extent that today over 50% of reported trade in live animals and plants is from captive-breeding or artificial propagation. This significant shift in production has increased the challenges of the implementation of CITES for trade in these specimens.
Since the 15th meeting of the Conference of the Parties (CoP15; Doha, 2010), CITES Parties have been committed to analysing this trend and making immediate changes. These changes include finding solutions to address the potential misuse of source codes associated to captive-breeding and artificial propagation, and requesting the Secretariat to develop capacity building guidance and materials to strengthen the proper implementation of the Convention.
"The CITES Secretariat is actively assisting Parties to help ensure that they can better meet their obligations under the Convention with regards to the regulation of trade in captive-bred and artificially propagated specimens by developing technical guidance and providing necessary training," said Ivonne Higuero, CITES Secretary-General.
The Secretariat, in collaboration with International Union for the Conservation of Nature (IUCN), has developed guidance on the inspection of captive breeding and ranching facilities, and on the application of CITES source codes. Thanks to this guidance and capacity-building workshops, CITES Parties have improved their knowledge and understanding of trade in captive-bred and artificially-propagated specimens.
As an ongoing effort to provide such support to Parties, a training workshop on the application of new CITES guidance for improving the use of CITES source codes and for inspecting captive breeding facilities" was organized by the CITES Secretariat in San Salvador, El Salvador, from 11 to 12 December 2018. The workshop brought together around 20 participants from seven key exporting Parties from Central, South America and the Caribbean and North America representing national CITES authorities, as well as international experts, following a previous workshop held in Bogor, Indonesia from 1 to 4 May 2018.
Participants in the workshop worked through numerous examples of production for animals and plants ranging from Amazonian parrots, poison dart frogs, and ornamental plants. They also applied the guidance in a hands-on way during a field trip to the facility "Iguanas Tropicales S.A. de C.V.", which legally produces and exports CITES-listed reptiles.
With the training provided, participants will be able to use the guidance in their home countries and train additional staff tasked with implementing CITES.
Cuba, Colombia, El Salvador, Guyana, Panama, Peru and the United States of America attended the workshop. The workshop was made successful thanks to the technical support of the International Union for the Conservation of Nature (IUCN) and the generous funding support from the European Union and the United States of America.