SC74 in Lyon – The Delegates' Verdict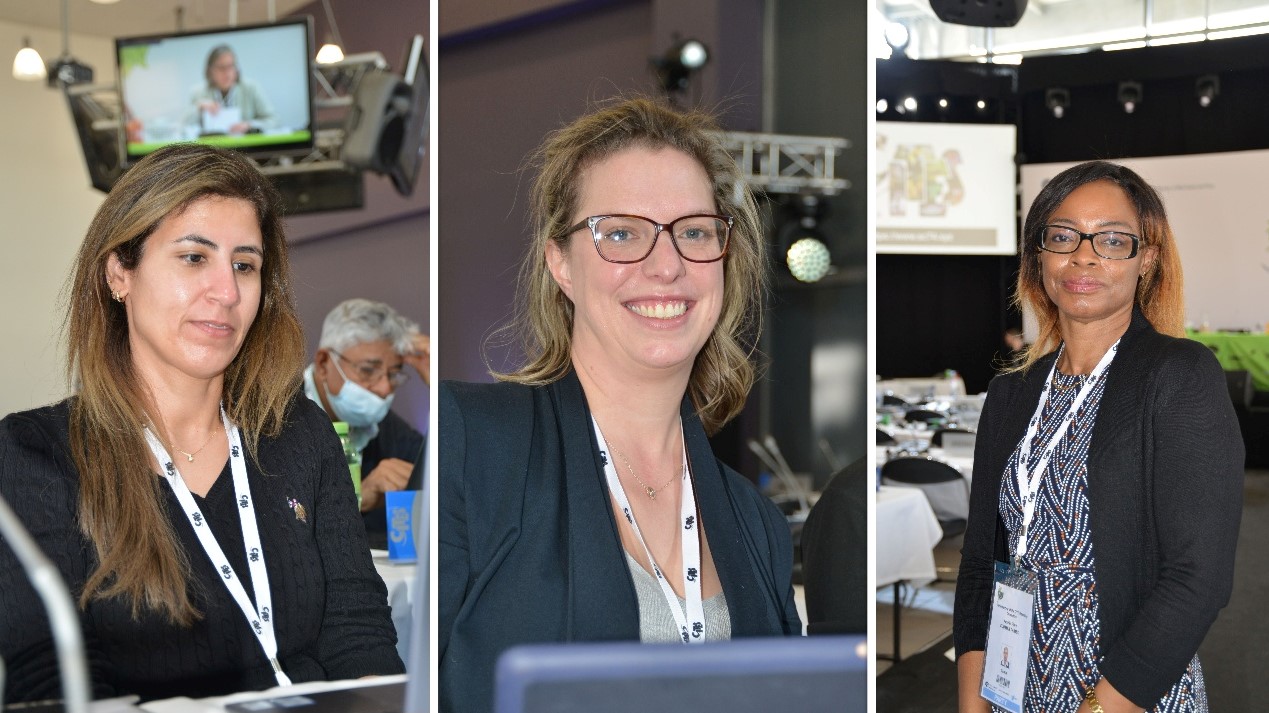 Shereefa AL SALEM, Rhedyn OLLERENSHAW, Flore KOUMBA PAMBO
How did the meeting go?
Flore KOUMBA PAMBO (FKP) – Delegate from Gabon:
It was a great success. We've had a few meetings on-line and for me it has been truly important to get back to consolidating the links within the CITES family. Unfortunately, not all Parties could make it here – because of the health restrictions but let's hope for the CoP we can truly be all together to work to conserve wild fauna and flora. (CoP - The meeting of the Conference of the Parties, in November in Panama)
Shereefa AL SALEM (SAS) – Delegate from Kuwait
It went great – there were long days with late sessions but of course the Chair (Carolina Caceres, Chair of the Standing Committee) is one of the best to handle the subjects neutrally. Yes, it was perfect.
It's not just about the agenda or the subjects themselves it's about the communication between the countries and the Secretariat, the IGOs, the NGOs. Sometimes these face-to-face meetings create more MOUs and collaboration between countries (MOUs Memoranda of Understanding).
Rhedyn OLLERENSHAW (RO) – Delegate from Australia
I think it's been an extremely productive meeting given the enormous agenda. It's been really positive; everyone's enjoyed being back together again. It's a testament to the community that we came together so quickly and really got down to work.
What will you take away from the meeting?
SAS - It's a real experience and a wonderful exchange of information. I met people within my region and outside it that have given me insights and understanding and that will make a big difference.
RO - The energy of the room is what I'll take away from here. Even though we had a lot of work to do everyone was really well-humored. Given that the days were long everyone was still really committed to getting the work done - even late in the night.
FKP - I really felt that this time there was even more consensus than usual around the discussions. I don't know whether it's COVID but people seemed very concise. I'm the Chair of the Plants Committee and I felt that there was less friction and more consensus and I think this augurs well for the CoP
What would your advice be to someone who is just starting with their first committee meeting?
SAS - Collaborate within your region and get an idea of how you can work together and unify your position. Address any issues with the countries concerned – we had the chance to do that with the CITES Secretariat before the meeting even started and that was very useful. It's been great.
FKP - My best advice for someone coming to Standing Committee for the first time is to listen. Stop, listen and try to understand what's going on. For me, this is how it was. It wasn't until my third committee that I managed to say something to represent my country.
RO - Ask lots of questions from all the people around. Pay attention to the patterns and rhythms of the room. Look at the way people connect with each other and the fission and fusion relationships in the room – that's the way you find your relationships and you find your like-minded people and you understand the different perspectives.
Was it good to have the meeting in person, rather than the remote meetings that have been taking place?
SAS – It was fantastic; direct contact between the countries and the Secretariat; any questions can be addressed there and then and face to face.
FKP - It was harder work being here but more rewarding and more productive. You have the time to learn to relate to each other, reach consensus and solve problems. Online just doesn't compare.
RO - I think being able to look people in the eye, that's a benefit or even watching Carolina and seeing how she reacts to things or how the secretariat is reacting to things, being able to talk to people in between sessions and build bonds, you just don't get that on a screen.