For use of the media only;
not an official document.
PRESS RELEASE
United States supports the strengthening of CITES implementation for selected marine species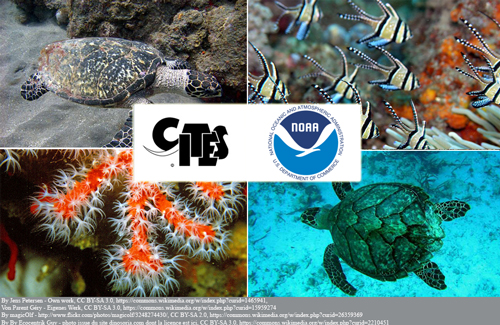 The United States National Oceanic and Atmospheric Administration (NOAA) has confirmed its financial contribution of USD 165,000 to support the implementation of CITES CoP17 Decisions on precious corals, hawksbill turtle and Banggai cardinalfish. This funding will make a significant contribution towards the advancement on the Conventions' increasingly important work on marine species.
John E. Scanlon, CITES Secretary-General welcomed the contribution: "We are deeply grateful to the United States for its generous financial support to help countries to implement CITES decisions on marine species. The United States has been a long-standing Party and supporter of CITES, and its financial contribution for precious corals, hawksbill turtle and Banggai cardinalfish will be good not only for these marine species but for local communities and economies."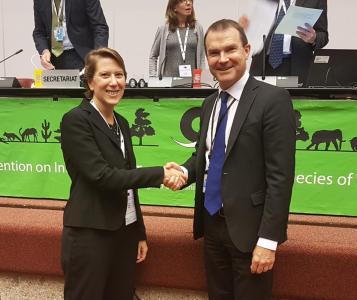 Ms. Angela Somma, Chief, Endangered Species Conservation Division, NOAA, said "This contribution is part of NOAA's ongoing efforts in the long-term conservation and sustainable use of wildlife.  We hope that well-managed and effectively regulated marine species trade will lead to healthy oceans and resilient coastal communities and economies, which is at the core of our mission."
Note to editors:
For more information please contact:
LIU Yuan, CITES Secretariat, at +41 22 917 8130 or [email protected]
About CITES
With 183 Parties (182 countries + the European Union), the Convention on International Trade in Endangered Species of Wild Fauna and Flora (CITES) remains one of the world's most powerful tools for wildlife conservation through the regulation of trade. Thousands of species are internationally traded and used by people in their daily lives for food, health care, housing, tourist souvenirs, cosmetics or fashion. CITES regulates international trade in over 36,000 species of plants and animals, including their products and derivatives, to ensure their survival in the wild with benefits for the livelihoods of local people and the global environment. The CITES permit system seeks to ensure that international trade in listed species is sustainable, legal and traceable. CITES was signed in Washington D.C. on 3 March 1973 and entered into force on 1 July 1975.
Learn more about CITES by visiting www.cites.org or connecting to:
www.twitter.com/CITES
www.facebook.com/CITES
www.youtube.com/CITES
www.flickr.com/CITES