Eighteenth meeting of the Conference of the Parties to CITES
Opening remarks of CITES Secretary-General, Ivonne Higuero
Geneva (Switzerland), 17 August 2019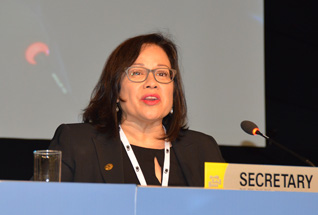 Su excelencia, Consejero Federal del departamento federal de asuntos interiores, Señor Alain Berset; señora Inger Andersson, Directora ejecutiva del programa de las Naciones Unidas para el medio ambiente; sra Carolina Caceres, presidenta del Comité permanente de CITES; excelencias, estimados delegados, damas y caballeros,
Buenos días a todos. Es un gran placer para mi darles la bienvenida a Ginebra para la décimo octava reunión de las conferencia de las partes de la convención internacional de especies amenazadas de fauna y flora silvestres.
May I once again express our sadness over the tragic events in Sri Lanka last April and the losses and impacts suffered by the Sri Lankan people because of this tragedy. We truly wished we could have met as planned earlier this year in Colombo. We thank the Secretariat in Colombo for all their efforts in the early preparations for CoP18. I kindly ask you all to stand for a minute of silence.
Thank you. May I ask the Sri Lankan delegation to take the floor for a brief intervention they have asked to make.
Thank you Sri Lanka.
Excellencies, Ladies and Gentlemen,
We owe a great debt of gratitude to the donors that have made this Conference possible at such short notice. My deepest appreciation goes to Switzerland, the European Union, Germany, Norway and Croatia for their financial contributions and support. I also thank China for the flags that you will see on the Mont Blanc bridge next week when you have a chance to take a stroll in Geneva centre. We are grateful to both Parties and observers for your support and understanding concerning the limitations that we have had to apply across the board. This is a no-frills meeting where we are only able to provide the basic modern requirements for a successful outcome. Nevertheless, I hope you will join me in congratulating my excellent CITES team, the UN Office in Geneva, the UN Department of Security Services, the Palexpo general director of management and other partners for their support and ensuring that the meetings could take place just two months after the decision to move the CoP meeting to Geneva.
Ladies and Gentlemen,
It is indeed an honour to have been selected as the new Secretary-General of CITES. I am proud to serve such a well- respected multilateral environmental agreement. It is an even greater honour to be supporting this 18th meeting of the Conference of the Parties, which is being held against the backdrop of some recent major conservation-related developments.
In particular, the Global Assessment Report on Biodiversity and Ecosystem Services released last May by IPBES has brought to the fore the urgent need for transformative changes in the way we manage natural resources. Business as usual is no longer an option. The Assessment confirms that nature's dangerous decline is unprecedented. The rate of wildlife extinction is accelerating, with experts affirming that up to one million species are now threatened.
It is therefore highly appropriate that the CITES post-2020 vision is on the table for agreement at this meeting. At the same time, the Post-2020 Global Biodiversity Framework is being developed under the leadership of the Parties to the Convention on Biological Diversity. This is, therefore, a key moment for our Convention. It is our opportunity to advance the role of CITES in the conservation and sustainable use of biodiversity. We must work together to achieve CITES' enormous potential for addressing one of the major threats identified in the IPBES assessment, which is the direct exploitation of organisms. By ensuring that international trade is legal, sustainable and traceable, CITES contributes greatly to biodiversity conservation as well as to human wellbeing, livelihoods and climate adaptation.
Your decisions at this meeting, then, will confirm CITES as a leader in promoting transformative change in the international trade of endangered species of wild fauna and flora. This in turn will advance environmental, economic and social sustainability and the achievement of the 2030 Sustainable Development Goals and the CITES post-2020 vision.
Another important message I would like to share is the need to focus our efforts so that CITES regulation has a meaningful impact within our agreed mandates and the resources available. The agenda at this CoP is 20 percent more packed than it was three years ago. And we can say that at every CoP the agenda has grown exponentially. The workload of the Standing, Animals and Plants Committees, of the CoP and the Secretariat, just keeps growing. I am concerned that CITES may become less effective over time because we cannot pay sufficient attention to everything on our plates.
Now, regarding the issues on our agenda, it is well known that the strength of CITES is the rigorous scientific basis for its decision-making. Our focus on sustainability and legality, combined with capacity building and compliance tools, creates a clever and effective set of carrots and sticks to ensure that trade regulations are correctly implemented.
In terms of 'carrots', the instruments to assist Parties in ensuring sustainability and legality need to be further advanced and expanded. There are proposals on the CoP18 agenda to do so, such as for the compliance assistance programme. Compliance is a primary activity of the Parties, and a core business of the Convention. It takes time, resources and continual vigilance.
The trend of ever-expanding Appendices reflects growth in both demand and human populations. We see an increasing number of species for which trade needs to be controlled to avoid over-exploitation. This shows the growing value of CITES as a regulator for the utilization of wild animals and plants. It also reveals the need for the Convention to continue to adapt and evolve to accommodate present and future challenges.
Many COP18 documents address human well-being through the issue of sustainable use of wildlife and the livelihoods of rural communities. The effectiveness of CITES could be improved by greater participation from rural communities, and CoP may wish to consider carefully how this could be carried out while adhering to the Convention's mandates and requirements.
The CITES permit system is the backbone of the Convention. Rapid changes in  global trade and technological innovation define today's digital era, and Parties may need to spend some time on updating, re-thinking and perhaps re-engineering some elements of the permit system. I have said since I arrived that I wish to bring the Convention into the 21st century. I hope you will support this.
I believe also that CITES should strengthen its cooperation with other MEAs and IGOs, noting that CITES can play an important role in achieving the biodiversity conservation objectives that will be set out in the post-2020 framework. There is certainly a growing urgency to involve all sectors of the international trade chain to more effectively implement the Convention, in particular industry and the private sector.
Another issue of concern since I arrived at the Secretariat is the need to communicate better that we should pay equal attention to urgent threats against lesser known animal species as well as to plant species more generally. In addition, an increasing number of fisheries and forestry resources important for the economy and human well-being are  listed on the CITES Appendices. The CoP will discuss successes and lessons learned, and it will take important decisions on how the Convention can assist Parties in achieving the sustainable management and conservation of marine species and trees, including through cooperation with a wide range of interested stakeholders.
Data is showing that the significant and persistent efforts of Parties to address poaching and illegal trade are now showing measurable effects. Available information also shows that, since 2014, there has been an annual increase in the weight of rhinoceros horn seized per rhinoceros poached. This suggests that enforcements efforts have increased and become more effective.
At the same time, despite some good news, poaching levels remain high. They continue to undermine conservation efforts. Wildlife crime persists at a significant scale or seem to be escalating for other species, for example, CITES-listed tree species , pangolins, turtles, tortoises and others. Maintaining momentum in   wildlife crime and scaling up efforts even further is therefore essential and we hope that support for the International Consortium to Combat Wildlife Crime (ICWCC) work will continue. The three-pronged approach that CITES takes to tackling wildlife trafficking is to reduce the demand for illegally acquired wildlife, demonstrate the benefits of well-managed legal trade to rural communities, and strengthen law-enforcement efforts.
Ladies and gentlemen,
Ensuring that CITES works effectively is the responsibility of all Parties. Parties must also be supported in their efforts to conserve and manage their wildlife resources in a sustainable manner. We need to find common goals and solutions that support Parties, and I believe that CITES is the platform to facilitate this.
As an environmental economist, I believe that creative ways need to be explored so that the costs of conservation and enforcement are recognized. Custodians of wildlife and local communities play a vital role in managing wildlife and deserve to be rewarded. The contribution of conservation and legal wildlife trade to sustainable development is evident. It provides for our food, our well-being, our jobs and economic development. Tourism is a part of the solution, but we also need to find other solutions related to legal trade in order to make the right investments and develop sustainable industries. With the support of the international community, developing countries – the majority of them custodians of wildlife – will be better positioned to  sustainably manage their wildlife populations for the benefit of people everywhere. 
Muchas gracias a todos y mis mejores deseos para una reunión con resultados transformativos y de mucho impacto.