For use of the media only;
not an official document.
PRESS RELEASE
CITES Task Force agrees on strategies to combat illegal trade in tortoises and freshwater turtles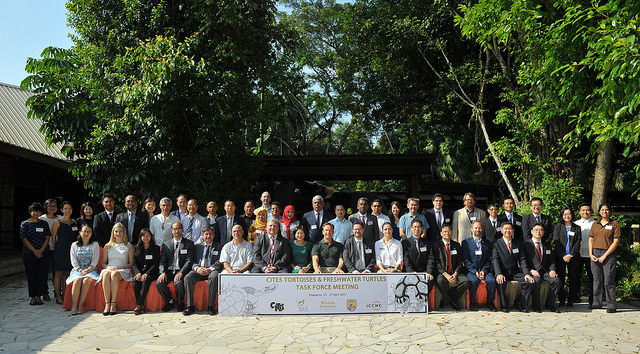 Geneva / Singapore, 28 April 2017- Over 50 representatives from 15 countries across Africa, Asia, North America and South America, and from international inter-governmental and non-governmental organizations, met in Singapore from 25-27 April at a meeting of the Tortoises and Freshwater Turtles Task Force of the Convention on International Trade in Endangered Species of Wild Fauna and Flora (CITES).
The Task Force convened to develop strategies to strengthen CITES implementation and law enforcement responses to combat illegal trade in tortoises and freshwater turtles and their parts and derivatives, and had a strong focus on information and intelligence sharing, and strengthening frontline cooperation and coordination. Over the course of the three-day meeting, participants identified best practices and innovative approaches to address this illegal trade. They also built strong professional relationships with their law enforcement counterparts from other countries.
CITES Secretary-General John E. Scanlon said: "In the period 2000 to 2015, more than 300,000 illegally traded tortoises and freshwater turtle specimens were seized, in more than 2,500 individual seizures. Many seizures of tortoises and freshwater turtles seem to involve small numbers of animals carried or kept as personal pets or souvenirs, but more significantly, a smaller number of seizures of large to very large shipments containing several hundreds or thousands of live specimens, suggests the involvement of well-organized criminal networks. This Task Force meeting enabled us to bring together key agencies involved in the fight against wildlife crime, to put together their skills, knowledge and expertise to develop strategies and strengthen frontline responses against illegal trade in tortoises and freshwater turtles".
Ms. Tan Poh Hong, Chief Executive Officer, Agri-Food and Veterinary Authority of Singapore (AVA), said: "This meeting provides Singapore an opportunity to work with the agencies to collectively identify the gaps in illegal transboundary trade of tortoise and freshwater turtles, and explore ways to enhance enforcement to further the fight against wildlife crime. Singapore adopts a strict multi-prong approach underpinned by a robust legislative and enforcement regime to deter the use of Singapore as a conduit for wildlife trafficking. However, tackling wildlife crime also requires close cooperation and coordination between enforcement organisations, and the assistance of the public and non-governmental organisations as well. AVA is committed to combat wildlife trafficking and will continue to collaborate with national, regional and international organisations on this."
Mr. Mike Barclay, Group Chief Executive Officer, Mandai Park Holdings (parent company of Wildlife Reserves Singapore - WRS), said:, "Over the years Wildlife Reserves Singapore parks Singapore Zoo and River Safari have become a haven for threatened freshwater turtles. We currently hold assurance colonies for the critically endangered Southern River Terrapin, Painted River Terrapin, Vietnamese Pond Turtle, and Roti Island Snake-necked Turtle; to provide a safety net for these fragile populations. WRS is proud to work closely and partner with AVA, CITES, and other like-minded conservation organisations, and it is imperative that we continue efforts to combat illegal wildlife trade and save these animals before they disappear entirely."
"Actions taken at recent CITES meetings to bring the majority of the world's tortoises and freshwater turtles under CITES protection are a huge victory for the conservation of these species," said Bryan Arroyo, Assistant Director of International Affairs for the U.S. Fish and Wildlife Service. "Now, it's critical to coordinate this work among government agencies, and around the globe, to ensure these protections are effectively implemented and enforced."
A comprehensive report on legal and illegal trade in specimens of tortoises and freshwater turtles was considered at the 17th meeting of the Conference of the Parties to CITES (CoP17) held in Johannesburg, South Africa, in September 2016, and the convening of the Task Force meeting was a direct outcome of these deliberations at CoP17.
The meeting was convened by the CITES Secretariat together with its partners in the International Consortium on Combating Wildlife Crime (ICCWC). It was co-hosted by the Agri-Food and Veterinary Authority of Singapore and Wildlife Reserves Singapore, and organized thanks to support provided by the U.S. Fish & Wildlife Service.
To combat illegal trade in tortoises and freshwater turtles, the Task Force developed a number of strategies and proposed actions on information and intelligence sharing, cooperation, illegal trade on the internet, species identification, seizures and disposal, public awareness and empowerment, and others. These include:
development of an alert on illegal trade in tortoises and freshwater turtles for enforcement agencies, to be updated on a rotational basis by member states of the Task Force
engaging online communities such as auction platforms and closed discussion groups to create awareness about this illegal trade
progressing the fight against the illegal trade in tortoises and freshwater turtles through platforms such INTERPOL Regional Investigative and Analytical Case Management (RIACM) meetings and UN Office on Drugs and Crime Wildlife Inter-Regional Enforcement (WIRE) meetings
using INTERPOL notices to trace and locate offenders
requesting the World Customs Organisation to develop a set of risk profiles and indicators focusing on illegal trade in tortoises and freshwater turtles, and
implementation of a three-step identification process to be used by law enforcement agencies for the identification of illegally traded tortoises and freshwater turtles
The CITES Secretariat will submit a report on the outcomes of the Task Force to the next meeting of the CITES Standing Committee, to be held in Geneva from 27 November to 1 December 2017.
See also:
Note to editors:
For more information and to arrange interviews, please contact:
Liu Yuan, CITES Secretariat, +41 79 652 0108, [email protected]
About CITES
With 183 Parties (182 countries + the European Union), the Convention on International Trade in Endangered Species of Wild Fauna and Flora (CITES) remains one of the world's most powerful tools for wildlife conservation through the regulation of trade. Thousands of species are internationally traded and used by people in their daily lives for food, health care, housing, tourist souvenirs, cosmetics or fashion. CITES regulates international trade in over 36,000 species of plants and animals, including their products and derivatives, to ensure their survival in the wild with benefits for the livelihoods of local people and the global environment. The CITES permit system seeks to ensure that international trade in listed species is sustainable, legal and traceable. CITES was signed in Washington D.C. on 3 March 1973 and entered into force on 1 July 1975.
Learn more about CITES by visiting www.cites.org or connecting to:
www.twitter.com/CITES
www.facebook.com/CITES
www.youtube.com/c/CITES
www.flickr.com/CITES