For use of the media only;
not an official document.
PRESS RELEASE
World's largest ivory database now available to CITES Parties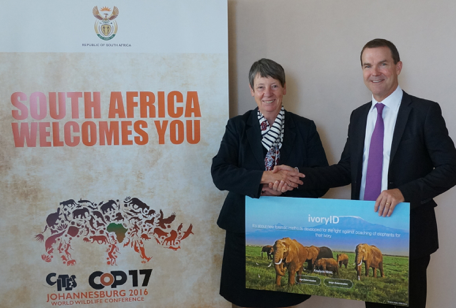 Photo by Florian Keil / CMS + AEWA Secretariat
Johannesburg, 23 September 2016 - CITES Parties will soon be able to freely access the world's largest ivory database compiled using state of the art forensic techniques developed by Germany.
German Minister for the Environment Barbara Hendricks symbolically handed over the IvoryID database to CITES Secretary-General John Scanlon at #CoP17 in Johannesburg yesterday.
John E. Scanlon, Secretary-General of CITES said: "The use of modern forensics is a game changer in the fight against illegal wildlife trade. We are deeply grateful to Germany for developing a forensic technique that can determine the age and origin of ivory. Criminals illegally trading in ivory can no longer hide behind false claims of where and when they got their ivory".  
The database – which can be accessed through a dedicated website - contains more than 700 reference samples from 30 African countries using data obtained from  elephant ivory,  with proven origin, provided by countries of origin, museum, hunters and others.
Ms Hendricks said: "I am pleased to add today this forensic element to the existing toolkit of CITES in the fight against ivory trafficking and I would like to invite everyone involved in elephant conservation to use it effectively. I also have to express my sincere thanks towards the African nations, who made this project possible by providing qualified samples."
Germany has developed a forensic technique based on an analysis of isotopes that can determine the age and origin of ivory. This provides critical information about poaching hotspots and trade routes used by traffickers.  The composition of specific isotopes used to determine origin differs significantly between geographical regions and ecosystems across Africa. This chemical fingerprint is imbedded in the ivory during the growth of the elephant. Proof of age can provide crucial evidence in court cases to determine if material has been recently poached or is antique.
The IvoryID-website, which will be available from http://www.ivoryid.org also contains information about certified laboratories in the world that are able to apply these methods.
Note to Editors: For interview requests, please contact Victoria Holdsworth, Head of Media, CITES #CoP17
[email protected] or Tel: +447736773093
About CITES
With 183 Parties, CITES remains one of the world's most powerful tools for biodiversity conservation through the regulation of trade in wild fauna and flora. Thousands of species are internationally traded and used by people in their daily lives for food, housing, health care, ecotourism, cosmetics or fashion.
CITES regulates international trade in over 35,000 species of plants and animals, including their products and derivatives, ensuring their survival in the wild with benefits for the livelihoods of local people and the global environment. The CITES permit system seeks to ensure that international trade in listed species is sustainable, legal and traceable.
CITES was signed in Washington D.C. on 3 March 1973 and entered into force on 1 July 1975.
Learn more about CITES by visiting www.cites.org or connecting to: