For use of the media only;
not an official document.
PRESS RELEASE
Indian law enforcement operation seizes 16,000 tortoises and turtles and arrests 55 - gets recognized by CITES Secretary-General Certificate of Commendation
"Operation Save Kurma" was a well-coordinated operation that resulted in the seizure of nearly 16,000 live tortoises and turtles and with 55 suspects arrested by authorities
Geneva, 30 November 2017 – The Wildlife Crime Control Bureau (WCCB) of India was today awarded with a Certificate of Commendation by the Secretary-General of the Convention on International Trade in Endangered Species of Wild Fauna and Flora (CITES).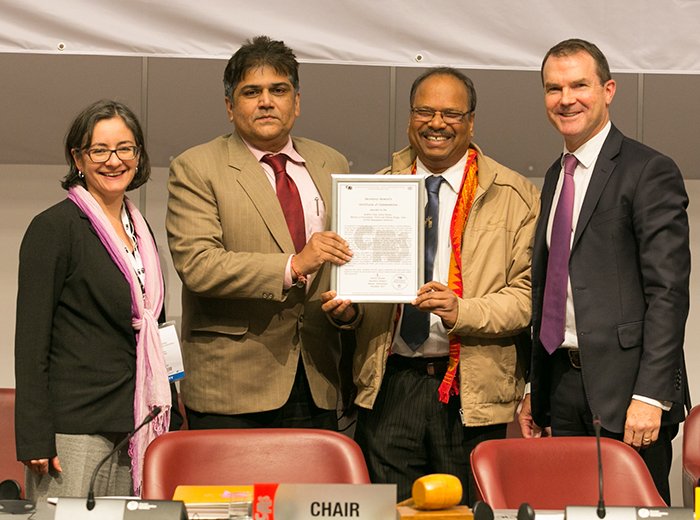 The CITES Secretary-General's Certificate of Commendation recognizes exemplary enforcement actions. It was today awarded to WCCB in recognition of exemplary work conducted to initiate and coordinate a national intelligence-driven law enforcement operation focused on the major Indian states affected by poaching of and illegal trade in live tortoises and turtles. The operation, code-named "Operation Save Kurma", was conducted from 15 December 2016 to 30 January 2017, and resulted in the seizure of 15,912 live tortoises and turtles and the arrest of 55 suspects.
The Wildlife Crime Control Bureau (WCCB) of India worked in close collaboration with regional law enforcement agencies, including the West Bengal Criminal Investigation Department, State Police and Forest Department, the Special Task Force of the Uttar Pradesh Police, the Karnataka Forest and Police Departments, and the Maharashtra and Rajasthan Forest Departments. The non-governmental organization "Turtle Survival Alliance" played a significant role in the rehabilitation of the seized tortoises and turtles.
During the operation, the WCCB actively supported the development and dissemination of actionable intelligence to the regional law enforcement agencies, and facilitated coordination between them. Where required, WCCB officials provided assistance with interrogation, species identification, and preparation of case files. The regional law enforcement agencies also generated their own intelligence, identified areas prone to the poaching, transportation and illegal trade in tortoises and turtles, and carried out arrests, seizures, and follow-up investigations.
Speaking at the award ceremony, CITES Secretary-General John E. Scanlon said: "'Operation Save Kurma' exemplifies the inter-agency coordination and collaboration needed at national and sub-national levels to disrupt organised criminal networks and to combat wildlife crime. Scaling up these types of operations across all affected countries will significantly reduce illegal trade in tortoises and turtles. All countries affected by this illegal trade are encouraged to initiate similar operations."
The Honorable Dr. Harsh Vardhan, Minister of Environment, Forest & Climate Change, Government of India said in a message to mark the occasion: "I am pleased to learn that the efforts of the Ministry of Environment, Forest and Climate Change through the Wildlife Crime Control Bureau and other enforcement agencies of India have been appreciated by the CITES Secretariat and the international community. On behalf of the Government of India, I would like to assure the international community that India remains committed to the cause of protection of wildlife and that we will take all steps to stop wildlife crime and illegal wildlife trade."
The Certificate was presented during the 69th meeting of the CITES Standing Committee, held in Geneva from 27 November to 1 December 2017.
Note to editors: For more information, contact Liu Yuan at +41 22 917 8130 or [email protected]
About CITES
With 183 Parties (182 countries and the European Union), CITES remains one of the world's most powerful tools for biodiversity conservation through the regulation of trade in wild fauna and flora. Thousands of species are internationally traded and used by people in their daily lives for food, housing, health care, ecotourism, cosmetics or fashion.
CITES regulates international trade in over 36,000 species of plants and animals, including their products and derivatives, ensuring their survival in the wild with benefits for the livelihoods of local people and the global environment. The CITES permit system seeks to ensure that international trade in listed species is sustainable, legal and traceable.
CITES was signed in Washington D.C. on 3 March 1973 and entered into force on 1 July 1975.
Learn more about CITES by visiting www.cites.org or connecting to:
www.twitter.com/CITES
www.facebook.com/CITES
www.youtube.com/c/CITES
www.flickr.com/CITES