Eighteenth meeting of the Conference of the Parties
Opening remarks of the Chair of the CITES Standing Committee, Carolina Caceres
Geneva (Switzerland), 17 August 2019
Excellency Alain Berset
Executive Director Ingar Anderson
Secretary General Ivonne Higuero
Delegates,
Ladies and Gentlemen, Friends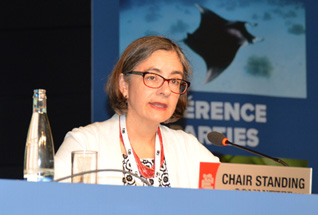 It is an honor to speak alongside these impressive women and men and to welcome you to Geneva and the 18th meeting of the Conference of the Parties
I'd like to take a moment to  acknowledge the support of Switzerland in the re-scheduling of this meeting after the tragic events the occurred in Sri Lanka.  I also express my deep gratitude to Sri Lanka for the commitment they have shown CITES. My thoughts remain with those who have lost friends and family on that terrible day. 
We come together here in Switzerland, perhaps not exactly as planned but with the same spirit of taking conservation action in support of wildlife and sustainable wildlife trade.  And we come together at a unique time in the consideration of nature conservation globally, as so eloquently identified by Ms. Inger Anderson. 
In May of this year the Intergovernmental Science-Policy Platform on Biodiversity and Ecosystem Services (or IPBES) released their global assessment to significant public attention. This report drew stark attention to the state of the world's biodiversity, the drivers of biodiversity loss, and the urgent need for action (what has been called a need for transformative change) if we are to succeed in achieving biodiversity conservation goals.
Later this month, Parties to the Convention on Biological Diversity will be gathering in Nairobi to start their path towards developing a Global Biodiversity Framework to replace the current 2010-2020 Biodiversity Strategy and to take stock on advancing towards the needed transformative change.
In this global context, I would place CITES, the Convention on International Trade of Endangered Species of Wild Fauna and Flora, as an essential tool to address one of the drivers of biodiversity loss, unsustainable use.  CITES, in its 44 years, 48 days since entering into force, has been a pragmatic results-driven Convention.  It's designers, those many years ago, lay down a focussed mandate – to protect species from the threat of international trade – and clear obligations on how to meet this mandate.
Since entry into force, CITES has grown in its scope, encompassing trade from mammals to butterflys, parrots to orchids, frogs to fishes but always with the same key obligations at the fore – to ensure trade is non-detrimental and legal.  CITES has also grown with a growth in the  complexity of wildlife trade, and many of the discussions we will be having over these next two weeks demonstrate that complexity.  We will be considering listings of tree species and how best to qualify that trade with annotations in order to achieve desired conservation results.  We will be considering trade in non-wild specimens and how best to manage this trade for the benefit of wild species. We will be examining the drivers of trade and the context for trade to consider how best to advise Parties on meeting the goal of CITES – ensuring species are not threatened by international trade.  As you can see, regardless of the issue, CITES Parties retain their focus on this core mandate.  This results orientation is, for me, a key strength of CITES and one we can share with our friends in the Convention on Biological Diversity as it strives to design a new Global Biodiversity Framework for adoption in 2020.
On a personal note, Canada has had the privilege of Chairing the Standing Committee for the past three years.  I have had the pleasure of being a front stage witness to the passion and thoughtful care all of you, the Parties to CITES, the dedicated observer inter governmental organizations and non-governmental organizations, those engaged in wildlife trade as their livelihood, the trusted partners and allies… the commitment you have all put into the work of CITES and the Standing Committee.  Regardless of the decision, however large or deceptively small it may be, you have taken each action in hand, provided careful advice and generous support towards meeting the goals of the COP.  I extend my unreserved thanks to all of you, most notably the members of the Standing Committee.
In my tenure, I have also had the opportunity to assist in the identification of the new Secretariat General to CITES.  It is with great pleasure that I welcome Ms. Ivonne Higuero in her new role as the Secretary General.  As I mentioned at our Standing Committee meeting yesterday, Ivonne has had to "hit the ground running", joining the Secretariat to lead the challenging preparations for this Conference of Parties.  She has done so with diligence, persistence and always good humor.  I have been delighted to welcome her to the CITES family
Dear colleagues, I will conclude my short remarks by welcoming your continued support for CITES.  I join you in looking forward to exchanging views, sharing information, learning from each other and engaging in passionate debate.  I am honored to work with you for the benefit of wildlife.
Thank you