For use of the media only;
not an official document.
PRESS RELEASE
CITES welcomes powerful new UN resolution on tackling illicit wildlife trafficking
UN General Assembly concludes its 71st session on a high note by embracing the groundbreaking
CITES decisions adopted at CoP17 last year
Geneva, 12 September 2017: A far reaching Resolution on tackling illicit wildlife trafficking was adopted by the 193 Member States of the United Nations at the final meeting of the 71st session of the United Nations General Assembly yesterday.
This political milestone reinforces the focus on key areas in the fight against illicit trafficking in wildlife, including enhanced national legislation, supporting sustainable livelihoods, stronger law enforcement, countering corruption, deploying information technologies and undertaking well-targeted demand reduction efforts.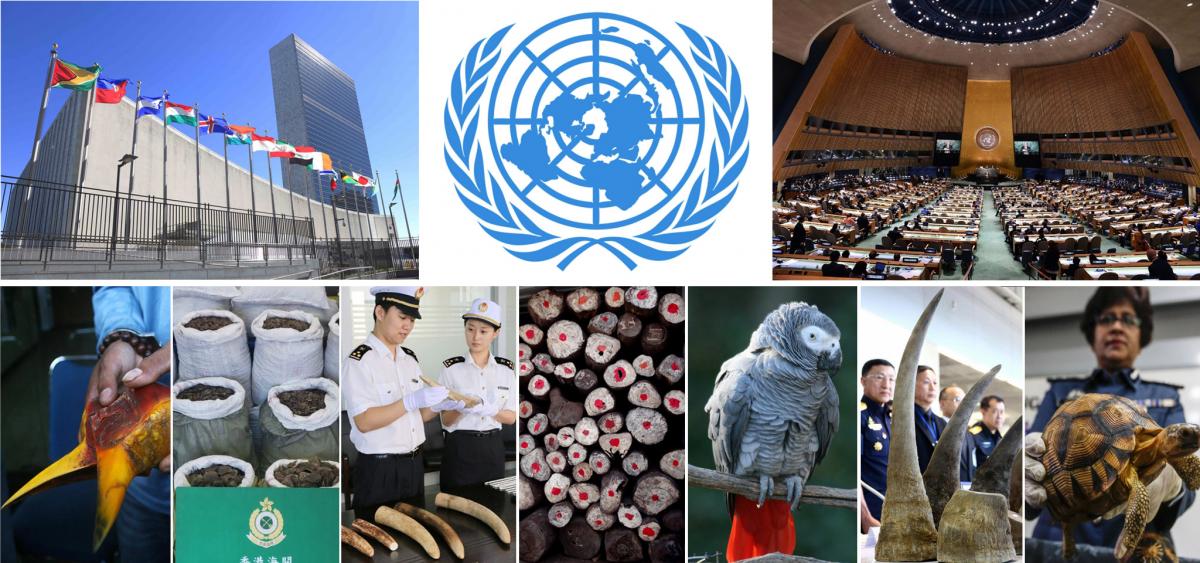 In welcoming the new UN General Assembly resolution, Secretary-General of CITES (the Convention on International Trade in Endangered Species of Wild Fauna and Flora), John E. Scanlon said: "The adoption of the first UN General Assembly resolution two years ago provided great political momentum to the global collective efforts to combat illicit trafficking in wildlife. A lot has been achieved over recent years but more needs to be done to ensure we reverse the disturbing trends in wildlife crime. This new UNGA Resolution reinforces the heightened level of political concern over the devastating impacts these highly destructive crimes are having on wildlife and people."
With 9 references to CITES, including 4 references to its 17th meeting of the Conference of the Parties (CoP17, September to October 2016, Johannesburg), the UN General Assembly further recognizes CITES as the primary legal framework for regulating international trade in species of wild animals and plants as well as combating illicit trafficking in wildlife. Many of the species mentioned in the resolution are protected under CITES, such as the elephant, rhino, marine and freshwater turtles, sharks, ornamental fish, pangolins, great apes, parrots, raptors, helmeted hornbill, big cats, rosewood, agarwood and sandalwood.
"The UN General Assembly has again demonstrated its strong political resolve to combat illicit wildlife trafficking, including by treating it as a serious crime. In doing so, the UN General Assembly has embraced the ground breaking decisions taken at the CITES CoP17 last year, including the powerful resolutions adopted on countering corruption and cybercrime, taking well-targeted strategies to reduce the demand for illegally traded wildlife, the call to close legal domestic ivory markets in concerned countries if these markets contribute to poaching or illegal trade, and on youth empowerment", added Scanlon.
The Resolution recognizes the important work of the International Consortium on Combating Wildlife Crime (ICCWC), a collaborative effort of the CITES Secretariat, the International Criminal Police Organization (INTERPOL), the United Nations Office on Drugs and Crime (UNODC), the World Bank and the World Customs Organization (WCO),  including through supporting Member States in the implementation of the Wildlife and Forest Crime Analytic Toolkit, which is aimed at strengthening the capacity of relevant law enforcement authorities and judiciaries in investigating, prosecuting and adjudicating wildlife-related offences.
The UNGA Resolution continues to express concern that illicit trafficking in protected species of wild fauna and flora is, in some cases, an increasingly sophisticated form of transnational organized crime that poses a threat to health and safety, security, good governance and the sustainable development of States. It also emphasizes that the protection of wildlife must be part of a comprehensive approach to achieving poverty eradication, food security, sustainable development, including conservation and sustainable use of biological diversity, economic growth, social well-being and sustainable livelihoods.
The Resolution calls for firm and strengthened national measures, and an enhanced regional and global response. It is aimed at both supply and demand sides, including by strengthening the legislation necessary for the prevention, investigation and prosecution of offences, treating certain wildlife offences as a serious crimes, providing for illegal trade in wildlife offences to be treated as predicate offences (for anti-money laundering offences), recording and monitoring seizures and successful prosecutions, supporting the exchange of evidence between States and taking steps to prohibit, prevent and counter corruption.
It urges States to reduce demand for illegal wildlife products using targeted strategies to influence consumer behavior, emphasizes that the protection of wildlife must be part of a comprehensive approach to achieving, inter alia, sustainable development and sustainable livelihoods and encourages States to address sustainable and alternative livelihoods for affected communities to enable them to benefit from wildlife and wilderness.
The Resolution calls upon Member States to ensure that legal domestic markets for wildlife products are not used to mask the trade in illegal wildlife products, and in this regard urges parties to implement the CITES resolution as amended at CoP17 recommending that all Governments close legal domestic ivory markets, as a matter of urgency, if these markets contribute to poaching or illegal trade;
The CITES Secretariat provided support to the UN Group of Friends on Poaching and Illicit Wildlife Trafficking in the preparation of the Resolution. 
See more:
Note to editors:
For more information and to arrange interviews, please contact:
CITES Secretariat: Liu Yuan, +41 22 917 8130, [email protected]
About CITES
With 183 Parties (182 countries + the European Union), the Convention on International Trade in Endangered Species of Wild Fauna and Flora (CITES) remains one of the world's most powerful tools for wildlife conservation through the regulation of trade. Thousands of species are internationally traded and used by people in their daily lives for food, health care, housing, tourist souvenirs, cosmetics or fashion. CITES regulates international trade in over 36,000 species of plants and animals, including their products and derivatives, to ensure their survival in the wild with benefits for the livelihoods of local people and the global environment. The CITES permit system seeks to ensure that international trade in listed species is sustainable, legal and traceable. CITES was signed in Washington D.C. on 3 March 1973 and entered into force on 1 July 1975.
Learn more about CITES by visiting www.cites.org or connecting to:
www.twitter.com/CITES
www.facebook.com/CITES
www.youtube.com/CITES
www.flickr.com/CITES