For use of the media only;
not an official document.
PRESS RELEASE
CITES to provide targeted support for critical wildlife areas in Africa
CITES to strengthen protection in three critical regions to tackle illegal killing and trafficking of wildlife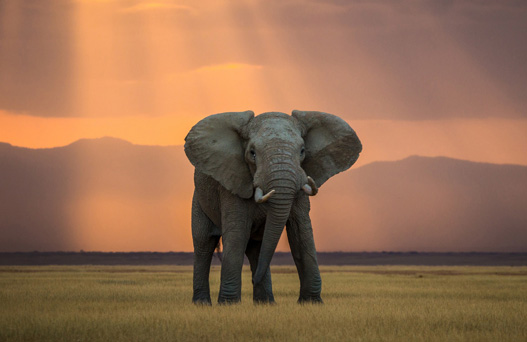 Geneva/Nairobi, 14 July 2016 - CITES has signed agreements to build law enforcement capacity to reduce the illegal killing and trafficking of wildlife in three critical areas in Southern, Eastern and Central Africa. The agreements cover the Mana Pools, Sapi and Chewore UNESCO World Heritage Sites in Zimbabwe; the Dzanga Sangha Protected Area Complex in the Central African Republic (CAR); part of the Trinational de la Sangha World Heritage Site; and Queen Elizabeth National Park, part of a UNESCO Biosphere Reserve in Uganda. These targeted interventions are funded by the European Union through the CITES Minimizing the Illegal Killing of Elephants and other Endangered Species (MIKES) project.
The areas were prioritized for action based on detailed assessments of existing law enforcement capacity conducted by the CITES Programme for Monitoring the Illegal Killing of Elephants (MIKE), as well as on their importance for elephant conservation, the co-occurrence of other key CITES-listed species, and the level of poaching and other threats impacting each site. Site specific packages of activities have been developed by the MIKE Programme staff in close collaboration with site-based management and senior field-based staff in order to ensure that the support meets the specific needs of each area, and complements existing capacity and resources.

Following the signing of the three agreements John E. Scanlon, the Secretary-General of CITES, said, "These three well-targeted interventions were designed drawing upon the best local knowledge available to reduce illegal wildlife trade at its source. We are pleased to be able to provide such focused support and to be working directly with national wildlife agencies, and local and international NGOs in pursuit of our common conservation goals. We look forward to extending such support to additional areas in the near future". He expressed his sincere thanks for the funds provided by the European Union for the MIKES project, noting that further support packages are being developed for seven more areas in Africa, the Caribbean and the Pacific.
The Queen Elizabeth project (Uganda), which will be implemented by the Uganda Wildlife Authority, includes support for training rangers and equipping them with patrol and communications equipment; developing and implementing a law enforcement strategy; strengthening in the use of intelligence, investigations and prosecutions; and enhancing the use of law enforcement monitoring systems to inform protected area management.
The Dzanga-Sangha Project (CAR), is to be implemented by the World Wildlife Fund in close collaboration with authorities from the Central African Republic. It aims to strengthen patrol operations, equipment and capacity for conducting special enforcement operations and in particular, building collaboration with other law enforcement agencies involved in combating wildlife crime around the protected area.

The Mana Pools, Chewore and Sapi project (Zimbabwe), will be implemented by the Tashinga Initiative Trust in collaboration with the Zimbabwe Parks and Wildlife Management Authority. It also aims to strengthen patrol operations by training and equipping rangers; enhancing law enforcement operations, coordination and monitoring across the three individual areas that make up the World Heritage Site; and enhancing collaboration with local communities in law enforcement.
Note to editors:
For more information and to arrange interviews, please contact:
Liu Yuan, Programme and Communications Officer, CITES Secretariat, 
[email protected]
, +41 22 917 8130
About CITES
With 182 Parties, the Convention on International Trade in Endangered Species of Wild Fauna and Flora (CITES) is now one of the world's most powerful tools for wildlife conservation through the regulation of international trade. Thousands of species of wild animals and plants are internationally traded and used by people in their daily lives for food, health care, housing, souvenirs, leisure, cosmetics, clothing or fashion.
CITES regulates international trade in over 35,000 species of wild plants and animals, including their products and derivatives, to ensure their survival in the wild with benefits for the livelihoods of people and the global environment. The CITES permit system seeks to ensure that international trade in listed species is sustainable, legal and traceable.
CITES was signed in Washington D.C. on 3 March 1973, and entered into force on 1 July 1975.
Learn more about CITES by visiting 
www.cites.org
or connecting to:
About MIKE
The MIKES project builds on the MIKE Programme's traditional focus on the monitoring of the illegal killing of elephants by leveraging the strong foundation and successes that the programme has achieved since its inception in 2001. This includes new activities to help minimize the illegal killing of elephants and other CITES-listed flagship species threatened by international trade; initiatives aimed at minimizing the impact of poaching and the illegal trade on the target species, and piloting of the MIKE Programme's monitoring approaches in selected sites in the Caribbean and Pacific regions, where the focus is on marine turtles.