For use of the media only;
not an official document.
PRESS RELEASE
CITES calls on zoos and aquariums to support wildlife trade controls and to
join the fight against wildlife trafficking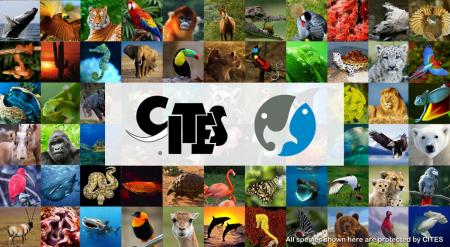 Geneva, 17 October 2017– At the annual conference of the World Association of Zoos and Aquariums (WAZA), the largest gathering of the zoos and aquariums from around the world, CITES Secretary-General John Scanlon calls on zoos and aquariums to better support the CITES trade regulation regime and to join the fight against illegal trade in wildlife.
Zoos and aquariums, exhibiting a wide a variety of animals, are often involved in international movements of and trade in wild and captive bred animals, many of which are protected under CITES. These include for example elephants, lions, primates, tigers, parrots, birds of prey, flamingos, crocodiles, pythons, frogs, corals, manta rays and sharks. This explains why a Memorandum of Understanding between CITES and WAZA was signed in 2011.
In his presentation, Mr. Scanlon said that zoos and aquariums can play an even more active role in supporting CITES in regulating trade in wildlife. In particular, the expertise of zoos and aquariums in conservation, animal welfare, education and outreach, which is of direct relevance to CITES, can be drawn upon more effectively in supporting the Convention.
"Can you influence zoos which are not members of WAZA? Can you as an industry association help lift up the poor quality ones, and blow the whistle on the really bad ones, to help to close them down, find alternative homes for their animals?" This is a challenge posed by the CITES Secretary General to WAZA, the global zoos and aquarium association.
"We all want to be able to enjoy wildlife for generations to come and you all have a role to play here. There are many threats to wildlife and the most immediate threat to many species is coming from the illegal trade in wildlife. We need 'all hands on deck' if we are going to win this fight and we must win it in quick time", concluded Scanlon.
"The world's leading zoos and aquariums welcome the opportunity to align our priorities more closely with CITES," said WAZA President Jenny Gray. "WAZA and its members realize we can play a central role in the battle against the illegal trade in wildlife -- in fact, we have no choice : it is something we must do. Our expertise is needed more now than ever, and it is our obligation to step up and ensure that the WAZA community does all it can to win this fight."
Mr. John Scanlon is the first CITES Secretary-General to address a WAZA annual conference. He has also reached out to the technology, tourism and transport industries in the past few years.
In his presentation, Mr. Scanlon gave an overview of the CITES-listed species, how CITES works, the various threats they are facing as well as the ongoing global collective efforts to address illicit trafficking in wildlife. The third UN General Assembly resolution on 'Tackling Illicit Trafficking in Wildlife' demonstrates the level of political concern, and the concerted collective international efforts underway to combat it, recognizing the central role that CITES plays as the fundamental legal framework.
Mr. Scanlon's presentation included a call to the zoos and aquariums to continue and strengthen their support in the following areas:
Wildlife conservation
Zoos have a long history of ex situ conservation, with certain zoos collectively mainstreaming a diversified gene pool of endangered species, and achieving success in the reintroduction of some species into the wild.
It is also important for zoos and aquariums to involve themselves more deeply in in situ conservation and to engage with and support local communities living amongst wildlife and to ensure that local communities derive a benefit from wildlife is critical to combatting poaching and smuggling at source.
At times, we see wild animals illegally passed off as being captive bred to get through CITES and Customs controls. It is not always easy to distinguish captive bred from wild taken and this is an area where staff at zoos and aquariums can assist authorities. They can also assist in identifying species found in trade to determine if they are CITES listed or not. In this connection, zoos and aquariums can collaborate closely with CITES Management and Scientific Authorities on capacity building activities.
Animal welfare
Zoos and aquariums continue to play a vital role in serving as rescue centers for wildlife that has been intercepted in illegal trade. This is an invaluable support to law enforcement authorities that seize illegally traded animals.
Zoos can also contribute to the implementation of CITES using their knowledge of animal husbandry and ethology. For example, trade in live elephants often generate a great level of public attention. The CITES conference last year (CoP17) initiated a process to provide a better guidance on the definition of the term "appropriate and acceptable destinations" that are the proposed recipient of a living specimen is suitably equipped to care for it". WAZA is a part of this important process.
Education and outreach
Zoos and aquariums around the world welcomes over 700 million visitors annually. Many WAZA members profile the CITES-listed species of animals that they house. More can be done to take advantage of this extraordinary possibility to educate zoo visitors about CITES, including on how they can help by not buying either illegally sourced wildlife products. CITES has offered to provide support in developing common messaging for WAZA members worldwide to display.
WAZA members are also invited to observe World Wildlife Day 2018 under the theme to protect big cats around the world.
See also:
Note to editors:
For more information and to arrange interviews, please contact Liu Yuan at +41 22 917 8130 or [email protected]
About CITES
With 183 Parties, Convention on International Trade in Endangered Species of Wild Fauna and Flora (CITES) remains one of the world's most powerful tools for wildlife conservation through the regulation of trade. Thousands of species are internationally traded and used by people in their daily lives for food, health care, housing, tourist souvenirs, cosmetics or fashion.
CITES regulates international trade in over 36,000 species of plants and animals, including their products and derivatives, to ensure their survival in the wild with benefits for the livelihoods of local people and the global environment. The CITES permit system seeks to ensure that international trade in listed species is sustainable, legal and traceable.
CITES was signed in Washington D.C. on 3 March 1973 and entered into force on 1 July 1975.
Learn more about CITES by visiting www.cites.org or connecting to: