For use of the media only;
not an official document.
PRESS RELEASE
Mexico's scientists commended for contributions to implementation of CITES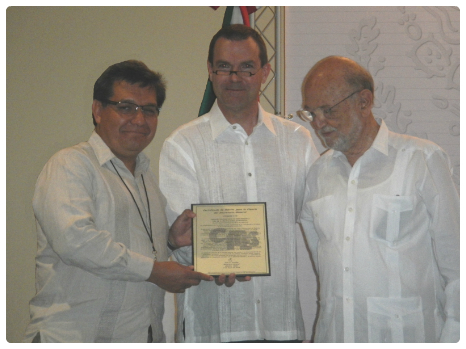 Mr John E. Scanlon, CITES Secretary-General, presenting a Certificate of Merit to Dr Jose Sarukhan Kermez,
National Coordinator of CONABIO and Hesiquio Benítez Díaz, Director of Liaison and International Affairs of CONABIO.

Geneva/Veracruz, 2 May 2014 – The Secretary-General of the Convention on International Trade in Endangered Species of Wild Fauna and Flora (CITES), Mr John E. Scanlon, has awarded the first ever CITES Secretary-General's Certificate of Merit for Science to the Comisión Nacional para el Conocimiento y Uso de la Biodiversidad (CONABIO). In its role as CITES Scientific Authority of Mexico CONABIO has made a major contribution to the development of science in the Convention in recent years.
Mr Scanlon, presented the Certificate of Merit to CONABIO at the opening ceremony of the joint session of the meetings of the Animals and Plants Committees held in Veracruz, Mexico, on 2 May 2014. Over 300 participants and the Governor of the State of Veracruz, the Federal Minister for Environment and Natural Resources, the Federal Prosecutor for the Environment and the National Coordinator of CONABIO attended the opening session. CONABIO played a major part in encouraging the Government of Mexico to host these meetings, taking place from 28 April to 8 May 2014. 
In presenting the award, Mr Scanlon said, "Effective implementation of CITES relies upon the drive and determination of national authorities, and developing sound global policies requires national leadership in promoting international efforts" He added, "CONABIO has shown exemplary commitment to national implementation and global policy".
The foresight of CONABIO in organizing the International Expert Workshop on CITES Non-Detriment Findings, in Cancún, Mexico in 2008, led not only to considerable advances in the understanding of non-detriment findings, but also to the adoption of the landmark Resolution Conf. 16.7 at the 16th meeting of the Conference of the Parties (Bangkok, March 2013). CONABIO's participation in the Animals and Plants Committees in recent years, and its contribution to their work has been an example to others. They have prepared over a dozen meeting documents, making a major input to the work of the Committees, and therefore CITES, on the periodic review of species included in Appendices I and II and on relations between CITES and other bodies, such as the Convention on Biological Diversity's Global Strategy for Plant Conservation and the Intergovernmental Science-Policy Platform on Biodiversity and Ecosystem Services. They supported a regional representative on the Animals Committee from 2002 to 2007, and since 2010, a staff member has been on the Plants Committee and is also currently the Vice-Chair.
In their domestic implementation of CITES, they have formulated a sound scientific basis for determining the sustainable levels of trade in holywood lignum-vitae Guaiacum sanctum and candelilla Euphorbia antisyphilitica and they are implementing a pilot project for the recovery of Morelett's crocodile Crocodylus moreletii using wildlife trade as a motivation.
Commenting on the award, Hesiquio Benítez Díaz, CONABIO's  General Director of International Cooperation and Implementation and Head of the Mexican Scientific Authority said "it is a great honour to receive the first ever Certificate of Merit for Science and highlights the fact that developing and biologically mega-diverse States such as Mexico are endowed with institutions capable of making relevant contributions in support of the proper implementation of the Convention". "This recognition motivates us to renew collaboration efforts with the national and international scientific community, in order to make available the best information in support of decision-makers on biodiversity-related matters, in particular the conservation and sustainable use of our natural capital" he added.
Note to editors: Background details of the CITES Secretary-General's Certificates of Merit scheme can be found here:  /eng/disc/certificate_merit.php
The National Commission for the Knowledge and Use of Biodiversity (CONABIO) is an Inter-Ministerial Commission of permanent nature in Mexico. Its purpose is to generate the intelligence required by the country establish a basis for public policies and decisions made by the society on biodiversity matters. For this, it is dedicated mainly to: conform and update the National Information System on Biodiversity (SNIB); support projects and studies on knowledge and use of biodiversity; provide guidance to other governmental institutions and sectors; develop special projects; broadcast the knowledge on biological richness; comply with international biodiversity related agreements; and attend information requests from public. It was created by presidential decree in 1992, and since 2000 CONABIO serves as the Mexican CITES Scientific Authority. http://www.biodiversidad.gob.mx/v_ingles/index.html. 
For more information, please contact Juan Carlos Vásquez at +41 22 917 8156,  +41 79 552 27 32 or [email protected]
About CITES
With 179 Member States, CITES remains one of the world's most powerful tools for biodiversity conservation through the regulation of trade in wild fauna and flora. Thousands of species are internationally traded and used by people in their daily lives for food, housing, health care, ecotourism, cosmetics or fashion. 
CITES regulates international trade in close to 35,000 species of plants and animals, including their products and derivatives, ensuring their survival in the wild with benefits for the livelihoods of local people and the global environment. The CITES permit system seeks to ensure that international trade in listed species is sustainable, legal and traceable.
CITES was adopted in Washington D.C. on 3 March 1973. The First World Wildlife Day will be celebrated on 3 March 2014 which coincides with the signing of the Convention.
Learn more about CITES by visiting www.cites.org or connecting to:
www.facebook.com/CITES.org
www.twitter.com/citesconvention
www.youtube.com/citesvd
www.flickr.com/cites