For use of the media only;
not an official document.
PRESS RELEASE
CITES Standing Committee (SC65) conclusions:
A focus on the front lines
Roll out of wildlife targeted actions to strengthen enforcement
and conservation starts to show results 
Geneva, 14 July 2014 –With record numbers in attendance, the conservation and management priorities for wild plants and animals took centre stage at the 65th meeting of the Standing Committee of the Convention on International Trade in Endangered Species of Wild Fauna and Flora (CITES), from 7 to 11 July, in Geneva. 
"The text of the Convention provides the framework within which CITES operates. Further to this, more than 80 Resolutions and a large number of Decisions adopted by the CITES Conference of the Parties guides the effective implementation of the Convention, and specify what needs to be done. It is crucial that the implementation of these Resolutions and Decisions better translate into national law, enforcement and conservation efforts, for us to achieve legal, sustainable and traceable trade, and to combat illegal trade effectively. Countries need to again look at their permitting systems and legislation, enforcement responses, how CITES specimens are confiscated and disposed of, and what punitive measures are taken against those who are perpetrating wildlife crimes," said Øystein Størkersen, CITES Standing Committee Chair.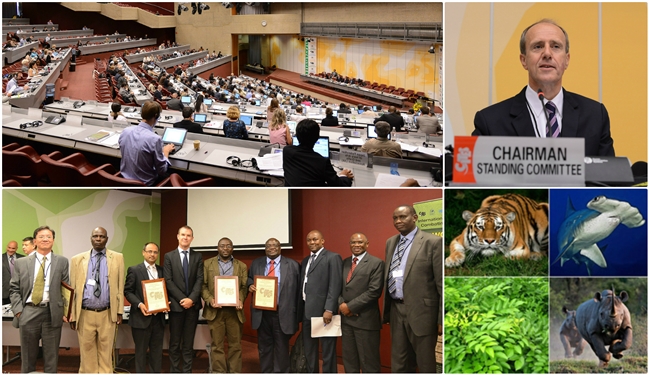 National ivory action plans, developed and implemented since March 2013, by eight key countries of primary concern in the poaching of elephants and the illegal trade in ivory (China, Kenya, Malaysia, Philippines, Thailand, Uganda, the United Republic of Tanzania and Viet Nam), are showing clear positive results. 
In accordance with the decisions made at SC65, the actioning of these plans will continue over the next year following which the Standing Committee will decide whether Parties have substantially achieved their plans and should no longer be considered of primary concern; or have made progress but remain of primary concern; or have made insufficient progress and require compliance measures. Additional to this, a number of other countries are now also required to develop and roll out national ivory and rhino action plans, these include: Angola, Cambodia, Cameroon, Congo, the Democratic Republic of the Congo, Egypt, Ethiopia, Gabon, the Lao PDR, Mozambique and Nigeria.
"The Committee has focused on those specific areas where further action is needed now to combat the illegal wildlife trade and to enhance effective conservation. Action-oriented and time bound national plans to combat illegal ivory trade have proven to be effective and successful. For this reason the Committee has widened the net to apply this tool to a broader range of countries and species," said John E. Scanlon, Secretary-General of CITES.
What came to the fore during this meeting included specific concerns over: illegal trade in precious rosewoods, palisanders and ebonies from Madagascar to Asia through East Africa; illegal ivory trade within Thailand; rhino horn trafficking through Mozambique; illegal cheetah trade from eastern Africa to the Gulf region; increasing levels of illegal trade in tigers and their parts and derivatives in South and South East Asia, and large scale illegal trade in the little known nocturnal scaly mammal Pangolin, throughout Africa and Asia.
Progress was made on management and identification of sharks in international trade; regulating the global trade in snake skins; and setting up innovative technologies to track and label wildlife in trade. The trade ban on Nile crocodiles from Madagascar was lifted after it was reported that better management standards had been met.
"There is now real progress and traction. This is also the first time there were so many practical, pragmatic and targeted decisions taken, from improving e-permitting and stockpile registration; to helping countries to implement shark listings. We are also seeing greater donor interest, such as through the announcement of MIKES  at this meeting, and increasing opportunities to address livelihood issues," Størkersen concluded (see the press release on MIKES at
/eng/EU_mikes_04072014
).
Decisions and outcomes on critical conservation issues for iconic species:
Elephants - Outcome SC65: In Bangkok last year, eight countries (China, Kenya, Malaysia, Philippines, Thailand, Uganda, the United Republic of Tanzania and Viet Nam) were requested to develop national ivory action plans containing specific time bound actions. At this meeting, progress made by the eight countries with the implementation of these plans were assessed, including on the ground work to strengthen law enforcement responses, like setting up elite anti-poaching units, informant networks and increasing the use of forensic technology to fight wildlife crime. 
The use of the national ivory action plans allows countries to focus attention on what practical work needs to be done on the front lines, and was seen as a success with multiple tangible measures being taken. For example, since these national ivory action plans were put in place in 2013, there was a clear increase in the number of seizures made in Africa, with 80% of large-scale ivory seizures occurring in Kenya, Uganda, and the United Republic of Tanzania.
Thailand was requested to make significant progress with the implementation of a range of specific actions, by 31 March 2015, to combat illegal ivory trade, including by improving  national legislation and control over its domestic ivory trade market. The Committee will assess the progress made by Thailand in after 15 January 2015, and again after 31 March.  If Thailand has not make significant progress by this date, the Committee will consider taking compliance measures before its next meeting. The compliance measures available to the Committee include recommending a suspension of international trade in all CITES listed species.
In addition, a number of other countries including: Angola, Cambodia, Cameroon, the Congo, Congo DRC, Egypt, Ethiopia, Gabon, Lao PDR, Mozambique and Nigeria, have now been requested to also develop detailed national ivory action plans and take urgent measures to put them into action. These countries play a crucial role, since they are affected by the illegal trade in ivory as either a source, transit or destination country.
Rhinos - Outcome SC65: Transnational organized crime groups are heavily involved in the poaching of rhino's and the illegal trade in rhino horn and continue to pose a significant threat to rhinoceros populations. The nature of this threat is most evident in South Africa, where the numbers of rhino's killed illegally escalated at alarming rates over recent years, with 36 rhino's poached in 2006, 122 in 2009, 448 in 2011, 1,004 in 2013 and over 500 in the first six months of this year. Countries such as Kenya are also increasingly targeted by criminal groups, with poaching figures in Kenya escalating from 25 in 2011, to 59 in 2013, and with 23 animals killed in the country by June this year.
Mozambique plays a critical role in the illegal rhino horn trade chain and was requested to develop a detailed national rhino action plan by 31 October 2014. Other countries most involved in this illegal rhino horn trade chain, either as source, transit or destination country, include the Czech Republic, India, South Africa and Viet Nam. For this reason the Standing Committee also requested these countries to report on specific measures they implemented to combat rhino poaching and illegal trade in rhino horn, including on measures to reduce demand.
Viet Nam, as the primary destination for illegal rhino horns, prepared detailed reports for SC65 on how it is taking stronger measures to fight illegal trade, including a directive from the Prime Minister of Viet Nam to strengthen law enforcement responses to this threat, and to reduce demand. Viet Nam reported progress in enforcement, and in 2013 law enforcement authorities in Viet Nam made an increasing number of seizures and arrests, and enhanced demand reduction efforts.
Rosewood, palisander and ebony
- Madagascar -
Outcome SC65
: The Committee recommended that Madagascar extend its zero export quota for ebonies, rosewoods and 
palisanders
 until August 2015 to avoid potential compliance measures in the future for the significant levels of illegal trade in these timber species.
Background - Despite its zero export quota, the scale of the illegal logging and trade from Madagascar remains at alarming levels. Timber is illegally exported by boat from Madagascar using various routes. Illegal consignments on a number of occasions transited through ports in east Africa, primarily destined for Asia. More than 4,000 tons of rosewood suspected to have been illegally exported from Madagascar were seized by authorities in various transit and destination countries between November 2013 and April 2014.
Pangolins - Outcome SC65:  The severity of the growing trends in illegal pangolin trade to Asian consumer markets within Asia, and increasingly from Africa, was a key issue at this meeting. At SC65, an inter-sessional working group was established, which will pay serious attention to the threat posed to pangolins over the coming year.
 In June of this year, Hong Kong, SAR Customs officials seized two shipments containing more than three tons of pangolin scales that originated from Africa. This is only one of a number of illegal pangolin shipments seized in recent years, and given that only approximately 0.5 kg of scales can be derived from one pangolin, this illegal trade has a massive impact on the species.
Tigers and other Asian big cats (leopard, snow leopard, clouded leopard and Asiatic lion) - Outcome SC65: Data presented to the Standing Committee showed a significant increase in the illegal trade of Asian big cats, in particular tigers. As with other species affected by illegal trade in wildlife, Asian big cat crimes cannot be addressed by one authority or one country alone. Strong cooperation with a multi-disciplinary approach amongst range, transit, and destination countries is vital. Multiple decisions were taken including on taking targeted demand reduction strategies and the implementation of measures to effectively regulate the activities of captive breeding facilities. The Committee further requested China, India, Lao PDR, Myanmar, Nepal, Thailand and Viet Nam to take specific actions to address illegal trade in these species.
Background - Seizures of tiger specimens are increasing in range States, and a significant number have occurred since 2010, with 61 animals seized from 2010-2012, compared to 62 from 2000-2009. Skins are the most commonly seized item for this species. It was reported to the Committee that seizures of tigers have increased in Southeast Asia in recent years, and that, of 61 live tigers seized in the period 2010 to 2012, 74% were confiscated in three South-East Asian countries (Lao PDR, Thailand and Viet Nam).
Cheetahs - Outcome SC65: The first comprehensive overview of the global trade in cheetahs was presented to this Standing Committee meeting. There was  evidence of smuggling of live cheetahs from the Horn of Africa to Gulf States for the pet trade. An inter-sessional working group was established at SC65 that will, similar to the working group on pangolins, pay serious attention to this threat over the coming year.
Background - Cheetah, Acinonyx jubatus, the world's fastest running land animal, is included in CITES Appendix I since 1975. The most recent population estimate is fewer than 10,000, mostly in the savannahs of Africa, with a very small Asiatic population in Iran. The largest cheetah population is found in Southern Africa, mostly on commercial livestock and game ranching areas. There has been legal trade in hunting trophies from Namibia and Zimbabwe under Appendix I quota system since 1992. The total annual quota for live specimens and hunting trophies is 205, granted for Botswana (5), Namibia (150), and Zimbabwe (50). The Appendix I quota trade has been well-regulated and sustainable, with a neutral or net positive impact on conservation. 
Cheetahs face a variety of pressures to their existence in the wild, including habitat loss, bush-meat hunting of their prey base, conflict with livestock owners, and illegal trade.
Eastern Africa is the region with the highest recorded levels of illegal trade in live cheetahs, and where this trade likely has generated negative impact on wild populations. The primary destination of live cheetahs from this region, are the Gulf States. The known outcomes of incidents where confiscations were made in Somalia and Ethiopia suggest that there is a high mortality rate of up to 70% amongst the animals illegally traded.
Trade in captive bred live cheetahs from South Africa occurs, but to ensure that all animals in trade are of legal origin, the country needs to enact and maintain strict national oversight of captive breeding and export of live cheetahs. Little information is currently available on trade in or use of live cheetahs, cheetah skins or other specimens in northern, western and central Africa. Any illegal trade from these regions or from the Islamic Republic of Iran – home to the last wild cheetah population in Asia – could have highly detrimental impacts.
Other issues addressed at CITES Standing Committee:
Immediate suspension of trade in Emperor scorpions from Ghana – Outcome SC65: no further trade from the wild until Ghana can demonstrate that trade is well managed and sustainable. 
Measures to improve trade management - Outcome SC65: Beluga Caviar from Iran – The existing suspension of trade in Beluga from Iran was lifted after the country reported to have stopped fishery for wild Sturgeons, including Belugas (the country focuses on aquaculture of this and other sturgeons species). SC65 also called for better cooperation from the five countries surrounding the Caspian Sea to save and restore wild sturgeons. 
Seahorses from Thailand and Giant clams from Solomon Islands– management of the fishery has improved significantly, but a number of additional measures and further monitoring agreed. 
Nile crocodile from Madagascar – The recommended trade suspension is withdrawn pending confirmation that new legislation has entered into force. 
Fresh water turtles from Indonesia and frogs from Madagascar also saw improved specific management measures so that exports of these species can continue. 
Sharks and Manta rays - Outcome SC65: A huge global effort is underway to help countries to make CITES listings for five shark species and all Manta rays work effectively, including determining sustainable catch levels, identification of shark fins in trade, and ensuring that countries have effective legislation in place to regulate this trade. This work directly involves FAO, Regional Fisheries Management Organizations, major shark fisheries nations and the non-government sector. 
Snakes  - Outcome SC65: Support was shown for efforts to improve the sustainability and traceability of python skins in trade (trade from Southeast Asia to Europe involves over half a million skins per year). 
New technologies for forensics, tracking and tagging - Outcome SC65: Support was shown for new technologies to track legal wildlife products in trade, including forensics (e.g. for identifying rhino horn, ivory or caviar), tagging and traceability systems (e.g. snake skins) and electronic permitting (this includes 10 million EUROS from the German KfW Development Bank to develop CITES e permitting systems to better control trade in wildlife – reptiles, timber, birds etc. from member countries in the Amazon Cooperation Treaty Organization).  
ICCWC (the International Consortium on Combatting Wildlife Crime) – Outcome SC65: ICCWC showcased the work the consortium is doing to promote the use of forensic technology to combat illegal wildlife trade, including the development of "Guidelines for forensic methods and procedures of ivory sampling and analysis", which is currently under preparation by the United Nations Office on Drugs and Crime (UNODC), on behalf of ICCWC. These guidelines are being developed as a practical guide to best practices and logistical procedures and is intended for worldwide use in order to facilitate the use of wildlife forensics to the fullest extent possible to combat wildlife crime, and in particular illegal ivory trade.
Frontline operational support and capacity building – Outcome SC65: The ICCWC Wildlife and Forest Crime Analytic Toolkit, provides government officials, Customs, police and other relevant enforcement agencies with a framework to conduct a comprehensive analysis of their response to wildlife and forest crime and identify their technical assistance needs. UNODC is leading the roll out of the Toolkit in Angola, Bangladesh, Gabon, Mexico, Nepal, Peru and Viet Nam with many additional countries expressing interest.
Also set up in the past year: Wildlife Incident Support Teams (WISTs), composed of enforcement staff or relevant experts, to dispatch at the request of countries affected by significant poaching of CITES specimens, or with large-scale seizures, to assist, guide and to help follow-up in affected countries. In July 2013, Sri Lanka requested assistance from ICCWC, which deployed its first WIST, led by INTERPOL, to collect DNA samples from a large-scale ivory seizure.
Secretariat hosting arrangements
.  The CITES Standing Committee also decided to review the hosting arrangements for the CITES Secretariat following the release of the UN Joint Inspection Unit report on 'Post-Rio+20 Review of Environmental Governance within the United Nations System.'  The full report of the UN Joint Inspection Unit can be found at:
/sites/default/files/eng/com/sc/65/Inf/E-SC65-Inf-11.pdf 
About CITES: 
With 180 Member States, CITES remains one of the world's most powerful tools for biodiversity conservation through the regulation of trade in wild fauna and flora. Thousands of species are internationally traded and used by people in their daily lives for food, housing, health care, ecotourism, cosmetics or fashion. 
At the annual Standing Committee, CITES reviews how far states have got since major decisions were taken and determine the next steps. Compliance measures and review mechanisms available under CITES are unique to this Convention and include the legal authority to completely suspend country trade in a species or in all species of wildlife.  The Standing Committee meets every year to oversee the implementation of rules for international trade in protected wildlife agreed between the 180 CITES member States, which meet once every three years - the last meeting being held in Bangkok in March 2013. 
CITES regulates international trade in over 35,000 species of plants and animals, including their products and derivatives, ensuring their survival in the wild with benefits for the livelihoods of local people and the global environment. The CITES permit system seeks to ensure that international trade in listed species is sustainable, legal and traceable.   CITES was signed in Washington D.C. on 3 March 1973.
Agenda and reports for the Standing Committee meeting:
CONTACTS
:  Juan Carlos Vasquez: +41 22 917 8156 or
juan.vasquez

[at]

cites.org
, @jcvcites, @citesconvention, Samantha Bolton cell: +41 79 239 2366 or
Samantha.bolton

[at]

cites.org
@sambolton007
2014 CITES STANDING COMMITTEE – PARTICIPANT QUOTES: US & KENYA ON WILDLIFE CRIME; CHINA & EU / ITALY ON CRISIS SITUATION WITH ROSEWOODS, PALISANDERS AND EBONIES IN MADAGASCAR 
Roddy Gabel - Head of U.S. Delegation / Chief, U.S. CITES Management Authority
"The 65th meeting of the CITES Standing Committee has set the stage for further progress on efforts to improve the effectiveness of the Convention and particularly to address the current wildlife trafficking crisis, not only for iconic species like elephants and rhinos, but for lesser-known species like pangolins, which are no less deserving of our attention.  The United States is encouraged by the high-level attention to wildlife trafficking by the CITES Parties as well as the level of cooperation at this meeting."
William Kiprono, Director General, Kenya Wildlife Services, Kenya
"As one of the eight countries that were requested to do so, at this meeting, we provided feedback on the activities we have undertaken to implement our national ivory action plan. Amongst a variety of other things, we have for example recruited about 600 elite rangers, and we also revised our national legislation, which now make provision for strong deterrent penalties.
Some people still think that a tusk just falls off an elephant like a feather from a bird. They don`t know what is happening on the ground and how these animals are being slaughtered to satisfy illegal markets.
We need to come together to provide resources to law enforcement. Criminals have to be treated as such – and especially the big bosses who control the global crime networks for ivory and other protected wildlife. We cannot compromise with criminals. There is a lot of positive progress being made, but our generation is the last front. 
If the rangers are not there, there will be no wildlife left in our countries. This is why we need to keep up the fight and to enforce the law on all fronts: where the animals live, in the transit countries and in the countries where they are being consumed. In Africa, our heritage, our wildlife and the future of our beautiful countries are at stake."
Regarding rosewoods, palisanders and ebonies quote from China 
"As a potential import country, China has all along followed the Decision 16.152 on Malagasy ebonies,  palisanders and  rosewoods and the related action plans as well as the zero export quota established by Madagascar.
China CITES Management Authority, jointly with China's General Customs Administration, issued a gazette in April 2013, officially announcing that the import of specimens of timber species in CITES Appendix-II adopted at CoP16, including Dalbergia and Diospyros of the populations of Madagascar, shall be subject to a CITES import permit for customs clearance as of 12 June 2013. As for Hong Kong Special Administrative Region, the incorporation of amendments to the CITES Appendices into its legislation are now at an advanced stage and the new control is expected to come into effect in November this year. The Hong Kong authorities will continue to render great enforcement effort in endangered species including timber species.
Customs and border police in China have placed endangered timber species, especially timber shipments coming from Madagascar, on the priority area of routine enforcement. In mid June this year, the CITES MA convened the National Workshop on CITES Implementation and Enforcement for the Import of Endangered Timber Species, in which customs representatives from main ports for timber import participated, aiming to further raise their awareness and enforcement capabilities.  A certain number of training seminars targeted at timber enterprises on the trade control of endangered timber species have been organized, and risk reminders have been released repeatedly, through which new listings of timber species in CITES control and China's import policies were widely publicized".
Coviello Giovanni, Italy, Presidency of the EU 
"The European Union welcomes the ambitious actions adopted by the CITES Standing Committee to combat the illegal trade in rosewoods, palisanders and ebonies from Madagascar. This important step should help ensure that Madagascar mobilizes the legislative and enforcement measures required to halt illegal logging and related illegal exports. We also encourage more cooperation between transit and destination countries, in particular to detect and seize illegal shipments coming from Madagascar.
It is estimated that illegal logging accounts for up to 30% of the global timber trade and contributes to more than 50% of tropical deforestation in Central Africa, the Amazon and South East Asia, which causes huge loss of landscape, vegetation cover and biodiversity. One of the direct environmental impacts of the illegal logging in Madagascar is the habitat destruction for many species, especially for endangered lemurs.
The EU is committed to combat illegal logging through the Forest Law Enforcement, Governance and Trade (FLEGT) process and the EU Timber Regulation.  The Italian Presidency of the European Union has high hopes that the full implementation of CITES in Madagascar will lead to a more sustainable use of the natural resources."