Nairobi/Geneva, 31 October 2013 – The Secretariat of the Convention on International Trade in Endangered Species of Wild Fauna and Flora (CITES) hosted a CITES Rhinoceros Enforcement Task Force meeting in cooperation with its partners in the International Consortium on Combating Wildlife Crime (ICCWC), in Nairobi, Kenya, from 28 to 29 October 2013.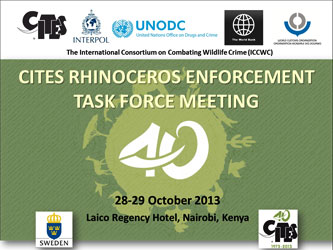 The meeting was attended by 52 representatives from 21 countries that play a role as source, transit or destination countries in the illegal rhinoceros horn trade chain. Participants included senior law enforcement officers representing Customs, the police and wildlife authorities from Africa, Asia, Europe and North America, as well as representatives from wildlife enforcement networks.
James TekoLopoyetum, Principal Secretary, Ministry of Water, Environment and Natural Resources of Kenya, who officially opened the event, highlighted Kenya's commitment to combat illegal wildlife trade, and stressed that "a strong law enforcement response can only take shape through increased international cooperation between all affected countries". Mr Lopoyetum called on all States to employ all available resources and strategies to ensure that rhino poaching and illegal trade in rhino horn and its products were brought under control to save the species from extinction.
Strategies that were discussed during the meeting included increased international cooperation through Memoranda of Understanding between countries, using DNA sampling and forensic techniques to combat illegal wildlife trade, and requests for mutual legal assistance to ensure that the entire crime chain was investigated and strong court-driven evidence secured.
The meeting gave representatives the opportunity to interact with their law enforcement counterparts from other countries to discuss current rhinoceros poaching and illegal rhinoceros horn trade trends, to share information and intelligence, and to discuss specific cases and joint courses of action.
Mr John E. Scanlon, Secretary-General of CITES, highlighted that "the Task Force meeting provided practical assistance to countries in implementing Decisions of the Conference of the Parties to CITES and the opportunity for enforcement officials from across source, transit and destination States to interact on concrete strategies and actions to combat illegal rhinoceros horn trade. This direct and focused interaction will lead to enhanced international cooperation and stronger enforcement actions on the ground".
ICCWC partner agencies [namely the CITES Secretariat, ICPO-INTERPOL, the United Nations Office on Drugs and Crime (UNODC), the World Bank and the World Customs Organization (WCO)] also informed representatives about the important tools and services that they made available to the law enforcement community, such as secure real-time communication systems, international criminal databases and technical operational support. United under ICCWC, the five organizations have a unique pool of thematically relevant technical and programming expertise that present the opportunity for a novel approach to the multi-facetted challenges posed by wildlife crime. Mr Scanlon further emphasized that "it is important that we support countries in accessing and using the tools and services available through ICCWC, as well as from across all relevant organizations."
Representatives from Botswana, Cambodia, China, the Czech Republic, Indonesia, Kenya, the Lao's People Democratic Republic, Malawi, Malaysia, Mozambique, Namibia, Nepal, the Philippines, Poland, South Africa, Thailand, Uganda, the United Kingdom of Great Britain and Northern Ireland, the United States of America, Viet Nam and Zambia attended the event. ICCWC partners, as well as representatives from the Association of Southeast Asian Nations Wildlife Enforcement Network (ASEAN-WEN), the European Commission Enforcement Group, the Lusaka Agreement Task Force (LATF), the National Inter-Agency CITES Enforcement Coordination Group (NICECG) of China, the Regional Intelligence Liaison Offices of Asia Pacific and Eastern and Southern Africa of the WCO, the University of Pretoria, IUCN, TRAFFIC and WCS also participated in the event.
The CITES Rhinoceros Enforcement Task Force meeting was made possible through funds generously provided to ICCWC by the Government of Sweden.
Note to editors:
For more information, contact Juan Carlos Vasquez at +41 22 917 8156 or
[email protected]
.
About CITES
With 179 Member States, CITES remains one of the world's most powerful tools for biodiversity conservation through the regulation of trade in wild fauna and flora. Thousands of species are internationally traded and used by people in their daily lives for food, housing, health care, ecotourism, cosmetics or fashion.
CITES regulates international trade in close to 35,000 species of plants and animals, including their products and derivatives, ensuring their survival in the wild with benefits for the livelihoods of local people and the global environment. The CITES permit system seeks to ensure that international trade in listed species is sustainable, legal and traceable.
CITES was signed in Washington D.C. on 3 March 1973.
Learn more about CITES by visiting www.cites.org or connecting to: