Gaborone amendment to enter into force 30 years after its adoption. 
European Union may now accede to CITES.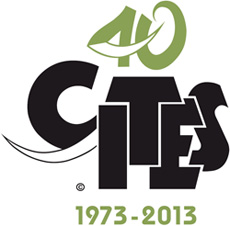 Geneva, 3 October 2013 – On 29 November 2013, an amendment to the Convention on International Trade in Endangered Species of Wild Fauna and Flora (CITES) will enter into force to allow regional economic integration organizations to accede to the Convention. This amendment, known as the 'Gaborone amendment', was adopted in Gaborone, Botswana, 30 years ago, on 30 April 1983.
For an amendment to CITES to enter into force, two-thirds of the States party to the Convention at the time of its adoption must have formally accepted it. This proportion was reached with the acceptance of the amendment by Costa Rica on 30 September 2013. The amendment enters into force 60 days later for all Parties that have accepted it.
Welcoming the news of the entry into force of the Gaborone amendment, the CITES Secretary-General, Mr John E. Scanlon, said "Since 1989 the Conference of the Parties to CITES has urged all Parties to accept the Gaborone amendment. Its entry into force has been long awaited. Regional economic integration organizations play a vital role in the regulation of international wildlife trade and qualified organizations are now able to become Parties to the Convention."
Background on regional economic integration organizations (REIO)
The Gaborone amendment defines regional economic integration organizations (REIO) as "organizations constituted by sovereign States which have competence in respect of the negotiation, conclusion and implementation of international agreements in matters transferred to them by their Member States and covered by this Convention." Currently, the only REIO with competence with respect to the matters regulated by CITES is the European Union.
Regarding voting, REIOs vote with a number of votes equal to the number of their Member States which are Parties to the Convention. REIOs shall not exercise their right to vote if their Member States exercise theirs, and viceversa.
An essential characteristic of a REIO is the existence of a common legal framework for the regulation of international trade in wild fauna and flora. They normally negotiate in block and are expected to be able to mobilize more financial and technical support that the existing support provided by individual Parties.
Note to editors: For more information, contact Juan Carlos Vasquez at +41 22 917 8156 or
juan.vasquez

[at]

cites.org
.
About CITES
With 178 Member States, CITES remains one of the world's most powerful tools for biodiversity conservation through the regulation of trade in wild fauna and flora. Thousands of species are internationally traded and used by people in their daily lives for food, housing, health care, ecotourism, cosmetics or fashion.
CITES regulates international trade in close to 35,000 species of plants and animals, including their products and derivatives, ensuring their survival in the wild with benefits for the livelihoods of local people and the global environment. The CITES permit system seeks to ensure that international trade in listed species is sustainable, legal and traceable.
CITES was signed in Washington D.C. on 3 March 1973.
Learn more about CITES by visiting www.cites.org or connecting to: