For use of the media only;
not an official document.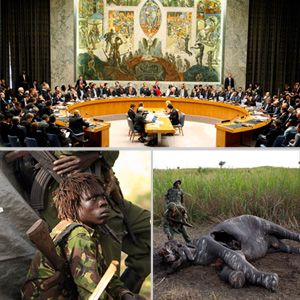 Geneva, 23 May 2013 - On 20 May 2013, the United Nations Secretary-General, Ban Ki-moon, presented his Report1 to the UN Security Council on the activities of the United Nations Regional Office for Central Africa and on the Lord's Resistance Army-affected areas.
The Report has identified the spread of cross-border criminal activities in the sub-region including poaching, mainly targeting elephants, as a growing security concern in Central Africa noting that Cameroon, the Central African Republic (CAR), Chad and Gabon in particular are facing this problem.
In his Report the Secretary-General advised that:
"My Special Representative for Central Africa was also informed during consultations with national authorities and stakeholders in the sub-region that illegal ivory trade may currently constitute an important source of funding for armed groups, including the LRA. Also of concern is that poachers are using more and more sophisticated and powerful weapons, some of which, it is believed, might be originating from the fallout in Libya. The situation has become so serious that national authorities in some countries, such as Cameroon, have decided to use the national army, in addition to law and order enforcement agencies (police and gendarmerie) to hunt down poachers".
John E. Scanlon, Secretary-General of CITES, commented that "this disturbing report further reinforces concerns over the increasing involvement of organized crime groups, rebel militia and in some cases rogue elements of the military in the poaching and smuggling of elephants.  The illegal killings that are occurring on a mass scale in Central Africa, often with the use of sophisticated weapons and other equipment, is decimating local elephant populations and has serious impacts on people and on national and regional security". 
"Combating such serious crimes requires high-level political engagement and real-time support for front-line enforcement officials by police and the military" said Scanlon.
Within the margins of the 16th meeting of the Conference of the Parties to CITES (CoP16), the International Consortium on Combating Wildlife Crime (ICCWC) organized a roundtable on transnational organized wildlife and forest crime for Ministers and high-level representatives, where Parties emphasized the broad-reaching impacts of transnational organized wildlife and forest crime on species and ecosystems, livelihoods, economies, and national and regional security2.
Concrete and time-bound measures were discussed at length at CoP16 and incorporated in a suite of CoP decisions to combat wildlife crime to be implemented between now and 2016 - representing the most powerful decisions on combatting wildlife crime in CITES 40 year history.
These decisions and resolutions, taken by consensus, demonstrate a clear recognition by CITES Parties that if the international community is going to seriously combat these crimes it needs to: treat such crimes as serious crimes; coordinate enforcement efforts at global, regional and national levels; work across source, transit and destination States; make better use of forensics and the sharing of forensic evidence, in particular for large-scale seizures; take more aggressive enforcement action utilizing the sorts of techniques used to combat illicit trade in narcotics and other serious crimes - such as intelligence driven operations, risk profiling, controlled deliveries, covert operations, and the use of anti-money laundering and asset forfeiture legislation; move beyond seizures by ensuring follow-up investigations and prosecutions, especially targeted at the 'king pins' behind organized criminal syndicates; and, upon request, support countries in the immediate aftermath of serious incidents.
The CITES Secretary-General was also asked to cooperate with the United Nations Office on Drugs and Crime (UNODC) regarding the national security implications of this illegal killing and trade for certain countries in Africa. In compliance with this decision,  the Secretary-General of CITES has written to the Executive Director of UNODC. In cooperation with all of the partners in the International Consortium on Combating Wildlife Crime (ICCWC), UNODC is providing significant support to CITES and CITES Parties in combating wildlife crime.
For more information see: CITES CoP16, Bangkok 2013: A 'Watershed Moment' for Combating Wildlife Crime
The Secretary-General of CITES also wrote to Mr Abou Moussa, the Special Representative of the Secretary-General for the UN Office for Central Africa, on 13 May 2013, concerning the poaching of elephants in Dzanga-Sanga National Park in the CAR. The Special Representative immediately responded to the letter outlining the actions being taken by him in response to these issues. 
-----
Range States are currently experiencing a serious spike in the illegal killing of African elephants and rhinos and the related illegal trade in ivory and rhino horn. Data compiled from the CITES programme Monitoring the Illegal Killing of Elephants (MIKE) suggests an ongoing increase in levels of illegal killing of elephants since 2006, with 2011 displaying the highest levels of poaching since MIKE records began in 2002. These findings are supported by information available from the Elephant Trade Information System (ETIS), which indicates that the amount of seized ivory has continued to escalate and is currently at its highest level in the 16-year period examined by ETIS.
The illegal killings of large numbers of elephants for their ivory are increasingly involving organised crime and in some cases well-armed rebel militias. For example, in Bouba N'Djida National Park, in northern Cameroon, up to 450 elephants were allegedly killed by rebel groups from Chad and Sudan in February 2012. The poached ivory is believed to be exchanged against money, weapons and ammunition to support conflicts in neighboring countries. The Secretary-General expressed grave concern over this incident at the time and in response to this insurgence, the Government of Cameroon deployed up to 150 soldiers into the National Park in support of park rangers to put an end to the illegal killing. Another example of this type of poaching was the illegal killing of 22 elephants in the Garamba National Park, Democratic Republic of the Congo, in April 2012, apparently shot from a helicopter with a high level of marksmanship and in a single raid. The ivory was taken away.
Poaching levels increased in all African sub-regions, with central Africa continuing to display the highest levels of illegal killing in any sub-region in Africa or Asia. Wildlife rangers who are serving in the front-line are often, quite literally, being outgunned. Wildlife crime has become a serious threat to the security, political stability, economy, natural resources and cultural heritage of many countries and that the extent of the response required to effectively address this threat are often beyond the sole remit of environmental or wildlife law enforcement agencies, or of one country or region alone.
This critical situation demonstrates the need of implementing the African Elephant Action Plan that was created under the auspices of CITES. An African Elephant Fund was launched last August at the 61st meeting of the CITES Standing Committee and is managed by the United Nations Environment Programme (UNEP).
See also:
About CITES
With 178 Member States, CITES remains one of the world's most powerful tools for biodiversity conservation through the regulation of trade in wild fauna and flora. Thousands of species are internationally traded and used by people in their daily lives for food, housing, health care, ecotourism, cosmetics or fashion.
CITES regulates international trade in close to 35,000 species of plants and animals, including their products and derivatives, ensuring their survival in the wild with benefits for the livelihoods of local people and the global environment. The CITES permit system seeks to ensure that international trade in listed species is sustainable, legal and traceable.
CITES was signed in Washington D.C. on 3 March 1973. The 40th anniversary of the Convention was celebrated on 3 March 2013 which coincided with the opening of the 16th Meeting of the Conference of the Parties held in Bangkok, Thailand, from 3 to 14 March 2013.
Learn more about CITES by visiting www.cites.org   or connecting to:
www.facebook.com/cites
www.twitter.com/citesconvention
www.youtube.com/citesvd
www.flickr.com/cites
Note to Editors:
For more information, contact Juan Carlos Vasquez at +4179-552 27 32 (mobile), or [email protected]

1. Report of the Secretary-General on the activities of the United Nations Regional Office for Central Africa and on the Lord's Resistance Army-affected areas (S/2013/297)
2. See Chair's Summary of discussions of the roundtable on combating transnational organized wildlife and forest crime for Ministers and high-level representatives
---

To read previous press releases, go to Archive