For use of the media only;
not an official document.
Bangkok, 7 March 2013 – The first global meeting of wildlife enforcement networks took place alongside the 16th meeting of the Conference of the Parties to the Convention on International Trade in Endangered Species of Wild Fauna and Flora (CITES) to scale up regional enforcement capacity and coordination to respond to the serious threat posed by wildlife criminal networks.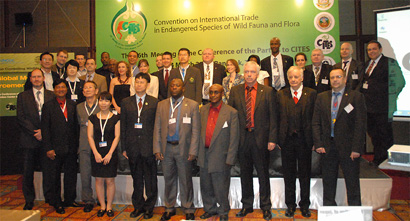 Wildlife law enforcement officers from around the world convened in Bangkok to share their experiences at combating wildlife crime and discuss ways of further enhancing cooperation. This included representatives from the ten wildlife enforcement networks or groups operating within Africa, Asia, Europe, and North and South America; and from the proposed networks under discussion for Central Asia, West Asia and the Oceania/Pacific region.
Wildlife law enforcers face a number of challenges due to the increasingly-organized nature of wildlife crime, among them enforcement responses having historically often been poorly coordinated and delivered in a sporadic or short-term manner. Wildlife enforcement networks respond to these challenges by operating across borders and organizational boundaries, coordinating the efforts of wildlife law enforcement agencies and other relevant authorities at a national, sub-regional or regional level. As a collective, proactive response of national governments, wildlife enforcement networks cooperate by sharing information on poaching and illicit trade activities, and exchanging best practice techniques on combating wildlife and forest crime.
The Secretary-General of the CITES Secretariat, John E. Scanlon, on behalf of the International Consortium on Combating Wildlife Crime (ICCWC) that hosted the event, said: "The first global meeting of wildlife enforcement networks is an important step in our collective response to combating serious wildlife and forest crime. Illegal wildlife and forest product trade is escalating, transnational and increasingly well-organized. Coordinated responses that connect and align efforts across borders and organizations provide the best opportunities to combat this serious crime, and protect the species and people at risk because of it."
At the meeting, network representatives reflected on their experiences, heard about the ICCWC tools and support available to them such as the ICCWC Wildlife and Forest Crime Analytic Toolkit, and discussed challenges to effective national, sub-regional and regional cooperation. Representatives of existing and emerging networks acknowledged the importance of increased collaboration to further enhance efforts to fight wildlife crime. There was broad support for developing a 'network' of wildlife enforcement networks or groups – using existing cooperative arrangements at the global level, such as ICCWC – to improve communication between the networks, share best practices and lessons learned, and identify joint activities to help combat wildlife crime. Participants acknowledged the benefits of coming together for the event and encouraged future global meetings to continue the discussion on how to develop links between enforcement networks.
United States Ambassador Judith Garber, who attended the event, highlighted the support of network representatives to further enhance coordination, saying: "While each wildlife enforcement network is organized to best meet its own regional needs, we believe that increasing communication and coordination among the various networks will increase the success of each, and at the same time enhance the global effort to confront the transnational aspects of wildlife trafficking. Whatever form a global network may take, it is critical that cross-regional communication, information-sharing and training happen, and that we work together to prevent the poaching, stop the shipment, and reduce the demand for illegal wildlife and wildlife products."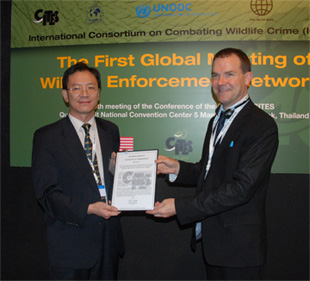 In recognition of recent successes, CITES Secretary-General Certificates of Commendation were presented to representatives from the National Inter-Agency CITES Enforcement Collaboration Group (NICECG) of China, the Association of Southeast Asian Nations Wildlife Enforcement Network (ASEAN-WEN) and the Lusaka Agreement Task Force (LATF) for their role in Operation COBRA. From January to February 2013, Operation COBRA brought together wildlife enforcement networks from range, transit and destination States in a cross-continent joint operation to combat wildlife crime. The successful operation resulted in a large number of arrests and seizures of the parts and derivatives of many CITES-listed species including ivory, rhinoceros horn, leopard, tiger, pangolin and hornbill.
The meeting was hosted by the International Consortium on Combating Wildlife Crime (ICCWC), a collaborative effort by the CITES Secretariat, INTERPOL, the United Nations Office on Drugs and Crime (UNODC), the World Bank and the World Customs Organization (WCO) to strengthen international cooperation to combat wildlife and forest crime. It was made possible thanks to the generous support of the United States of America, through their Department of State.
Note to Editors: For more information, contact Juan Carlos Vasquez at +66 (0)853322469 [email protected] or Stefania Kirschmann [email protected]
General Information to correspondents and accredited media.
General Information to correspondents and accredited media.
CITES CoP 16 will take place from 3 to 14 March 2013 at the following address:
Queen Sirikit National Convention Center (QSNCC)
60  New Rachadapisek Road, Klongtoey
Bangkok 10110, Thailand
Tel. : (662) 229-3000
Fax : (662) 229-3001
E-mail : [email protected]
Media&Exhibition zone: Zone C-2nd floor
Press conference room : Auditorium, Zone A
You can pick up your badge at the media registration desk on the following days:
For more information about the procedures for media accreditation to cover the Bangkok Conference – CITES CoP16, see: /eng/cop/16/media_accreditation.php
Learn more about CITES by visiting www.cites.org and CoP16 decisions by visiting /eng/cop/index.php  or connecting to:
www.facebook.com/cites
www.twitter.com/citesconvention
www.youtube.com/citesvd
www.flickr.com/cites
---

To read previous press releases, go to Archives.