For use of the media only;
not an official document.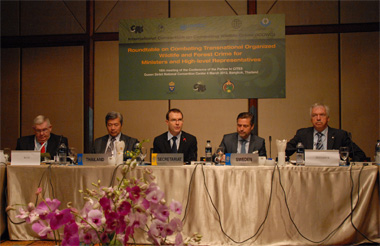 Bangkok, 5 March 2013 – Wildlife crime has recently been brought to the fore at the highest political level, including through the outcomes of the UN Conference on Sustainable Development and resolutions by the United Nations General Assembly and the United Nations Economic and Social Council. Building on this international recognition, Ministers and high-level government representatives convened yesterday in Bangkok to discuss the challenges posed by the increasingly-sophisticated illicit trade in wildlife and forest products.
Representatives from over 30 countries – along with observers from international organizations – attended the roundtable on combating transnational organized wildlife and forest crime at the Queen Sirikit National Convention Centre.
The roundtable, which took place alongside the 16th meeting of the Conference of the Parties to the Convention on International Trade in Endangered Species of Wild Fauna and Flora (CITES) currently being held in Bangkok, allowed Ministers and high-level representatives to share their experiences with tackling wildlife crime and to discuss what further measures are required.
During the discussion Ministers acknowledged the serious nature of transnational organized wildlife and forest crime, in particular the escalating levels of poaching and illegal trade, and the increasing involvement of organized crime groups. The broad-reaching impacts of this crime – on species, livelihoods, economies, regional security, and in some instances human lives – were also noted with grave concern.
Ministers and high-level representatives reaffirmed the strong commitment of their countries to combat transnational organized wildlife and forest crime. They shared information on the measures that they are implementing to combat this crime, including tougher penalties and sanctions for perpetrators, deployment of additional rangers, and cross-border cooperation such as sharing intelligence through regional wildlife enforcement networks.
The dialogue confirmed that while much encouraging work is taking place across the globe, there is much more that needs to be done to ensure that the scale of the response is commensurate with the severe and immediate risk posed by transnational organized wildlife and forest crime. The need to engage the support of police and customs officials was raised in recognition that this broad-reaching challenge goes beyond the remit of wildlife law enforcement agencies. Other challenges include a shortage of funds and front-line enforcement officers, and a lack of the equipment and technology needed to respond to increasingly-organized and sophisticated crime groups.
The discussion highlighted the compelling need to develop and implement coordinated and holistic responses to transnational organized wildlife and forest crime. The importance of comprehensive action across range, transit and consumer States was stressed, along with the need for support from international organizations and partnerships such as the International Consortium on Wildlife Crime (ICCWC), who hosted the meeting.
Moderator of the event on behalf of ICCWC, Secretary-General of the CITES Secretariat, John E. Scanlon said: "It is now well-acknowledged that a more coordinated and comprehensive response is needed to combat wildlife and forest crime – which is a transnational and organized crime. Fighting poaching and illegal trade in wildlife is about fighting serious crime, especially when dealing with species that attract high returns such as elephant and rhinos. Strong and clear political messages from the highest possible levels are required to secure and underpin enhanced operational efforts, both at the national and international level, if we are to effectively combat transnational organized wildlife crime."
Opening remarks provided by the Vice Minister of Natural Resources and Environment of Thailand, Mr Pithaya Pookaman, stressed: "The road ahead is challenging. Wildlife crime is a growing problem, with increasing involvement of organized crime groups that have sophisticated and well-financed networks. The illegal trade is global. Every region is affected. To effectively combat wildlife crime, every country needs to take action collectively."
Speaking at the event, Mr Christoffer Berg, Minister Counseller and Deputy Head of Mission at the Embassy of Sweden in Bangkok, highlighted the importance of public awareness and information alongside enforcement action: "While effective enforcement deters offenders, public awareness is crucial to prevent illegal trade. Ultimately this is the area where we have to succeed if our children and grandchildren are to share this globe with the same species we do."
The Ministerial event took place ahead of the first global meeting of wildlife enforcement networks being held in Bangkok today. At this meeting, representatives of wildlife enforcement networks from around the world are expected to discuss ways of increasing coordination among networks, and with international organizations and consortiums such as ICCWC.
The event was hosted by ICCWC, a collaboration of the CITES Secretariat, INTERPOL, the United Nations Office on Drugs and Crime (UNODC), the World Bank and the World Customs Organization (WCO) to bring a coordinated and comprehensive approach to wildlife and forest crime. It was made possible by the generous support of the Government of Sweden.
The CITES Conference is continuing in Bangkok until 14 March.
Note to Editors: For more information, contact Juan Carlos Vasquez at +66 (0)853322469 [email protected] or Stefania Kirschmann [email protected]
General Information to correspondents and accredited media.
General Information to correspondents and accredited media.
CITES CoP 16 will take place from 3 to 14 March 2013 at the following address:
Queen Sirikit National Convention Center (QSNCC)
60  New Rachadapisek Road, Klongtoey
Bangkok 10110, Thailand
Tel. : (662) 229-3000
Fax : (662) 229-3001
E-mail : [email protected]
Media&Exhibition zone: Zone C-2nd floor
Press conference room : Auditorium, Zone A
You can pick up your badge at the media registration desk on the following days:
For more information about the procedures for media accreditation to cover the Bangkok Conference – CITES CoP16, see: /eng/cop/16/media_accreditation.php
Learn more about CITES by visiting www.cites.org and CoP16 decisions by visiting /eng/cop/index.php  or connecting to:
www.facebook.com/cites
www.twitter.com/citesconvention
www.youtube.com/citesvd
www.flickr.com/cites
---

To read previous press releases, go to Archives.